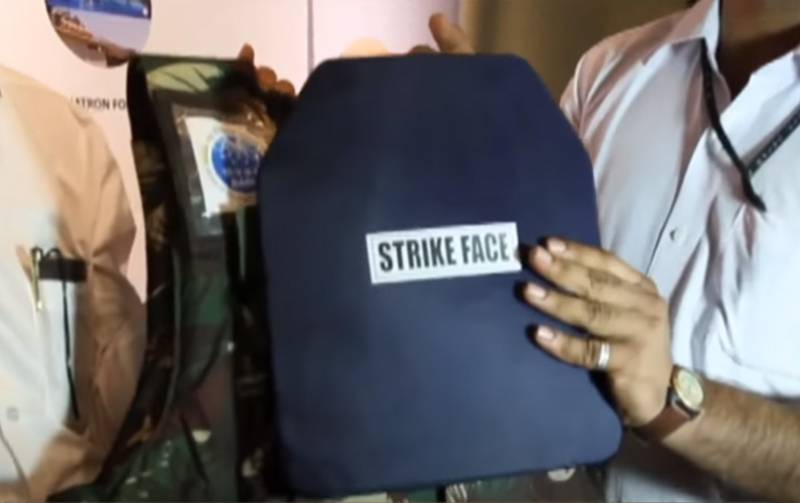 The Indian military industry has presented its own version of the new high-security body armor for the country's armed forces. It is reported that work on a new series of body armor was accelerated due to the complication of the situation on the border with China - in the Ladakh region. Some time ago, there were clashes between the Indian and Chinese military, during which sharpened metal rods were used.
The company "Midhani" last year decided to create, according to its representatives, "exclusive lightweight protective equipment" that is suitable for both infantry and crews of armored vehicles. New Indian bulletproof vests were named "Bhabha Kavach 6+". The first versions were presented in February 2020. It is reported that the final technology was developed in conjunction with the Center for Atomic Research (BARC).
From the statement of the director of the manufacturing company Sanjay Kumar:
The new body armor can withstand a direct hit from an AK-47 assault rifle. The pilot batch has already been sent to the troops for trial operation. We classify these body armor as protection class 6 bis (6a). Moreover, our samples are much lighter than foreign counterparts.
Sanjay Kumar noted that the bulletproof vest belonging to protection class 6a, after "some modernization", weighs 6,3 kg.
It is also stated that the bulletproof vest is able to save the life of a soldier, into which a 7,62 mm bullet is directed, flying at a speed of up to 700 m / s. The price of the new Indian body armor was also announced - 70 thousand rupees (71,2 thousand rubles).
It is assumed that the military department will purchase several large batches of such body armor after the results of the experimental use in the troops.