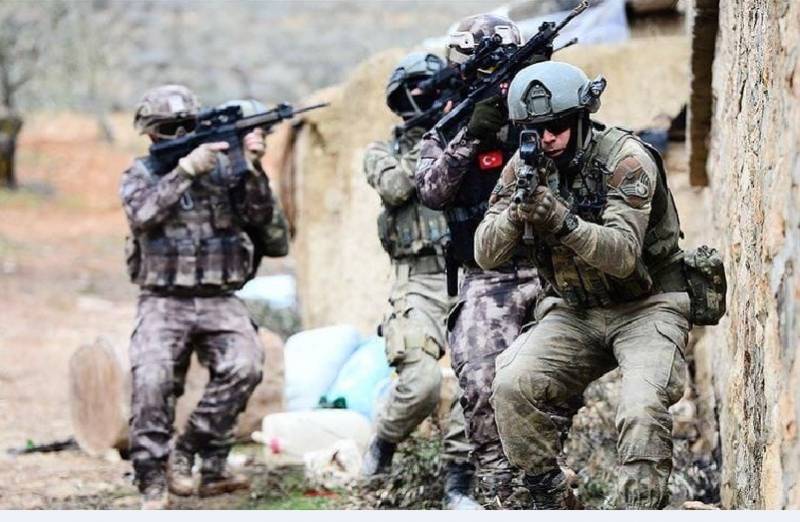 A significant part of Syrian territory today is controlled by government forces, as well as by armed groups supporting the official government and President Bashar al-Assad.
Moderate and radical opposition groups control a section in the northwest of the country adjacent to the Turkish border. In addition, a sparsely populated area in the southeast of the country is under the control of the opposition.
Several small enclaves in the east of the country are still in the zone of influence of the terrorist "Islamic State" * banned in Russia.
Various Kurdish militias control a vast area in northeastern Syria. The American military and the forces of the international coalition feel relatively comfortable there.
From the north, it is adjoined by a narrow strip in the north of the country, occupied by Turkish troops and pro-Turkish groups of the so-called Syrian Free Army (FSA), constantly in conflict with the Kurds.
And finally, in the southwest, are the Golan Heights, most of which are controlled by the Israeli army.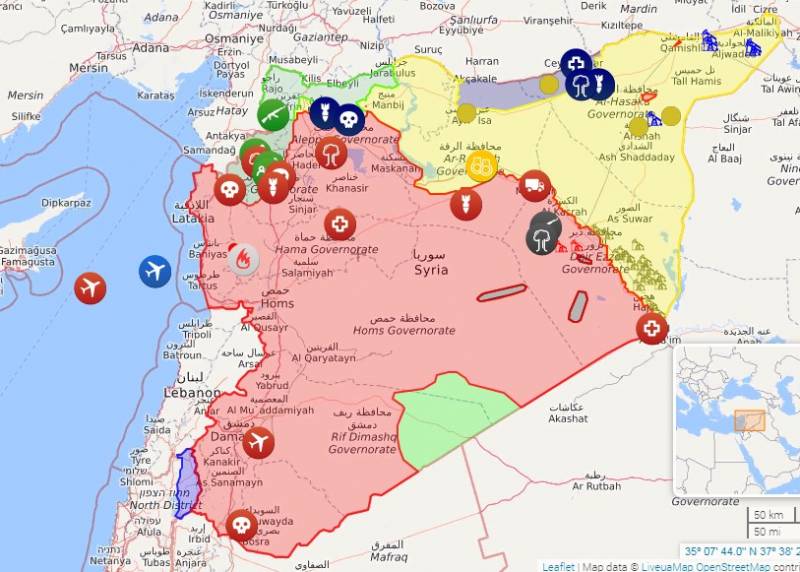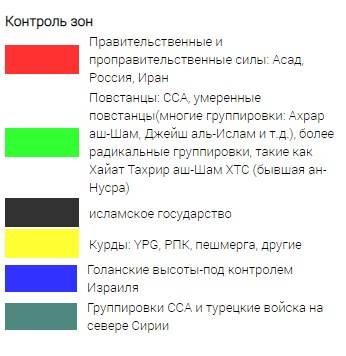 In addition, not far from the Mediterranean coast of the country, the water area is patrolled by Russian and American
aviation
... In particular, as reported on his Twitter page by user Manu Gomez, the US Navy P-8 Poseidon anti-submarine aircraft was seen there today.
In the province of Idlib, the preparation of a young replenishment of the opposition units is in full swing. In particular, the training of their recruits was filmed and published on the Internet by the fighters of the National Liberation Front, supported by Ankara.
According to the Syrian news agency SANA, a large column of the so-called international coalition arrived in the northwestern part of Hasakah province from Iraq. It consisted of 40 trucks. Yesterday in the province, a car bomb exploded outside a bakery in the city of Ras al-Ain. Three women and an elderly man were killed, six people were injured.
The aggravation of the situation was recorded in the north of the country. Syrian Democratic Forces (SDF) fighters fired at a Turkish army stronghold in the village of Al-Ghazaviya in Aleppo province, allegedly killing a soldier. In response, the Turks fired at several heights near Tell Rifat and opened fire on the settlement of Al-Kabashiya.
According to the opposition portal AlBadia24, the Russian Aerospace Forces and the Syrian Air Force have inflicted 35 airstrikes over the past three days. They targeted ISIS * sleeping cells in the provinces of Raqqa, Deir ez-Zor and Homs.