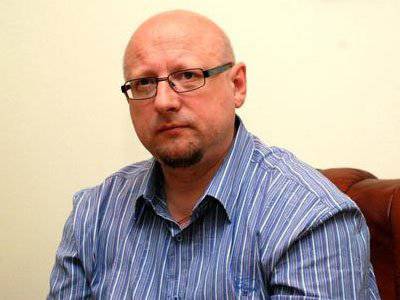 South Ossetia is once again facing war, declared REGNUM 7 on August, Acting State Advisor of the Russian Federation of 1 class, Modest Kolerov.
"Georgia's militarization has not been stopped," Kolerov noted, "further re-equipment of the Georgian army, increasing its technical capabilities, increasing offensive weapons. Georgia is preparing for electronic warfare, for sabotage combat, Georgia is very seriously engaged in information warfare, raising the" fifth column "in the rear Russia and South Ossetia. " All this, the expert believes, indicates that "Georgia is preparing not just, as she says, for defensive actions, but is preparing to become an active and powerful participant in the coalition that will fight against Russia and South Ossetia."
"The political goals of the war of Georgia against South Ossetia, Abkhazia and Russia are not withdrawn, not disavowed, they remain in force. Georgia each time confirms that Russia, Abkhazia and South Ossetia are actual opponents. And most important, Georgia denies the right of Abkhazia and South Ossetia independent state and any statehood in general. This means that existence itself, the very survival of Abkhazia and South Ossetia is unacceptable for present-day Georgia. Georgia denies the very meaning of our existence, the very justification of our survival as peoples, therefore this Passover is acute and lethal to us, "said Kolerov.
The expert called the direction of the "fifth column" against South Ossetia: "This is, firstly, the use of incompetent, deceived, dual-minded people in order to draw them into mythical talk about a region-wide settlement, about economic reconciliation, about bribing citizens of South Ossetia through Ergneti the market. They want to draw people into serving other people's goals, cross-border mafia structures. The propagandists of the Ergneti market do not hide that now the main purpose of its activities for Georgia is in bribing hundreds and thousands of people through current smuggling activity. "
"In addition," said Kolerov, "with the support of incompetent or corrupt, or weak souls, the goals of the" fifth column "in South Ossetia can be portrayed as participating in some exchange of sovereignty and independence for some global business projects. Experience shows that any little finger, any millimeter towards national treason has never led anyone to good. Any collaborator will be thrown out and destroyed by those who bribed him and used. "
"The Fifth Column has the task to prove to the Ossetians that it is more convenient, more interesting, more profitable for them to deal with the West, with Georgia without Russia, without protection of Russia, under mythical empty security guarantees, for the sake of participation in some economic benefits," expert.
"The Fifth Column should serve the politically motivated ideology of the Circassian genocide, the Fifth Column should continue to serve Georgian sabotage actions to incite the Ossetian-Ingush conflict. We know where the terrorists came from to Beslan, they came from the territory of Georgia from terrorist bases that were created and existed there with the support of the Georgian authorities. Everyone knows this, "said Kolerov.
"The Fifth Column," according to their plan, should serve everything that splits the united front, everything that splits the unity of Russia into interethnic, inter-ethnic, inter-political groups, so that it is more convenient for them to manipulate us, "the expert believes.
Kolerov said that the efforts of Russia and South Ossetia are inadequate to the threats emanating from Georgia. "We too often get involved in superficial talk about settlement for the sake of settlement. We do not need settlement for the sake of settlement, we don't need peace for peace. We need peace only for security, not to like the Washington regional or Tbilisi district committee, we need peace and security in order to protect our right to life and our own statehood. We cannot accept other conditions. But all these weak souls in Russia in South Ossetia, which for various reasons are supported vayut talk about economic integration or even some kind of integration with Georgia, by definition, can not be the defenders of our independence, "- Kolerov said.
"Unfortunately," said Kolerov, "incompetent, weak and discredited figures in Moscow also took part in traitorous conversations that it is possible to exchange recognition of the independence of Abkhazia and South Ossetia for the mythical absorption of the whole of Georgia, as they say, in the interests of Russia. This is a lie, this is a lie, this is an unfair game. I think it may be good. Our independence, our statehood, our
история
Achievements and independence and statehood make us every year to prove our right to independence every day, to prove our loyalty, loyalty to those who gave their lives for independence. But these conversations about changing the format, talking about agreement, about betrayal, are the devilish temptations that we must overcome daily. "
Recall that South Ossetia marks the fourth anniversary of the Georgian attack on the Republic. On the night of August 7-8, 2008, Georgian troops attacked the sleeping Tskhinval. Grad multiple launch rocket launchers, mortars, grenade launchers,
Tanks
и
aviation
. REGNUM then carried out its public count of those who died during and as a result of hostilities from Georgia during August 2008 - the death toll was 330 people.
We also note that Georgian President Mikhail Saakashvili yesterday, 6 August, promised the residents of the villages bordering on South Ossetia: "We will surely unite our country and will definitely return our lands." According to him, "Russia will never be able to swallow the occupied lands of central Georgia, as no conqueror could have done."