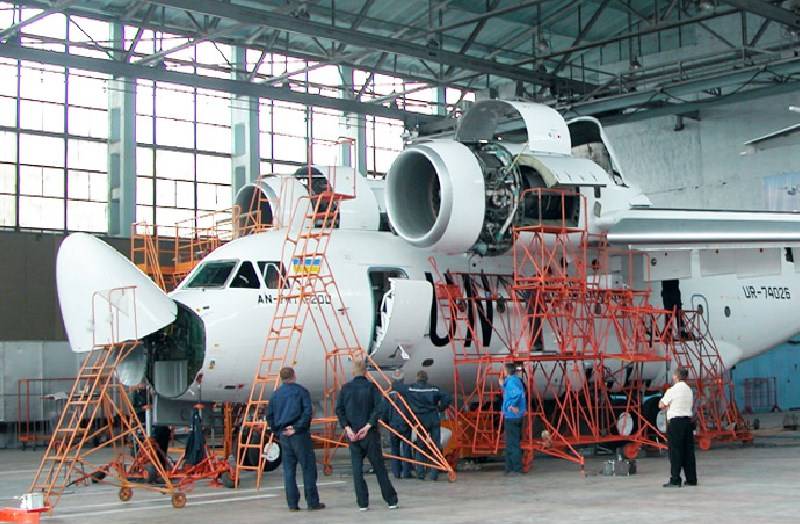 In 2017, Ukroboronprom, Kharkiv State
aviation
a manufacturing enterprise (KhGAPP, aka Kharkiv Aviation Plant) and Oriole Capital Group from the United States signed an investment agreement, but the plant never received any money. But, according to the terms of the agreement, he was forced to suspend cooperation with all other partners for three years.
Viktor Popov, head of the Ukraviaprom Association, spoke about this in an interview with the Ukrainian edition of Ukrinform.
He believes that the American company was not going to make any investments in production, they are just international financial adventurers. It was written in the agreement that the company from the United States, possibly (!), Will invest 150 million dollars, and in return the company undertakes not to have any more relations with other companies for the next three years. Then it was necessary to completely stop negotiations with Canadian partners on the modernization of the An-74.
According to Popov, the Americans were not going to develop production, they were only interested in the territory on which the plant is located:
I believe that there was only one goal - to kill the plant and sell everything. They whispered about it: such a territory, practically the center of the city. Yes, you can build this here!
Immediately after the agreement was signed, Ukrainian journalists drew attention to the signs of fictitiousness of Oriole Capital Group, which was registered shortly before the agreement was signed. In response, Ukroboronprom made a statement that the company from the United States is a project company, it was allegedly created specifically for the implementation of this particular project. Its task is to accumulate resources from investors, funds, as well as general management.
It turned out that this is a banal scam in which Ukroboronprom took an active part.