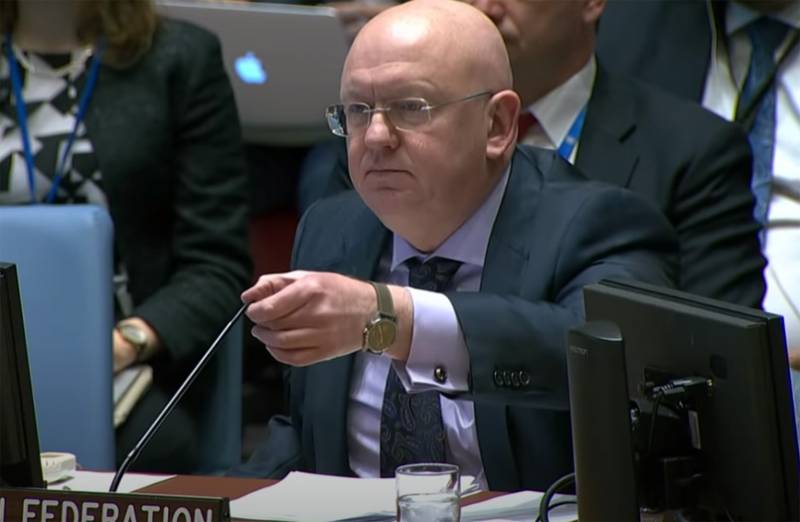 Permanent Representative of the Russian Federation to the United Nations Vasily Nebenzya made a statement regarding the situation with opposition leader Alexei Navalny. Recall that Russia in the West is accused of "using chemical
weapons
against the critic of Putin ". The situation is presented by the West approximately under this "sauce". Russia is required to conduct an investigation, and when Russia proposes a joint investigation with the participation of doctors, then in response - silence.
According to Vasily Nebenzi, the situation with Alexey Navalny resembles a staged dirty game.
During a meeting of the UN Security Council on the elimination of Syrian chemical weapons (the OPCW received the Nobel Peace Prize for the elimination of Syrian chemical weapons), the Russian Permanent Representative noted the main oddity. Vasily Nebenzya recalled that after Navalny's emergency hospitalization in Omsk, Russian doctors conducted many tests and analyzes, and none of them confirmed the presence of poisons in the body. It was also noted that German medical specialists arrived in Omsk, who also stated that Navalny's deteriorating health did not bear signs of poisoning with some kind of chemical weapon.
Vasily Nebenzya noted that on the basis of these facts there is no reason to start an investigation. In Russia, all data on Navalny's health status after his emergency hospitalization in Omsk are reflected in medical documents.
Nebenzya:
No traces of chemical weapons were found. And today we do not receive from Germany any evidence and specific facts that would allow us to say that this is a deliberate crime.
Vasily Nebenzya added that Germany and other Western countries call on Russia to conduct an investigation, but at the same time they do not provide any information on what kind of substance, on what equipment and under what circumstances it was found in bioassays.
The Russian Permanent Representative noted that this is yet another attempt to make people "take their word for it" in the complete absence of the facts and evidence provided.