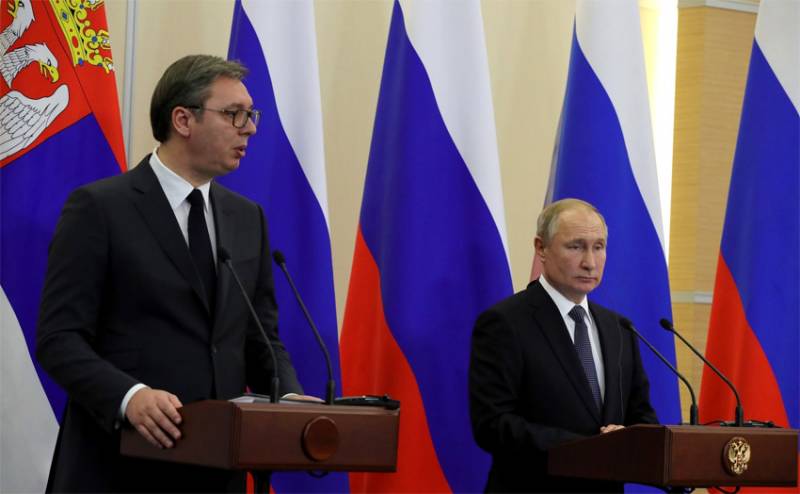 The media and blogosphere are actively discussing the statement of Serbian President Aleksandar Vucic. The Serbian President announced that during personal talks with Vladimir Putin, the President of the Russian Federation apologized to him and the entire Serbian delegation for the inappropriate post on Maria Zakharova's social network.
Recall that we are talking about a note made by an official representative of the Russian Foreign Ministry under a photograph in which Alexander Vuchich is captured sitting on a chair, somewhat moved away from the table of the US President. The photo was taken during a visit to the United States of the Serbian delegation. Zakharova considered it appropriate to accompany this post with a photograph with a notorious frame from the American film Basic Instinct.
And although the publication was made on a private page on a social network, it looked dubious in relation to the Serbs, to put it mildly. In Serbia, that post was viewed as offensive. After Belgrade's reaction, Zakharova had to apologize for him to the Serbian side. Following his subordinate, Foreign Minister Sergei Lavrov spoke over the phone with apologies to Serbian politicians.
Now, as it turns out, Russian President Vladimir Putin personally had to ask for forgiveness for the post of the official representative of the Russian Foreign Ministry on the social network.
Alexander Vucic noted that the situation had never before led to the president and the head of the Russian Foreign Ministry personally apologizing to him.
Vucic:
Now it has happened. I believe that this incident is over; it is not really important.
Recall that a telephone conversation between the heads of the two states took place the day before. The Kremlin press service reports that the Russian president highly appreciated the personal contribution of Alexander Vucic to the development of Russian-Serbian ties.
Serbian President's website:
President Vucic and President Putin noted that the economic ties between Serbia and Russia are constantly strengthening, but the opportunities for economic cooperation are much wider than those already used, so there is room for new joint projects.
Comments appear on the network regarding the publication, admitted by Maria Zakharova. Among the most innocuous comments are those where users urge the official representative of the Foreign Ministry to be more careful with the notes that she publishes on pages in social networks, as "some of them can lead to completely inappropriate tension." President Putin's apology to President Vucic is also being discussed. In particular, it is pointed out that "an inappropriate joke makes the head of state smooth over sharp corners."