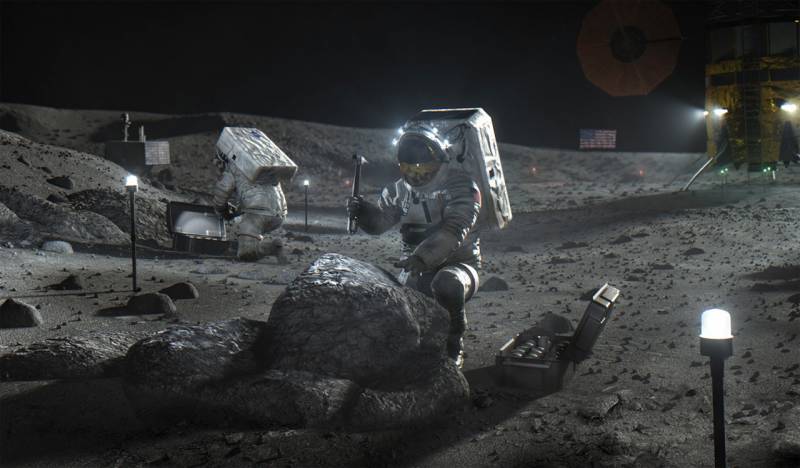 NASA website graphics
The US National Aeronautics and Space Agency (NASA) has added, so to speak, points to the Lunar Conspiracy Theory.
This is a NASA initiative that involves using the services of private contractors to obtain samples of lunar soil. Bids from applicants are accepted until October 9 of the current year.
NASA says it intends to use the services of private companies to deliver up to 500 grams of samples of lunar materials, including lunar dust, to Earth for further laboratory research. The delivery time is also indicated until 2024. The choice, reportedly, will be made on the basis of the most acceptable combination of "low price - technical guarantees".
From the material:
Private contractors must provide rigorous proof of the ability to collect space samples, then transport them to Earth, indicating the exact location of extraction. NASA reserves the right to independently review the collection.
It is added that it can be any material: not only stones and dust, but also lunar ice.
This proposal for private contractors from NASA has revived conspiracy theorists - the theory that American astronauts have never been to the moon. Conspiracy theorists, commenting on the proposal of the US aerospace agency, say something like this:
During the declared manned flights to the Moon, NASA talked about the delivery of almost 300 kg of lunar soil to Earth. These were said to have been samples from various places, of a different nature. Why, then, did NASA need another 500 grams of lunar dust for research? Does NASA really have that many lunar samples that have always been talked about?
The US aerospace agency itself claims that the new supply of lunar soil will improve both the methods of extraction and delivery, and methods of its research.
For reference: the program of American manned flights to the Moon operated from 1961 (1962) to 1975. The first manned flight took place in 1969. Translated into current prices, it cost the US budget about $ 160 billion. The program was curtailed, according to the United States, precisely because of its high cost.