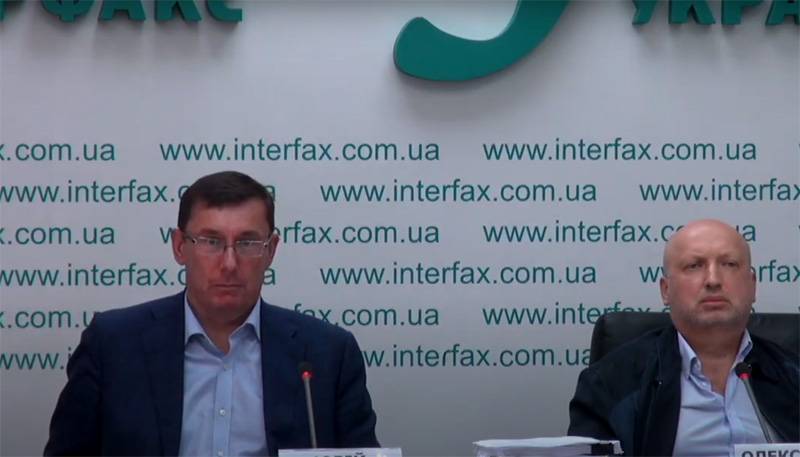 Screen of the video of the press conference in "Interfax-Ukraine"
A press conference of former top officials of Ukraine took place today. These are the ex-temporarily acting president of Ukraine (he is also the ex-secretary of the National Security and Defense Council of Ukraine) Alexander Turchinov, as well as the former Ukrainian Prosecutor General Yuriy Lutsenko. The topic of the press conference was as follows: "Threats to Ukraine's National Security."
The threats to the country's national security were pondered by individuals who made every effort to unleash a civil war and plunge the country into political and economic chaos.
Part of the conversation, organized by Interfax-Ukraine, also touched upon the issue of the reunification of Crimea with Russia. Journalists asked the ex-officials how it happened that Crimea "was surrendered to Russia" and who is to blame for this?
Answering this question, Mr. Turchinov said that "they are handing over the bottles, and Crimea was captured by the Russian Federation." This is yet another proof that in Ukraine the people who represent the modern "elite" are not ready to be aware of the existence of the will of the people. But it was the will of the Crimeans that became the starting point for the fact that Crimea again became part of Russia.
During the press conference, the thesis was voiced that Turchinov was actually the person who "did not defend Crimea well." Lutsenko stood up for his colleague in the Maidan "workshop". According to him, if today someone thinks that Turchinov badly defended Crimea, then let him show an example of how to "return" Crimea.
Lutsenko:
President Zelensky now has all the tools for this ("returning Crimea to Ukraine"). Including the army. Forward! For some reason he doesn't do it.
As a result, the interviewees announced that the political leadership of the times of Viktor Yanukovych was to blame for the loss of Crimea to Ukraine, which "disarmed the army and destroyed the Ukrainian defense industry".