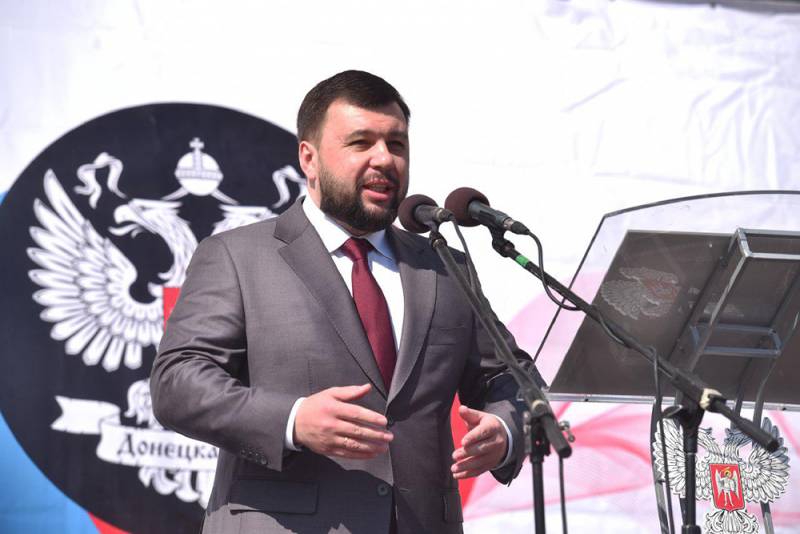 Details appeared regarding the final decision of the head of the DPR on the Ukrainian fortifications in the area of ​​the village of Shumy near Horlivka. Recall that earlier Denis Pushilin gave an order to destroy the fortifications of the Armed Forces of Ukraine, created after the conclusion of the armistice agreements, while at least twice the execution time of the order was shifted.
Now the information has been confirmed that Denis Pushilin withdrew the previously given order, which was part of the ultimatum announced to Kiev. This ultimatum sounded as follows: The people's militia of the DPR will destroy the Ukrainian fortifications in the area of ​​the village of Shumy, if the Ukrainian side does not dismantle them by the designated date.
The cancellation of the order by the head of the Donetsk People's Republic is associated with the fact that today a joint inspection is scheduled by representatives of the DPR and Kiev in the JCCC under the OSCE observation mission. Earlier, such a proposal was made by the Minister of Foreign Affairs of the DPR Natalia Nikonorova, and this proposal was ultimately supported both in the OSCE and in Kiev.
At 14:00 on September 10 (today) a group of inspectors will inspect the territory in the area of ​​the village of Shumy and find out whether the Ukrainian security forces dismantled the very fortifications, because of which Denis Pushilin issued an ultimatum.
The head of the DPR separately explained his decision:
Due to the fact that we finally got the Ukrainian side to conduct a joint inspection of Ukrainian positions, we decided to cancel the order to eliminate illegal fortifications of Ukrainian armed formations in the area of ​​the Shumy settlement.