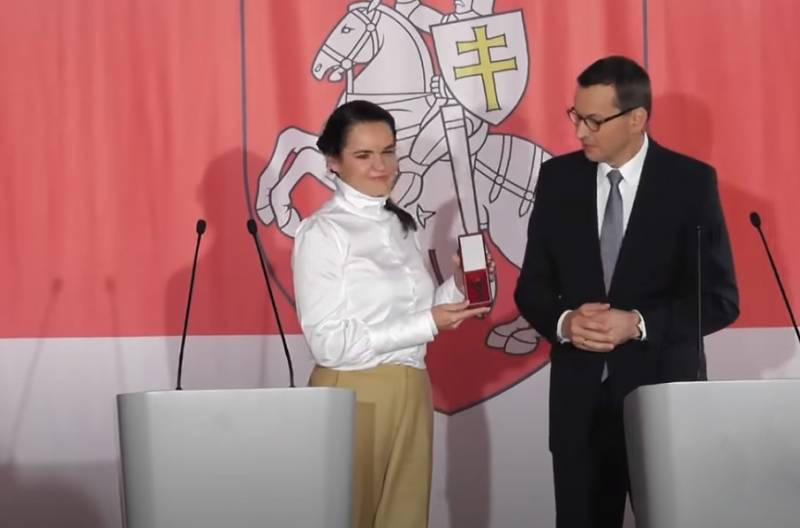 There is a discussion of the visit of ex-presidential candidate Svetlana Tikhanovskaya to Warsaw. It is worth noting that Ms. Tikhanovskaya, who quite recently announced that she was not going to fight for power, but would focus on "frying cutlets", arrived in Poland declaring herself "President of Belarus". This is how it was presented in Poland itself.
Polish Prime Minister Mateusz Morawiecki met the "President of Belarus" under the flags of Poland, the European Union and under the white-red-white flag, which is actively used by the Belarusian opposition today.
During the briefing, Tikhanovskaya told the audience in Russian what they wanted to hear from her. She stated that Alexander Lukashenko is not a legitimate president, that the votes in the elections "were stolen" and that Belarus needs new elections and a new president, "who will not choose which of its neighbors to establish relations with".
Mateusz Morawiecki said that "on behalf of the Polish people" he was giving Svetlana Tikhanovskaya the keys to the "Belarusian House". This is a mansion on the banks of the Vistula. In fact, in this house, under the control of the Polish authorities, they are going to form the so-called "government of Belarus abroad".
Tikhanovskaya also visited the university, where in English she repeated the thesis about "stolen votes", adding that "everyone knows who actually won the presidential elections in Belarus."
Meanwhile, information came from Minsk that a criminal case was opened against the detained Maria Kolesnikova under the article on calls for the seizure of power in the country. This was announced by the lawyer of Maria Kolesnikova, Lyudmila Kazak.
Discussing the reception of Tikhanovskaya in Poland as the "president of Belarus", experts note that Poland no longer hides that it is going to promote its protege to power in Minsk. For this, all means are used, including open interference in internal Belarusian affairs, financing of protests, polonization of students, work with diasporas, etc.
It is reported that Tikhanovskaya intends to continue her tour of the EU countries and focus on the actual adoption of sanctions against her country.