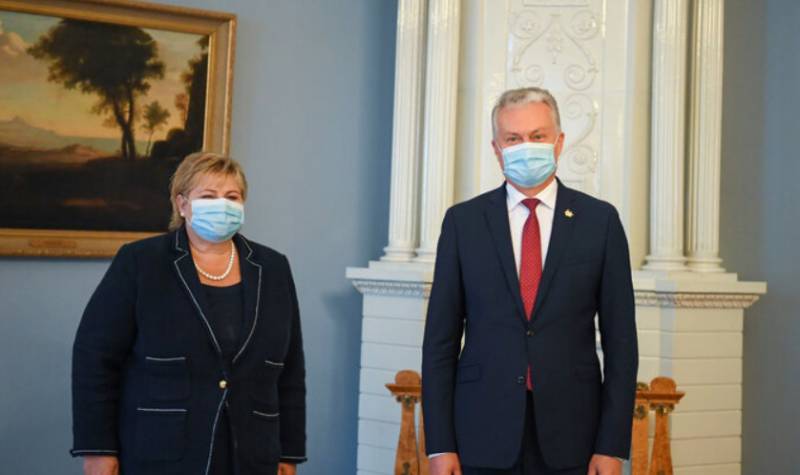 Lithuanian President Gitanas Nauseda met with Norwegian Prime Minister Erna Solberg. As reported, the main topic of the conversation was devoted to the deepening of economic contacts between Vilnius and Oslo.
During the meeting, the issue of a possible increase in the volume of loading the Lithuanian port of Klaipeda with Norwegian energy resources was discussed.
The issue of the volume of cargo transshipment through Klaipeda for Vilnius has become especially acute due to the fact that the President of Belarus instructed the Council of Ministers to work out anti-Lithuanian sanctions for interfering in internal Belarusian affairs. The main sanctions measure provides for the refusal to use Lithuanian ports with the reorientation of goods to the ports of the Russian Federation.
According to Gitanas Nauseda, Lithuania is interested in Norway increasing the supply of its liquefied natural gas through the port of Klaipeda.
The press service of the Lithuanian president said that in this way Norway itself "can maintain the competitiveness of LNG in the European market."
The leaders of the two countries agreed to strengthen mutually beneficial cooperation in the regional liquefied natural gas (LNG) market in order to maintain its competitiveness.
From the press service:
The heads of state also agreed to strengthen the partnership, including within the framework of the Transatlantic Alliance, and also discussed issues of joint activities in the field of renewable energy sources.
The experts, assessing the main issues discussed by Nauseda and Solberg, suggest that the economic situation for Lithuania may significantly worsen. The reason is that Lithuania refuses to purchase electricity, which will be generated at the Belarusian nuclear power plant, and Belarus may refuse to use the port of Klaipeda or significantly reduce the transshipment of goods through this port. In such a situation, the Lithuanian authorities are trying to find economic partners who could provide assistance in the same transshipment of goods through the Lithuanian port infrastructure. They are not only trying to find such partners, but also to encourage them to use Klaipeda in large volumes for trade purposes.
Solberg and Nauseda also discussed issues of "collective security in Europe in the NATO format."