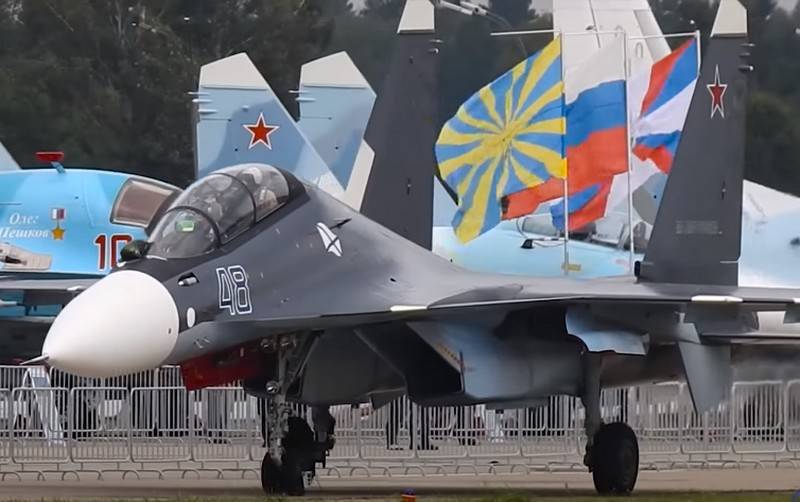 A new modification of the Russian Su-30 multifunctional fighter, the Su-30SM2, will take off by the end of this year. Reported by
"News"
with reference to the Ministry of Defense and the Defense Industry Complex.
According to the newspaper, the Ministry of Defense gave permission for the first flight of the Su-30SM2 prototype with the AL-41F-1S engine "product 117S". According to the work schedule, the aircraft manufacturers signed a contract to check the readiness of the aircraft for the first flight. It is expected that the Su-30SM2 will take to the air by the end of the year.
Thus, the new Su-30SM2 will receive the AL-41F-1S engine, the onboard electronics, radar, optical location station will be improved, and the range of weapons will be expanded. According to the plans of the Ministry of Defense, the entire fleet of Su-30SM fighters will be upgraded to the level of the Su-2SM30. By the end of the year, the military department intends to sign a contract for the supply of 21 new-built Su-30SM2 fighters.
As previously reported, within the framework of the import substitution program, the Adaptation-Su design and development project was launched on the base Su-30SM. In the course of this ROC, it was initially planned to strengthen the fighter's armament and change the avionics. In this form, the aircraft received the designation Su-30SM1. However, further it was decided to maximize the unification of the Su-30SM and Su-35S. The version with the installation of the AL-41F-1S and the Irbis radar, coupled with the previously made changes, received the Su-30SM2 index.
The Su-30SM fighter has been serially supplied to the troops since 2013. The aircraft is armed with an extensive arsenal of high-precision
weapons
and bombs.