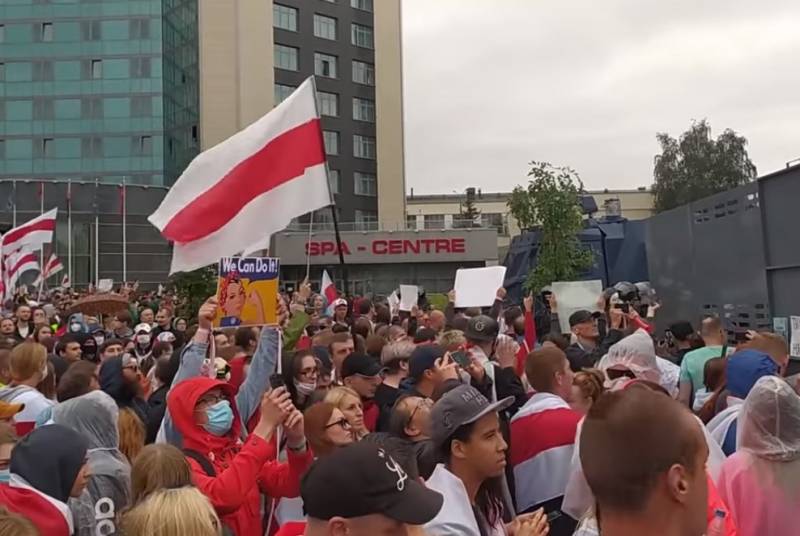 A protest march took place in Minsk yesterday. The actions of the demonstrators were controlled by a large number of Belarusian security officials.
According to the Belarusian publication TUT.BY, about one hundred thousand people took part in the protest march.
During the demonstration, the authorities closed six metro stations in the capital. Mobile Internet did not work and there were interruptions in mobile communication. OMON fighters blocked the approaches to the Independence Square.
The protesters moved along Pobediteley Avenue in the direction of the "Minsk - Hero City" stele and the residence of Alexander Lukashenko. By about 16:00 pm, the protesters began to disperse, and by XNUMX:XNUMX pm, law enforcement officers had already begun to remove the cordon.
Along with white-red-white flags, of which there were a lot, several people brought the rainbow flags of the LGBT community. To a large extent, what was happening was like a carnival, the participants of which competed in creativity. In particular, it was hard not to notice a group of guys without shirts, in bath caps and with brooms, chanting "Sasha, you are worn out!"
Protest actions took place not only in the capital, but also in many other cities of Belarus. There were no serious incidents, the processions were relatively peaceful. Despite this, several hundred participants were detained by law enforcement officers.
Interior Minister Yuri Karaev noted that the Belarusian police will not provoke acts of violence, but are ready to respond with forceful methods to aggressive actions.
There is no more humane, restrained and cold-blooded militia anywhere in the world.
- said the head of the Ministry of Internal Affairs of Belarus.
In an interview with journalists of the Belarus 1 TV channel, military expert Valery Prozorov said that the events in Belarus are connected with the growing confrontation between Russia and the West, which is even more acute than the Cold War times. At the same time, he expressed the hope that the people of Belarus will not follow the path of Ukraine:
The Belarusian people will draw the correct conclusion from the current situation. He will choose his own path of development, different from the Ukrainian one and based on the development and adoption of a new Constitution of Belarus.