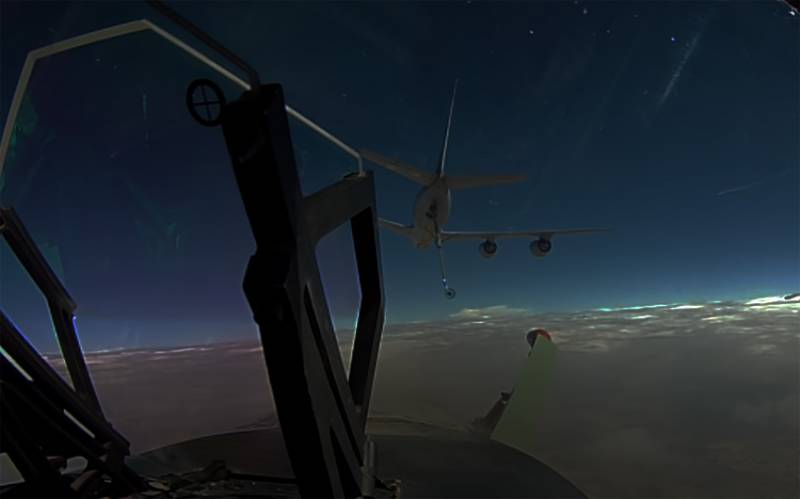 One of the questions that readers have on the topic of refueling combat aircraft
aviation
in the air, deals with the theme of a thunderstorm. Can aircraft refueling in the air during a thunderstorm be carried out with numerous discharges of atmospheric electricity - lightning?
This kind of refueling is not a frequent phenomenon, but the air forces of different countries do not refuse it - in cases of emergency. Thus, in the United States, during a night thunderstorm, the F / A-18 tanks were refilled with fuel using the KC-130 air tanker.
The corresponding video was posted on Instagram on the Combat_Learjet page. Such refueling is actively discussed on the net.
In the American information sources, during the discussion, it is assumed that refueling a carrier-based fighter-bomber in such conditions was a necessary measure. The planes were in the air and tried to bypass the thunderstorm front, but in the end the bad weather overtook the aviation facilities during that very refueling.
In fact, the planes could be at a completely safe distance from the storm front.
What do domestic standards say about this?
For example, the Manual on the Technical Operation and Repair of Aviation Equipment in Civil Aviation of Russia (order of the Ministry of Transport of the Russian Federation of 1994) prescribes:
5.1.10. Open refueling of an aircraft during rain and strong wind with dust, during a thunderstorm (during atmospheric electricity discharges) and closed refueling during lightning discharges is prohibited.
Western regulations: "When observing a thunderstorm front and flashes from atmospheric electrical discharges within a radius of 10 miles (about 16 km) from the immediate place of refueling, the refueling procedure must be stopped."
However, all these are "airfield" standards, and for civil aircraft and precisely for refueling. The conditions for the operation of combat aircraft are different. Although it is quite obvious that refueling in the air during a thunderstorm and discharges of atmospheric electricity is an extremely dangerous action that can lead to negative consequences for both sides - the fuel donor and the acceptor.