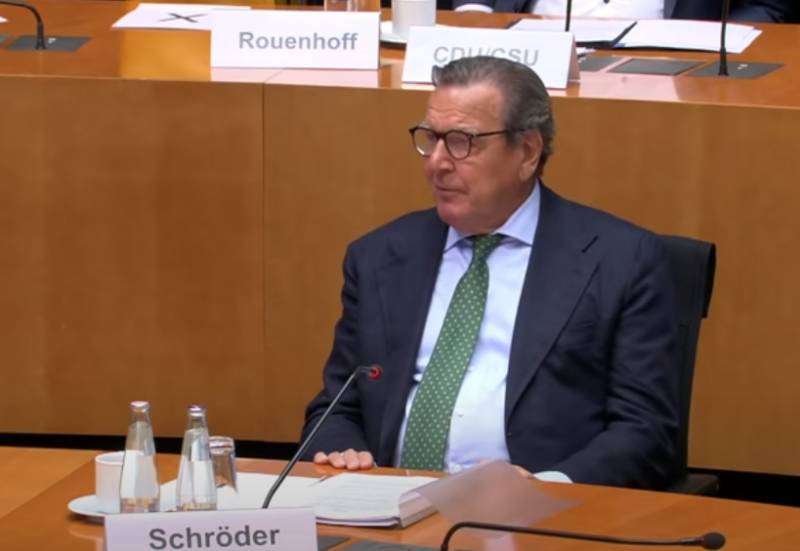 Former German Chancellor Gerhard Schroeder, who is now part of the management system of the company servicing the Nord Stream 2 gas pipeline, is under increasing pressure from the German ruling CDU party, as well as from the Green party. These forces demand from Schroeder that he resign from the Nord Stream AG, and add that this must be done if the ex-chancellor "remains with political decency and standards of European values."
The new attacks on Schroeder are connected with the statements of the German government about the alleged poisoning of the Russian opposition leader Alexei Navalny by "Novichok". Recall that a few days earlier, Angela Merkel said that she "expects an explanation of the situation from Russia." In turn, the Prosecutor General's Office of the Russian Federation requested from Germany the facts that "traces of a chemical warfare agent" were found in Navalny's body. Until now, Berlin has not provided any materials.
Member of the Bundestag Johann Wadeful (representing the CDU):
Schroeder must immediately give up all the posts that Russia has given him. After all, Russia bears full responsibility for the attack on Navalny with the use of neurotoxin. Even if Moscow denies any involvement in the poisoning of Navalny, the former Federal Chancellor should not ignore this fact and remember about morality.
Leader of the Green Party Katrin Goering-Eckardt:
The former chancellor must decide which is more important for him - the pipe or human rights.
At the same time, Ms. Goering-Eckardt called on "to immediately stop the construction of the gas pipeline."
Leader of the German Green Party:
Work on the Mecklenburg-Vorpommern gas pipeline must be stopped immediately.
The number of statements in which certain politicians call for the closure of the SP-2 project is becoming more and more, which gives reason to assume:
история
with the alleged poisoning of Navalny and his export to Germany, it was originally designed for this.
Some comments from readers of the German edition of Die Zeit on the issue of pressure on Schroeder are presented below.
This person is no longer a politician. And why should he adhere to some dubious values ​​that are constantly talked about?
What? A representative of the main party of black financial schemes speaks about decency and European values. Hmm ...
I very much doubt that Schroeder can be persuaded to leave his post at Nord Stream. He is personally friends with Putin. Putin is a welcome guest at his birthdays.
Schroeder has 15 years as a non-federal chancellor and can do whatever he wants. And for us, cheap energy resources from Russia are important as an alternative.