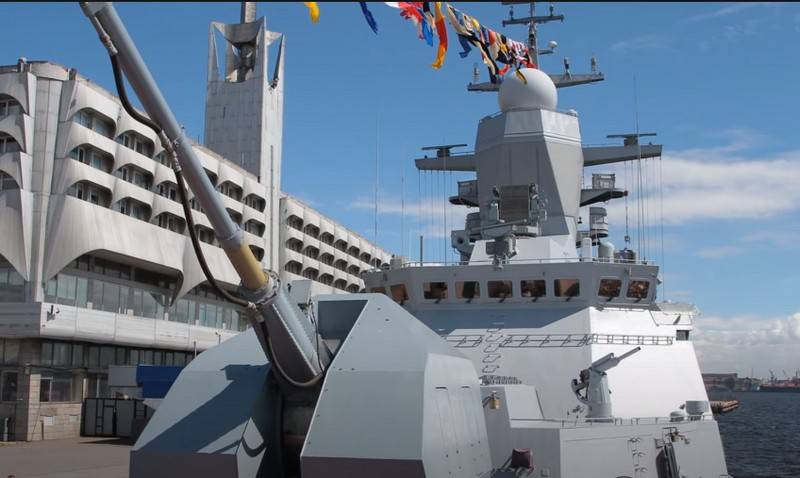 New corvettes of project 20380, the contract for the construction of which the Ministry of Defense signed at the end of August this year, will receive the Zaslon radar systems. Reported by
"News"
with reference to the military department.
Within the framework of the Army-2020 forum, the Ministry of Defense signed a new contract for the construction of project 20380 corvettes. The parameters of the contract were not disclosed, but it was previously reported that "about a dozen" new ships would be built, most of which will go to the Pacific Fleet. The ships of the new series planned for construction will receive Zaslon integrated radar systems, capable of detecting stealth vehicles at a distance of 75 km, and simpler targets at least 300 km away.
The fact that the corvettes of the new construction will receive a multifunctional radar complex "Zaslon" with the placement of fixed antennas in a tower-like superstructure, similar to the corvettes of the 20385 project, was reported earlier. At least, such a complex is installed on the corvettes "Zealous" and "Strogiy", which are being built at the "Severnaya Verf" in St. Petersburg, as well as "Aldar Tsydenzhapov", built at the Amur Shipyard for the Pacific Fleet.
Corvettes of project 20380 are designed for operations in the near sea zone of the state, to combat surface ships and submarines of the enemy; for artillery support of naval landing during naval landing operations by launching missile and artillery attacks on ships and vessels at sea and bases; to patrol the area of ​​responsibility with a view to blocking.
Earlier, Deputy Defense Minister Alexei Krivoruchko said that the military department had signed a new state contract for the construction of Project 22350 frigates and Project 20380, 20385 corvettes.
Meanwhile, it became known that Project 21631 Buyan-M small missile ships and Project 11661 Gepard patrol ships will be upgraded with an increase in the ammunition load of the Kalibr cruise missiles. RTOs will receive 16 missiles instead of 8, and patrol ships - 24.