The growing pressure on the Russian Federation from the United States and the West, constant provocations (from poisoning, to sending bombers to our borders), the growth of hostile rhetoric of the West have already reached such a level in aggregate that it is time to ask the question: where will they stop? And what will make them stop?
This is not an idle question, but, unfortunately, hordes of "leavened patriots" interfere with the discussion of this topic. Being brought to the masses, it immediately overgrows dying from (write in any reason) America, its dead nuclear complex (but excluding transport reactors, the "patriots" will pretend that they do not exist), the African American revolution (in the 60s everything was worse at times, and nothing) and in the end with a crash crashing into the US coast SPA 2A05 "Poseidon".
This question, however, must be raised again, and here's why. The West is pressing not just because of political preferences. The West presses for reasons so deep that they are de facto irreparable. For Western countries to at least temporarily begin to cooperate with Russia in a more or less massive form and more or less sincerely, a threat of the level of Adolf Hitler is needed, no less. But she is not, and now, apparently, will not be.
The underlying reasons pushing the West to actions hostile to us are so strong that, coupled with the general superiority of the West in strength (industry, technology, economy, culture, population - all together), they leave only one likely outcome of the anti-Russian crusade we are now observing.
And the outcome is this:
in the long term, our country, language (apparently, even languages, the great and mighty Russian will not be alone in this case), the cultures of those who inhabit it, and yes - the capital of those who own them - are doomed.
We are all doomed, from Putin to the Stalinist Vasya, who cannot in any way master the replacement of wallpaper in an old apartment. Lucky only those who die before our system dies. Probably, due to his age, Putin will still have time to get into this list of "lucky ones", but some of those reading this text have a good chance of seeing the death of everything before he himself is "multiplied by zero." And that's why.
Russia as a systemic problem of human civilization
How can you quickly and fully realize the significance of this or that phenomenon? The answer is simple: you need to simulate reality as if this phenomenon does not exist. For example, if you ask some reasonable (keyword) person about whether it is good that antibiotics were invented, then this reasonable person will imagine the nightmare that would be happening in our overcrowded cities without antibiotics, and say that yes, antibiotics are definitely good. And that without them it would be bad.
Let's imagine for a second that our country does not exist. Not in the sense that instead of her there is a whole brood of bantustans, but that she is NOT AT ALL. That she disappeared completely.
That's it.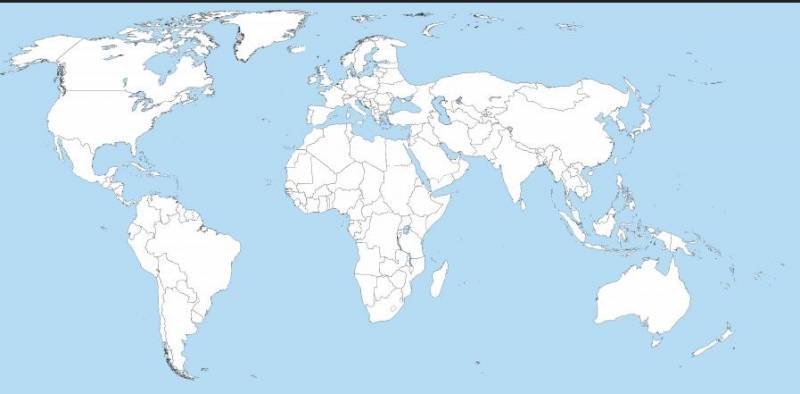 What would the world be like if such a miracle happened, if, like in that old Ukrainian joke, all Muscovites flew into space? An unbiased view shows that such a world would be much more stable than it is now. There is a world military and technological leader, the richest society in the world, whose supremacy (we will not call THIS the proud word "leadership", so popular overseas) is simply no one to challenge. There is really no one. China has Russia behind its back, the Iranians also deep down in their hearts understand that this country, which they do not love (and they do not love us, and strongly), in some situations will turn out to be a lifesaver, and in others, it strongly constrains the freedom of action of the world hegemon. No Russia - no magic wand, the hegemon's hands become completely untied, and as a result, there will be no Iran.
There is nowhere to buy a T-72 in conditions when you will not be sold an Abrams or Leo, there is no opportunity to buy an S-300 or an S-400 if you are denied the delivery of the Patriots. But this is a trifle, because there is nowhere to buy grain either, if not from the hegemon. Nothing canbe done. In a world where Muscovites all flew into space together, there will be no resistance to the hegemon. At all. No one will even say a word against it, everyone will silently do what they are told. Of course, individual tribes in Afghanistan will resist, but they can be hunted down by some VX, and there will be no one on the whole planet who could muster the courage and say that killing VX is bad. There will be no one to appeal to.
Moreover, the hegemon himself will be much better than now. It will be possible to reduce the army to the role of a colonial police with a nuclear
weapons
... All these super-expensive toys like nuclear submarines with ballistic missiles will not be needed. There will be no one to threaten them. And this is economic growth, growth in the quality of infrastructure and the quality of life of the population. These are investments in the technology of the future, which are now being spent on repairs of new "Ohio".
And in Asia, billions of people work for the world order. They do not buy themselves brand new Geely and fashionable smartphones from Xiaomi - because their role in the world is completely different. They must work in silence and not consume anything beyond the limit of resources allocated to them. And other Asians, dark-skinned and brown-eyed, must extract oil. They do not and cannot have either national space programs or nuclear reactors.
This world, when deeply examined, looks scary. Or even scary.
It will be especially scary for those who do not fit into it "in little detail" and will fall under some kind of optimization. There was such a community in Vietnam - Song Mi. Her example shows very well how the hegemon would act with his hands untied, starting from his moral principles.
But at the same time, this scary world is absolutely stable: all the roles are assigned once and for all, the "players" have absolutely no opportunity to move to another level. This civilization, with all its ugliness, is energetically optimal, there is nothing superfluous in it.
All processes within it, all the exchange of matter and information are optimized and performed with minimal energy consumption, at the cost of minimal effort. In the final
stories
English-speaking people with English names and surnames will fly to the stars. It won't be so soon, it won't be so soon that by then they will have forgotten that non-English speakers could also fly into space. As in American science fiction. And this world is eternal. There is no one to "sway" him. There is no one and nothing: all power, all military technology and the production of weapons are in the hands of one civilization, it also controls food and all world logistics, and this control is indisputable.
But our real world is unstable. Suboptimal. In it, the hegemon has to look around. In it, the hegemon is forced to endure the arrogant antics of the Russians in Syria - because the Russians have nuclear weapons, and the arrogant antics of the Chinese - because the Russians once taught them how to make nuclear weapons and taught them how to make non-nuclear ones, and also because they now with the Chinese in many ways at the same time. And many other insolent antics also have to be endured, because anyone can buy weapons from the Russians or Chinese or even call them to their territory. You have to have an army and a navy that are not at all like the colonial police, and pay for it. We have to bear losses.
You have to do a lot that is neither optimal for the hegemon, nor necessary. At the same time, the planet is periodically shaken by confrontations of the Cold War type. And before that - the "big game" between the Russians and the forerunner of the hegemon - the British, whose society is already almost part of the hegemonic civilization.
The world that Russia is in is unstable. It looks like a car with two motors of different powers. It is impossible to put everything in order once and for all, it is impossible to eliminate or reduce the mass of "operating costs". Rivalry flourishes in him. Moreover, all of the above is not something necessary for the existence of mankind, and the stability of this existence is so simply harmful.
Introduces extra "drive".
This is a systemic problem. To get it right, we need a little theoretical explanation.
One of the amazing discoveries of sociology of the twentieth century is, firstly, the establishment of how social processes are similar to thermodynamic ones, and secondly, the understanding that the principles and laws of the theory of systems, acting on physical systems, act in the same way on social systems, on societies. Hence, for example, such concepts as "social entropy" or "social overheating", "social system", etc. appeared.
The principles of systems theory as applied to people and their societies have acquired particular importance. Previously, the author raised these issues
in a short article
, a fragment of which it makes sense to cite in full:
An important example for us is the social application of the physical principle of Le Chatelier - Brown, which in physics says: "... if a system in stable equilibrium is influenced from the outside, changing any of the equilibrium conditions (temperature, pressure, concentration, external electromagnetic field ), then the processes in the system are intensified, directed towards counteracting changes. "
And for societies, that is, social systems, this is also true, for example, an attempt by the state authorities to prohibit the Telegram messenger led to the fact that the processes of opposition in society sharply intensified, for example, people began to share with each other methods of bypassing blocking, etc. after all, the presence or absence of Telegram has almost no effect on the quality of life of a citizen: there are WhatsApp, Viber and other similar systems. But there is a protest. Remembering any example from history, when someone pressed on someone, you can immediately recall examples of opposition. Someone might think that such opposition is an inalienable property of man, but in fact it is an inalienable property of everything.
Now let's abstractly (for now) consider the totality of societies occupying certain, connected territories. Let us assume that between them there is an established exchange of goods, a hierarchy, a balance of power.
And suddenly, a force external to this stable system suddenly appears. It begins to actively rebuild the architecture of relations between societies, "switch over" material flows, generate or make publicly destructive information for the established order of things. Moreover, it settles on an important territory for the communication of societies with each other. Will such an invasion generate opposition from the "beneficiaries" of the established order and "neutrals" generally satisfied with their status? Definitely yes.
Now let's move the focus forward in time. This power exists. She has already survived the first attempts of the "neighbors" to produce her "rejection". Will her position be stable? No, they will always try to either knock it out of its positions, taking away controlled material flows, or simply destroy it, if forces allow.
To complete the picture, let's call all societies the word "countries".
And the external force that interferes with everyone, which is also a country, let's call Russia.
Is there a puzzle?
Alas, this is so. Our country and its population is that fifth wheel in the world cart, because of which the cart cannot go smoothly and evenly where its owners want. And this state of affairs leads to an important consequence for us.
Given the existing centers of power in the world today, the balance of power between them will always develop in such a way that the destruction of Russia will be a desired or generally necessary action for one or several such centers. This is due to the very nature of things and does not depend on human will.
We are the fifth wheel in the cart. The world without us will be much more stable and simpler. We give human civilization a very large structural redundancy. And, according to the laws of the universe, the "civilization" system will ALWAYS try to get rid of this redundancy. Get rid of us.
For us will be only those who are next in line for "optimization", or those who stand in front of us in it. And only while they are being threatened. For example, the Syrians. And, in fact, this is what we observe, right?
The conventional West, in theory, may even try to achieve peaceful coexistence, but will not be able to. Simply because, developing naturally and harmoniously, the West will rest against the fact that the very fact of Russia's existence ties its hands and forces it to limit itself.
A trivial question - to forward a gas pipeline through Syria on the Mediterranean coast and get gas on the coast, it's known what. And ANY issue affecting the interests of this large Eurasian country turns into the same thing. Russia has never been a threat to the West, the West is immeasurably stronger, but it has always interfered, like a stick in a wheel, by the very fact that it exists. And obstacles must be removed, this is also a natural property of human societies. Interference forces you to do unproductive work, increases risks and costs, and generally "raises entropy."
This is precisely the reason for the problems that Russia has with the world centers of power from the moment from which they learned about it. Our conflict with the West is insoluble in our traditional categories. No way.
But this is half of our problems. There is another one, which, together with the first, gives a powerful synergistic effect and aggravates our difficulties like nothing else. We are talking about the qualities of the dominant civilization in the world - the Anglo-Saxons.
Main enemy
First of all, it is necessary to outline the contours of the super-society that confronts us. It includes the US, UK, Canada, Australia and New Zealand together. We are not dealing only with America.
This alone makes the confrontation almost hopeless, at least in the form we are used to and understand. The forces are too unequal. At the same time, the fundamental difference between Anglo-Saxon culture from any other is the organic inability to come to terms with the existence of other cultures of equal status. And this makes peaceful coexistence impossible.
Rudyard Kipling once wrote about us like this:
Do not misunderstand me: every Russian is the sweetest person as long as he wears his shirt outside. As an Asian he is charming. But as soon as he tucked his shirt into his pants, like a European, and begins to insist that Russians should not be treated as the most western of the eastern peoples, but, on the contrary, as the most eastern of the western, he turns into an ethnic misunderstanding, with which, rightly, not easy to deal with.
We know very well how the British treated the Eastern peoples, there is no need to decipher. But let's say that Kipling has a very soft assessment of us, one of the softest in comparison with other Englishmen. And even in this mild assessment, there is simply a sense of superiority that Kipling has in relation to "these Asians." And, admittedly, in English eyes we are not the only ones. By and large, the British see all non-English people this way. And this attitude was completely transferred to their cultural offspring - the Americans.
Evolving through the centuries-old war with "outsiders" -Indians, which periodically degenerated into real genocide, through the centuries-old use of "outsiders" -slaves, this attitude in American brains took simply monstrous forms, which only German Nazis could surpass in terms of the cruelty of the consequences, and for a very short time.
There is no need to analyze the evolution of this system of views, it is better to go straight to the results. Let's start with a prime example.
Now the United States is shaken by protests, which initially (now no longer) were a form of protest by the black population of the United States against racism. The Russians do not understand what they were against there, because the United States already had a black president.
In fact, this is a consequence of the fact that the Anglo-Saxon culture, which dominates in the country, simply does not accept them, blacks. Subconsciously, white Americans simply cannot come to terms with the fact that these completely different blacks are also people, and even equal to them. And this is not the policy of the authorities, this is the Anglo-Saxon mentality. This is true at all levels, starting with the everyday.
In America, black women straighten their hair. Every time you see an African-American woman with straight hair in a photo or video, know that she is tormented every day with a curling iron in order to unwind her natural curls. What for? It's just that when you at least somehow look like a white woman, your chances of finding a job are slightly higher, your chances of running into rudeness are slightly lower, the chances of being stopped by the police for a search on the street are also lower. A couple of years ago, in one of the states, an 11-year-old girl was kicked out of class for a fluffy hairstyle. And she is so by nature - like all blacks.
And in the United States, skin whitening products are sold. The lighter the skin, the more sympathy can be aroused in a white recruiter. And the policeman has fewer questions. A black teenager knows that when cops, he can't keep his hands in his pockets, but a white one standing next to him can. Their life consists of such "little things" completely, and no one can get away from this. Michelle Obama struggled with a curling iron every morning so that her husband's rating among white housewives did not drop.
No exit. You can be anyone and have any money, but the culture that surrounds you does not accept you, does not agree with your existence and will never agree.
And they are sometimes killed for these reasons. Black looks somehow suspicious, it is better to shoot just in case. Even when it's some medical student with no criminal record.
"Mom" of computer-aided design of ship hulls, Ray Montague, threw out the curling iron only after retiring. Someone will say that this is a trifle
but imagine how trivial things look there, if such are trivialities.
It is not hard to guess under what monstrous psychological pressure they live. And these riots were originally just a "spring straightened out". A consequence of the "social entropy" described in the article at the link above, which has grown to unbearable values. It was only later that the democrats straddled this wave in their own interests, it was only later that the "antifa" got in there.
What is most important in all this? And the fact that for a century and a half the white Anglo-Saxon culture has not finally come to terms with the fact of the existence of blacks in a quality other than property. Slavery was abolished in 1865, 155 years ago. In any other society, the black minority would have been assimilated long ago, and the external features of the blacks would have become a variant of the norm.
But in the Anglo-Saxon culture of the United States, it was not until the 1960s that they got rid of the obligation to give way to whites in vehicles or parks on a bench. Nothing helped: black and white Americans climbed under the bullets in Vietnam, pulled each other out from under fire, and even this did not help overcome the split. How strong must aversion to "others" be, if even that doesn't help bring down the walls between people?
Well, the fact that the "answer" rolls out from the "black" side is already a natural consequence: all this criminal rap, screaming defiant style and the like. Of course, this "response" ultimately kills the blacks themselves, turning their entire community into a criminalized and cruel rabble, giving rise to a retaliatory black racism, but the white majority is not interested in this; as exotic animals, standing a class below, white blacks are quite accepted, even despite all the gangsta costs.
The biggest mistake would be to see this as "just racism."
Everyone has racial prejudices, including us. But for the Americans and, more broadly, the Anglo-Saxons, racism is a consequence of the fundamental inability to see in a "stranger" an equal person. And, as a consequence, the impossibility of recognizing equal status for other cultures
This applies fully to our culture, even though we are white. We commit a crime in their eyes by the very fact of our existence. This is not an exaggeration. They would accept us, if we agreed with a subordinate position, switch to English and go into the shadow of the "exceptional nation" (of course, this applies to those who are indistinguishable from white Americans). But we don't want that, do we?
The perception of "others" is most vividly manifested in American wars.
January 6, 2012 John Tyrman, Scientist and Executive Director of the Center for International Studies at MIT and author of the book
Death of Others: The Fate of Civilians in America's Wars
, published an article in the Washington Post that is short but extremely important in terms of understanding what the United States is and why this country behaves this way. The article is called
Why We Ignore Civilians Killed in American Wars
... The author quickly leads the reader to a simple and undeniable answer to the question in the title:
Our self-worth, based on what cultural historian Richard Slotkin calls the "myth of the frontier," in which righteous violence is used to subjugate or destroy the savages of whatever land we try to conquer plays a large role. For hundreds of years, the "frontier myth" has been one of America's strongest national myths.
When communism in Korea and Vietnam challenged us, we called on these cultural ties to understand the US mission abroad. The same is true for Iraq and Afghanistan, as the media and politicians often portray Islamic terrorists as savages from the borderlands.
By presenting each of these wars as a struggle for civilization against a lawless culture, we, in essence, classify the local population as the Indians of our North American conquest. Robert D. Kaplan, a foreign policy writer, wrote in 2004 on his Wall Street Journal page: "The red Indian metaphor is one that the liberal policy nomenclature might be uncomfortable with, but Army and Marine field officers have embraced it because it responds perfectly to the military challenge of the early 21st century.
There is a synergistic effect - the rejection of "aliens" was superimposed on the historical experience of their military conquest and, periodically, extermination, an experience that is glorified in the national epic as heroic. Now you have to repeat, and they repeat. All their victims are Indians for them.
This urge to kill is a trauma in American culture that has greatly exacerbated the British inherited rejection of the concept of "equal strangers." Americans are ready to accept the existence of "outsiders". But in a subordinate position and, according to Kipling, "with a shirt outside."
Or with a complete rejection of identity, altering the name in the English manner, and so on. And only whites. Attempts to occupy an equal position without becoming an American will end badly, as we see in our case.
Such a view of the world could not fail to give rise to political doctrine, and he gave birth to it.
Beautiful-hearted elves from the ranks of liberals sometimes say that there is no ideology in America, but it is there, it is formalized, described in the literature and has a name. We are talking about the so-called ideology of American exceptionalism - American Exceptionalism.
Alas, some nonsense is written about this phenomenon in Russian: like all important things, in translation it is given with a strong distortion. Therefore, learn English, you cannot know the contents of the enemy's head if you do not speak his language, and today understanding the enemy is vital for us.
But if there is nothing sensible in Russian, then in the original language there is. Let's translate the pomace.
American exclusivity is a set of three dogmas that assert that, firstly, the history of the United States, which did not know monarchy, feudalism and legislative inequality of citizens (blacks do not count), is better, cleaner and more progressive than that of other countries; secondly, that America's moral duty is to transform the world in its progressive image and likeness, and, thirdly, since America's history is better than other nations and since it has a progressive moral duty that other nations do not, America is morally the moral point of view is superior to other nations.
Tens of millions of Americans are sincerely convinced that non-Americans have no moral right to compare themselves to Americans. In online discussions, some may bluntly discard any argument with the phrase: "There can be no moral equality between us and ..." (write anyone).
From the point of view of a follower of the ideology of American exceptionalism, arguments like "yes, we accidentally covered civilians in Syria with our bombs, but you killed many more civilians there, so shut up" make no sense. That is, they cannot even be discussed - because they do not make sense in principle. Non-America cannot compare itself to America because America has an innate moral superiority over non-America.
Did our bombs kill someone there? But we are good, we wanted to make these people better, we just made a mistake. And you wanted to make things worse, and you have no and cannot have any excuses. Did you want to do better yourself? Then you would be at the same time with us, because we are a priori good, and all the rest are good insofar as they are at the same time with us. This means that you have no right to pretend to good intentions, good is America, and not some nonsense about the salvation of the innocent that you are carrying here.

Is it good to cut the Christian population of Syria to zero? Yes, because we Americans do it. And if you wanted to slaughter the Syrian Christians, and we would oppose you, then it would be good to protect the Syrian Christians, and not an attempt at their genocide. Do you understand how good is different from evil? You are against us, therefore you are evil. A priori. It doesn't matter that we kill children, and you save them. We kill them in the name of good, and since you stand in our way, then you are evil. We ourselves will stand in the way of evil and will fight against you, we are Americans, we never deviate from the right path and we never give up.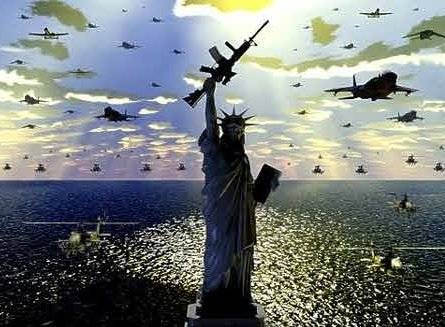 So they come to one country after another and burn everything to the ground in the name of their "values"
So it is "stitched" in their heads. They are guided by this.
From our point of view, all this is just an extremely exotic form of basically banal fascism.
But for them, this is the central point in their perception of the world.
It sounds cartoonish, but many of them actually believe in all this, believe earnestly, so much so that it completely unties their hands and turns off normal human morality. And they are actually ready to fight and die for this set of ideas. Let's take Libya as an example. A shattered state, turned into a continuous war zone, with slave markets and rocket attacks on hospitals, without electricity, but with terrorists - and there is no end in sight to all the horror that occurs there. Do you think many in the United States regret this?
No, as well as for Agent Orange, Song Mi, burned with the people of Fallujah and everything else. None of them repent.
And the reasons are obvious. If the American nation is exceptional, then others are a priori non-exclusive. If the American nation is higher than others, then others are a priori lower, the opposite is not true even from the point of view of logic.
Because there is no "just superiority". If you consider yourself superior to others, it means that you consider others inferior to yourself. It's unavoidable.
And much of this stems from American politics. Famous American historian and public figure
Michael Ledin
put it this way (later it became known as the "Ledin Doctrine"):
"Once every ten years or so, we have to pick up some squalid little country and smash it against the wall just to show everyone how we do business."
This is a perfectly logical setting. Excellence requires sometimes to point out to others about their status. The most intelligible method to point someone in his place is humiliation, and what is the highest form of humiliation? This is murder. Which is what we see in Iraq, Syria and other places.
But what if someone who, in your opinion, is lower than you, but behaves like an equal, and you cannot put him in his place at once, how will you feel towards him?
Hatred.
To illustrate, let us quote from another authoritative and famous person in America - Graham Ellison, a figure who is incomparably higher than Ledin in the American table of ranks.
Ellison is a prominent American scientist, Harvard professor, former Assistant Secretary of Defense of the United States, member of the Council on Foreign Relations and the Trilateral Commission, laureate of all kinds of prizes for peace (!) and a respected person in the States (with a citizen's personal page on Wikipedia
can be found here
, there are all titles and regalia). And now a quote about those who have forgotten where they belong:
"No matter how demonic Russia is, no matter how destructive and dishonorable it is, and no matter how it deserves to be strangled, the cruel truth is that we cannot kill this bastard without committing suicide."
How much melancholy there is. However much the Russians deserve to be strangled, we cannot strangle them, because we will perish ourselves. How painful! And if this limiting factor were not there? What would have happened then? Moreover, there is an even more important question: what if the Americans have the opportunity to "strangle" without dying? What will they do then?
If someone doubts that a public authoritative public figure could have said this, then here is an article he personally wrote for the National Interest (
English source
for unbelievers).
At one time, the author was greatly affected by the rumor in American
the news
the way the Americans cover the flights of their astronauts on the Soyuz. Usually it is "Our John Smith and two Russians." Russians almost never have names. A trifle, but indicative.
This approach is basic for the United States. It is due to the properties of the population of this country and will never disappear. This is the model of attitudes towards "strangers" that their archetype dictates to them. This is who and what we are dealing with. And there is no need to remember your experience of communicating with these nice and good-natured people, the author also has experience of communicating with Americans, however, ANOTHER.
They are just that, and their friendliness is feigned, and they themselves do not hide it. They smile at each other and everyone else just like that, there are no real emotions behind this feigned friendliness. This is not friendliness, this is hypocrisy - at least that is how the American way of communicating has been called in Russian at all times.
In general, they do not hide when they communicate "among their own". Fresh out of the box: on the popular Navy Matters blog
sounded the American view ON ALL opponents of the United States:
Our enemies are enemies because they are evil, corrupt, dictatorial hooligans. They are not rational people. They act at the animal level of stimuli and responses.
This is roughly what the "regular Joe" thinks. About us (if you don't understand yet). You can find a whole book of such things on the American Internet. There are, of course, opposite examples. The obsession with American exclusivity and the desire to pin everyone to the nail is a feature of the MINORITY of Americans. The problem is that this minority is BIG ENOUGH AND ACTIVE. And the passive majority will not resist.
What is the vision of the future for American society? Fortunately for us, Americans do not hide how they want to see the world in the distant future.
FUTURECIDE
One of the consequences of the American idea of ​​the need to remake the world in the image and likeness of America can be observed in space fiction. What are the names of the people who conquered the universe in American science fiction books? English. Not always, but very often. And how do they address each other? Yes, also in English - mister, sir and the like. At the same time, the fact that there is someone else besides American-like earthlings is mentioned in some books, and in some not. As if there are no non-English-speaking cultures. Simply not, they are outside the plot. Nobody says that they DO NOT AT ALL. They just don't mention it.
However, there are also honest writers. Michael Anthony Foster, for example. Let's quote a piece of his "masterpiece"
Warriors of the Dawn
... A person and a descendant of a genetically modified person are talking about the language of these very genetically modified people in the distant future on board a starship:
- The sign is very similar to Chinese characters. Did you get something from them?
- Yes. Something. For example, the Singlespeach language is a model of Chinese, but we certainly did not copy their grammar and phonetics. Each root in Single Speech has three parts, and each combination has four meanings. But at the core of the system, we were based on English, as most people speak it. In addition, we do not like intonation, without which the Chinese language cannot be understood unambiguously. We can say that we used their ideas, but on a different material. It is said that it was even considered Russian language, which at one time was widespread on Earth, but then became a dead language. But the structure of this language, its structure turned out to be too primitive, like the people who spoke it.
Of course, there are opposite examples, but in most cases, the image of the future broadcast by the Americans is simple: there are no non-Americans in it. Simply not, that's all. They are not mentioned. It is not explained where they are. Their absence "in the frame" goes without saying, and no one asks any questions about this.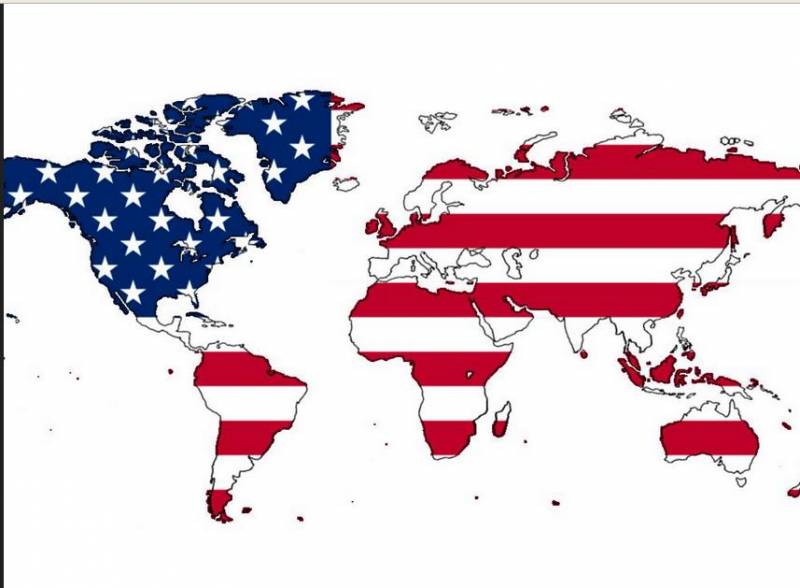 The world of the future American style
The reasons for this are profound and stem precisely from the ideology of American exceptionalism. Since America's moral duty is to change the world in its own progressive image and likeness, everyone must become the image and likeness of Americans. And since good is America, and evil is non-America, what should be done with evil? Right…
At the moment, the US approach to building the world order (as they see it) is called "futurocide": it is necessary to destroy all options for the future, except for the American option for the future. Why? Because it is America's moral duty to transform everything in its own image and likeness. This means that there can be only one version of the future. For all. And in reality, the United States broke everything that it could reach. Colonial empires, then the USSR. Then came the turn of the smaller countries. Which country in the Arab world was the most technically advanced? Iraq.
And of the republics of the former Yugoslavia, which was the most industrially developed? Serbia.
That is, it got primarily those who went beyond their neighbors along the path of progress. It's not just that.
Who else is there? Iran, which has launched a satellite of its own production into low-earth orbit and produces gas turbines and jet engines, albeit not of its own design.
It takes little for American bombs to start falling on your country or to get sanctioned. It is enough just to take a step towards industrial development and technological progress. Because industrial development and technological progress give chances to build the future by ourselves, without the United States and the US vassals to whom they left the industry. And this is unacceptable.
In contrast to this, let us remember how the "freshly deflected" US countries, for example, Ukraine, end up. De-industrialization and propaganda of the "agrarian superpower". And the Baltics too. Poland is not, but many of the competences in the design of various equipment the Poles have lost. Romania built its own jet planes under the CMEA, but now?
And Russia is giving a vivid example here. Let us recall the nineties: contracts with Iran for the supply and production of everything and everything could become a lifesaver for the domestic industry, especially for the aviation industry, but the unwillingness of Americans to see some industrial powers in the non-Western world and the presence in Russia of a pro-American "fifth column "In the system of power (which is still there, by the way) led to what is known. As a result, we only come to life now, and the outcome is not at all guaranteed. What if we were given a little bit harder? Would we have an aviation industry in general?
Another typical example of how our "opponents" see the world is the computer games of the "Civilization" series. They do not provide for any other ending, except for the victory of the civilization for which the player is playing over others. No other culture could ever give birth to "Civilization".
There are actually many examples, and the exceptions to them are Europe, Japan and South Korea, but now they are too strong players for the United States to be able to push them to complete de-industrialization, firstly, and, secondly, they were previously needed for fight against the Soviet Union. Otherwise, Mitsubishi would hardly have been making jet fighters. At the same time, not a single friendly United States (except France, which was truly independent for a long time) has no closed technological chains in the defense industry: only the United States can create something from scratch and entirely. And this is no coincidence, they offered us such a semi-dismantling of the defense industry in exchange for access to Western military markets.
Today in the old industrial countries, the industry exists as a relic of the Cold War, but the United States has managed to tightly tie these countries to its image of the future: there may be a German crew member on the spacecraft that will be sent to Mars. Or Japanese. But they will be English-speaking, and this ship will be American, and whoever does not understand that there is no other way, let them prepare for sanctions, if not for bombs. And of course, this is just Mars. No non-Americans will fly to the satellites of Jupiter, "they haven't come out with a snout," although they will take part in this with money.
Synergistic effect and projected outcome
The structural redundancy of Russia, together with the extremely aggressive rejection of "foreign" cultures by the Americans and, more broadly, by the Anglo-Saxons in general, as equal partners, give an interesting synergistic effect.
First, American pressure does not subside no matter what: they can go to confrontation with China, and it would be logical not to quarrel with Russia at the same time; moreover, such proposals appear in America itself regularly. They CANNOT get away from it: it doesn't work. Moreover, it will not work.
And this despite the fact that during the Cold War, this is exactly what they did, however, on the contrary, with the Chinese against us: after the war in Vietnam ended, the United States managed to make China, if not an ally, then at least companion in the fight against the USSR.
And now, when it is necessary to crush China (remember the "futurocide": as soon as the power of China reached a certain level, it automatically became an enemy), it is impossible not to quarrel with the Russians at the same time.
At the same time, Europe, which would seem to be interested in buying cheap energy resources from Russia, also plays against Russia for long periods of time. There are a lot of examples, one can recall the role of Germany in the Ukrainian events. And this is not about the United States, Europe has always been hostile, just in the absence of the American cultural paradigm of rejection, Europe could sometimes cooperate with Russia, albeit temporarily. Today, only trade keeps the Europeans from sliding completely into a level of hostility comparable to the American one. But there is someone to destroy it, an example of which is the story with Navalny in Germany, potentially fraught with new sanctions, and precisely against trade.
In general, if you really have to choose, then, clenching your teeth, the Germans will choose the United States. It is believed that they have already decided to do this: the process of a sharp withdrawal of German money from Russia has already begun. "Streams" are still tying them, but how long will this last? And after the Germans, the rest of Europe will simply "pick up" and repeat. Many Europeans do not want this, the way they rolled the Transatlantic Partnership (TTIP) shows it well. But if they are forced to choose and not given the opportunity to maneuver, then everything is obvious.
On the other hand, if the Americans, obsessed with the idea of ​​their exclusiveness, push too hard on Europe on some issue, then for a short historical period some alliance may arise from Russia and some European countries. But just for a short time. Then everything will return to the basic contradictions discussed above.
In general, the United States is working to strangle the Russian Federation, while Europe hesitates: the need to ensure stability and predictability of its environment and freedom for political and economic expansion dictates complicity in strangling. And trade interests in energy supplies dictate non-strangulation. As a result, we see an amusing throwing of Europe with calm, strong and even hostility from the United States.
The United States clearly wants to remove the structurally redundant unit from the planet, and we know that their policy of strangling Russia did not end with the collapse of the USSR and our de facto surrender to them.
This, by the way, shows well that it is impossible to surrender: we will be liquidated anyway.
Their culture also dictates an aggressive line to them, they cannot deviate from it. The fact that now in the United States, nevertheless, voices have begun to be heard with proposals to besiege in terms of pressure on us, we should not be deceived, America is simply looking for cannon fodder for a war with China, and no more, and, as already mentioned, will not be able to besiege.
Smaller players like Japan don't mind our cutting out of reality absolutely. But for China it is like a bone in the throat: it will remain with all the power of the West one on one in this case. While China will be in our trench. What happens if the US offers him to change camp is an open question. Most likely, nothing, the Chinese cannot but understand who will be next after us. But we must understand that China will not fight for us. Help - yes. Pulling out from under the fire - no. All by yourself.
One way or another, and all those factors that prevent us from living in peace are aggravated. Russia's audacious antics in Ukraine and Syria have made it clear to the West that if the "reptile" is not crushed, then it can grow and get stronger. The West is slowly consolidating, and the disputes over the Nord Streams and the new sanctions that are flaring up there are simply shaking down the conditions for consolidation. For Europe, the issue of gas is acute: a complete transition to liquefied gas will ruin them. They must first solve this problem in any way, and then go to break off the fifth wheel together with the United States. But the trend is obvious.
Therefore, our neighbors in the CIS are spinning like a top, trying to make both yours and ours. In the long term, they have already written us off, no one believes that we will survive this round. It seems to us here that we are so cool with our Su-35 and T-90, but outside of our great Motherland everything looks different from the word "absolutely". There they see not a very large, but just a daring guy, whom the owners of the planet have already sentenced to death. Just a little bit left. And it is better not to stand next to him at this moment.
Initial position
So, in order.
1. Russia is a structurally redundant element of world civilization, the very fact of its existence with the simultaneous existence of other really existing centers of power generates processes on the planet that reject it, contributing to the removal of the Russian Federation from the world community in any way, from blockade to destruction. It is important to understand that we are not necessarily talking about war, conventional or nuclear.
It is worth remembering that not a single nuclear bomb fell on the USSR, but it, nevertheless, did not. The defeat will most likely look like this.
2. The beneficiaries of the existing order are either unable to ignore these processes (part of Europe, and the CIS will be a little later) or are interested in them (part of Europe and the USA). There is only one exception - China, but so far this is not enough to stop negative processes. Moreover, there is no guarantee that China's position will remain this way forever.
3. Interested in the elimination of Russia, the beneficiary of the established world order and at the same time the world hegemon (the United States) from a cultural point of view is not in a position to give up attempts to crush or even destroy the Russian Federation. These attempts will never stop.
4. All of the above factors are irreparable
with the current world order
nature.
5. The balance of forces between the Russian Federation and those countries that are likely to participate in its elimination is such that it excludes the possibility of containing enemy pressure in the long term. And this is also unavoidable.
6. There is no way to avoid all this. And if the Russian Federation resists to the end, and in case of surrender, the result will be the same.
This is what the situation looks like now. The Americans are stepping up what they see as pressure on us. Demonstration of force by bombers, sanctions, threats, provocations against our warships on the high seas, "black operations" such as the downed Boeing over Ukraine - all this is the initial stage of the promotion of processes, in the end of which the Russian Federation should follow into oblivion for the USSR. However, the Americans are actively improving the means for a nuclear attack, and, as has been said more than once, the risk of a sudden nuclear strike on us from their side is slowly growing.
In theory, these processes can be variable in nature. There is no special anti-Russian conspiracy, but there is an objective reality that requires Russia to be "removed from the platform", maybe a little later, or a little earlier, and also a culture that excludes both reconciliation and mutual understanding. But there is also China, which also draws back forces.
Therefore, in their "crusade" breaks are possible, but at the same time it will never stop. And (the last important conclusion) if in the short and medium term the complete elimination of Russia by the hegemon is unlikely, then in the long term it is inevitable. They have hundreds of years, one attempt, but it will succeed. The accumulated probability that with our current policy they will succeed is approaching unity, alas.
This makes it immutable that with the current paradigm of our behavior in the world, we are doomed, as it was announced at the beginning of the material.
Is there a way out? There is. True, for this we will have to literally break our mentality, take for granted the new system of values ​​and learn to act according to plans, the duration of which exceeds the duration of a person's active life. We have to change. And, as in the case of realizing the root of Russian problems in the world, we will have to understand something that we do not understand.
To be continued ...