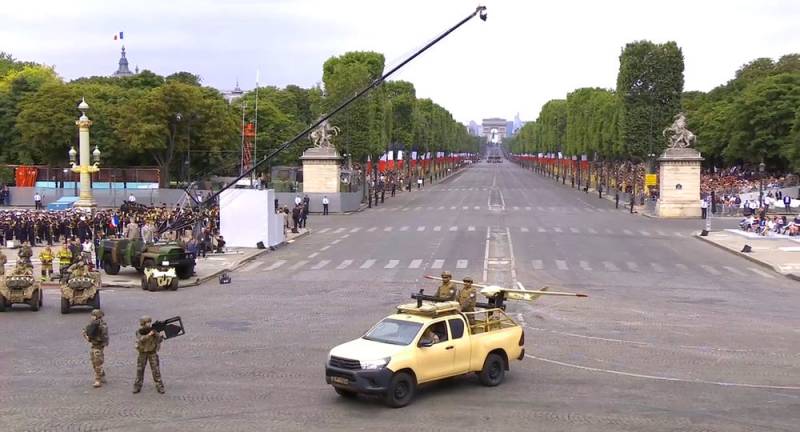 A French soldier directs a DroneGun at a vehicle-mounted drone during the Bastille Day military parade
The proliferation of unmanned aerial vehicles (UAVs) is becoming so rapid that it is forcing governments and industry to urgently develop effective systems to defend against these unmanned threats. UAVs, more and more commonly referred to in everyday life as drones, are being adopted in increasing numbers by many countries and military structures. The variety of models available is mind-boggling, ranging from quadcopters weighing less than 2kg to high-altitude, long-duration platforms the size of an airliner, many of which are designed or adapted to carry weapons.
The variety of anti-drone systems is no less striking, ranging from handheld devices to anti-aircraft missile systems, and according to the principle of operation are divided into laser, electronic and kinetic systems. At least 250 anti-UAV systems are offered on the world market, their active development is underway in 36 countries.
The leading manufacturer in this segment is the Australian company DroneShield Ltd. Its lightweight, compact anti-drone DroneGun MkIII is designed to combat a wide variety of small UAVs. The DroneGun MkIII weighs only 1,95 kg, which allows it to be operated with one hand. The dimensions of the device in the form of a pistol / carbine are 63 x 40 x 20 cm. It allows you to stop and forcibly land drones at a distance of up to 500 meters without destroying them, which is important in the event of the possible presence of explosives or for their further study. The anti-drone gun can force the drone to either make a controlled landing immediately, or send it to the starting point of departure, which also helps to detect its operator. In addition, activating the jamming mode disrupts any live video transmission to the remote control console, preventing the operator from collecting intelligence data.
DroneGun is capable of interrupting many electronic channels at different frequencies at the same time, including 433 MHz, 915 MHz, 2,4 GHz and 5,8 GHz, and an optional jamming subsystem for global navigation satellite systems, including GLONASS and GPS, can be integrated. The rifle-style portable device is easy to use, can be operated with one hand and requires minimal technical training to set up or use.
France is one of the customers of this system. During the Bastille Day celebrations in Paris on July 14, 2019, the French military, armed with DroneGun Tactical systems, were included in the security unit deployed to protect the parade participants on the Champs Elysees, as well as its spectators.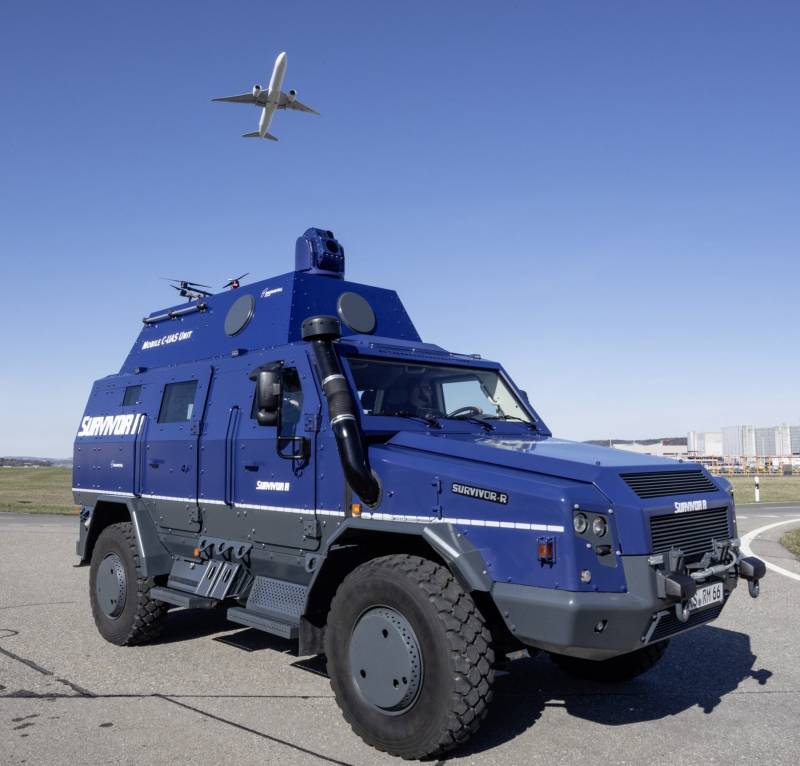 Rheinmetall's new Skymaster mobile counter-drone concept combines surveillance and reconnaissance capabilities with tactical efficiency, survivability and mobility in one platform
In April 2020, DroneShield released a new version of its wearable drone detection device called RfPatrol, which is smaller, lighter and more advanced than its predecessor. The device's passive receiver detects communication channels between the UAV and its operator, including command signals, telemetry, location data, and video images. The RfPatrol MkII system integrates "visible" and "invisible" modes, the latter can be especially useful for special forces when they want to hide their location.
The Russian defense industry is determined and committed to entering the development of advanced portable anti-UAV systems, building on its rich experience in combat operations in Syria. During the major Vostok 2018 exercise, Russian airborne units used a new hand-held rifle-like device to combat UAVs. The REX-1 portable jammer, developed by one of the enterprises of the Kalashnikov Concern JSC, the ZALA Aero Group, suppresses the control channel between the drone and the operator, as well as the satellite signal (GPS / GLONASS) and thereby neutralizes the threat.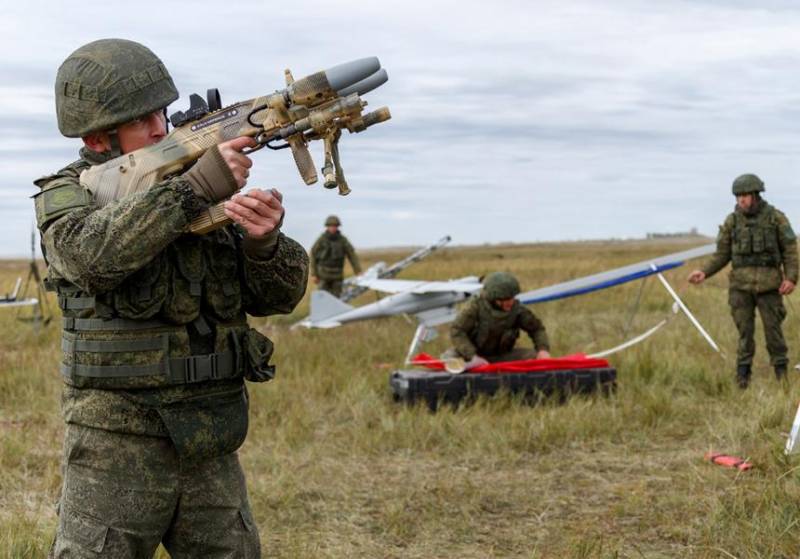 A Russian serviceman uses the REX-1 anti-drone system from ZALA Aero Group during the Vostok 2018 exercise
Specifications indicate that it operates on 2,4 GHz and 5,8 GHz frequencies, which are typically associated with wireless devices and mobile phones, as well as satellite systems such as BeiDou, Galileo, GLONASS and GPS. Suppression of signals of such systems can be provided within a radius of 2 km, and other communication lines are blocked in the forward sector of more than 30 degrees at a distance of up to 500 meters.
The figures for battery and power consumption indicate three hours of continuous operation and 36 months in standby mode, after which the battery needs to be recharged. With a declared mass of 4,5 kg and the size of a conventional rifle, the butt of the antidron is based on the butt of an MP-514K air rifle. The easy-to-use device offers light mobile forces new opportunities in the fight against the proliferation of UAVs that are difficult to neutralize with more traditional
weapons
.
Several European defense companies offer anti-UAV solutions. For example, Indra has developed the UAV threat neutralization system ARMS, which is an unusual combination of modern technologies. So, in one system, radar detection, radio frequency analysis, radio direction finding, detection using optoelectronic devices, analysis and classification, suppression of a radio frequency channel, jamming or imitation of a navigation satellite system are combined; they are all integrated in one C4ARMS control and management unit. The base system performs first and foremost detection using high-resolution radar, which is capable of detecting small UAVs at long distances. It also includes an optocoupler system that allows the ARMS system to understand whether a threat is real and determine its exact position in space. As soon as the threat is confirmed and its location is determined, the device activates the jamming subsystem to disrupt the drone control. To provide protection for large areas, multiple ARMSs can be programmed to work together. Countermeasures used must be particularly accurate so as not to compromise security or interfere with other systems. With regard to military applications, special attention is paid here to their general use with air defense systems.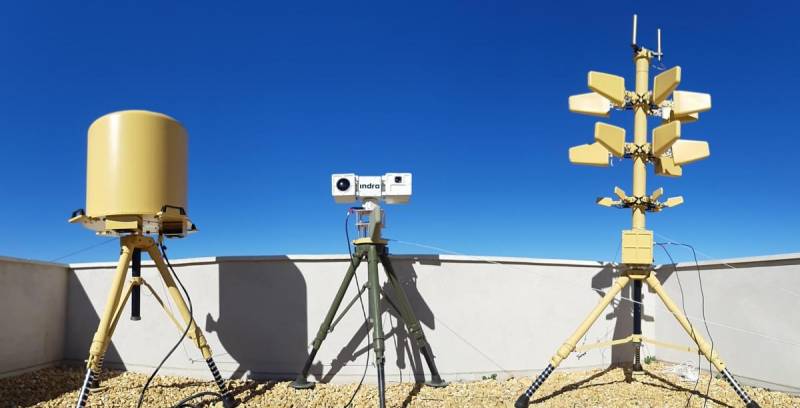 Indra's ARMS complex was developed to neutralize the UAV threat using a combination of modern technologies
Rheinmetall has long turned its attention to the threat posed by small aircraft. In line with the new anti-drone concept Skymaster Mobile, which is a further development of the Radshield UAV detection system developed by Oerlikon, modern reconnaissance and surveillance capabilities are combined in one platform with tactical efficiency, survivability and mobility.
The Skymaster Mobile concept is designed for use in tightly controlled airspace. The system allows very small aircraft to be detected, classified and, if required, intercepted and landed.
The rooftop module features an advanced 360-axis target detection radar with a XNUMX ° active phased array antenna and an optoelectronic monitoring device. This allows the armored operator to identify objects detected by the radar. If necessary, additional detection sensors can be added, for example, a passive direction finder of radiation sources and a system for detecting and measuring range based on a lidar (laser locator), as well as a number of other sensors and data channels. In case an object is identified as a threat, the operator has several actuators at his disposal. These include various interceptor drones as well as directional jammers. The operator of the integrated Skymaster system can take advantage of the data fusion and automatic generation of local air conditions. The system also communicates with local air traffic control networks. In addition, it can be integrated into the motion control systems of unmanned aerial vehicles of a higher level.
The module can be installed on various vehicles, which ensures the work of the crew in a protected space. If necessary, the system can be removed from the machine and installed on the ground. In addition, there are plans to install the system on a ground-based remotely controlled vehicle.
Thales has developed an anti-UAV concept to counter enemy or unauthorized vehicles infringing airspace along borders, airports and key infrastructure.
This concept places particular emphasis on the threat posed by Class 1 UAVs weighing less than 25 kg, including some micro and mini UAVs, which can weigh less than 2 kg and have an effective dispersion surface of less than 0,01 m2. They tend to fly low and slow and merge with disturbing reflections from the earth's surface. Thales' solution can be integrated into an extended ground air defense system. There is also good potential for integration with various kinetic actuators for neutralizing UAVs, including its own lightweight multirole LLM (Lightweight Multirole Missile) missile and a Rapid Fire 40mm cannon that fires air blast ammunition. Thales is also working on a directed energy solution to neutralize UAVs. In addition, Thales also participated in a national French project to develop an anti-UAV program called Angelas. The French National Aerospace Research Center has begun a study involving several companies and organizations.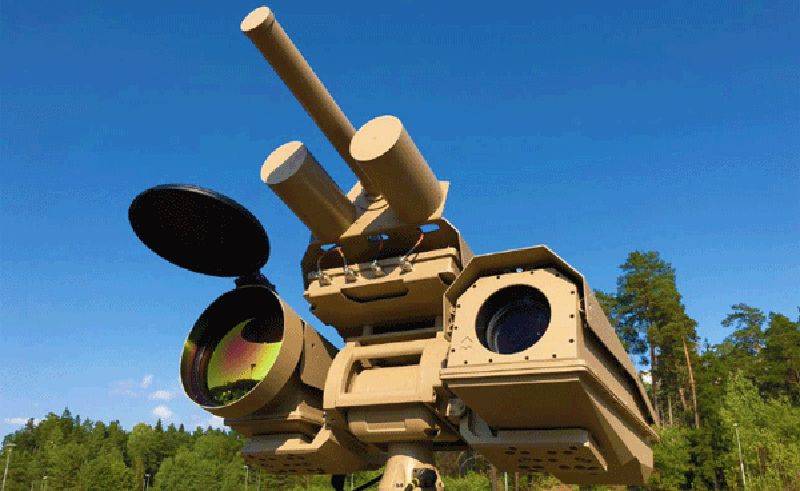 CPM Elettronica's Owl-48 is a DJI-120-48 multi-band jammer modified to fit onto FLIR's HRC camera system
Another French company, CerbAir, was formed to counter the sharp increase in UAV incursions into the country, as well as the threat they pose. The anti-UAV solutions are based on its proprietary passive Hydra RF technology, which does not interfere with surrounding networks. It works by detecting data transmission between the drone and its remote control. Depending on the needs of the customer, additional technologies can be added, for example, optoelectronic and infrared sensors, radar, etc. CerbAir's proprietary algorithms determine the location of the UAV and its operator, as well as the type and model of the invading drone in real time. A special electronic system instantly starts the emergency landing procedure for the UAV. The system's sensors can be installed on buildings, on cars, or housed in a backpack. CerbAir has worked with various French military structures, as well as the Colombian Air Force, which maintain control of Colombia's airspace and protect the country's territorial integrity.
The Italian company CPM Elettronica offers a variety of configurable equipment from its Drone Jammer line to combat all types of radio and GPS controlled drones. Lightweight handheld multiband jammers CPM-WATSON and CPM-WILSON are capable of suppressing not only the most common channels between UAVs and the operator, but the possible frequencies of a new generation.
The CPM Owl-48 is a DJI-120-48 multi-range silencer specially adapted for installation on the FLIR HRC camera system. It allows you to establish a no-fly zone for remotely controlled drones. The system was supplied to the Italian army and air force, as well as to the French gendarmerie.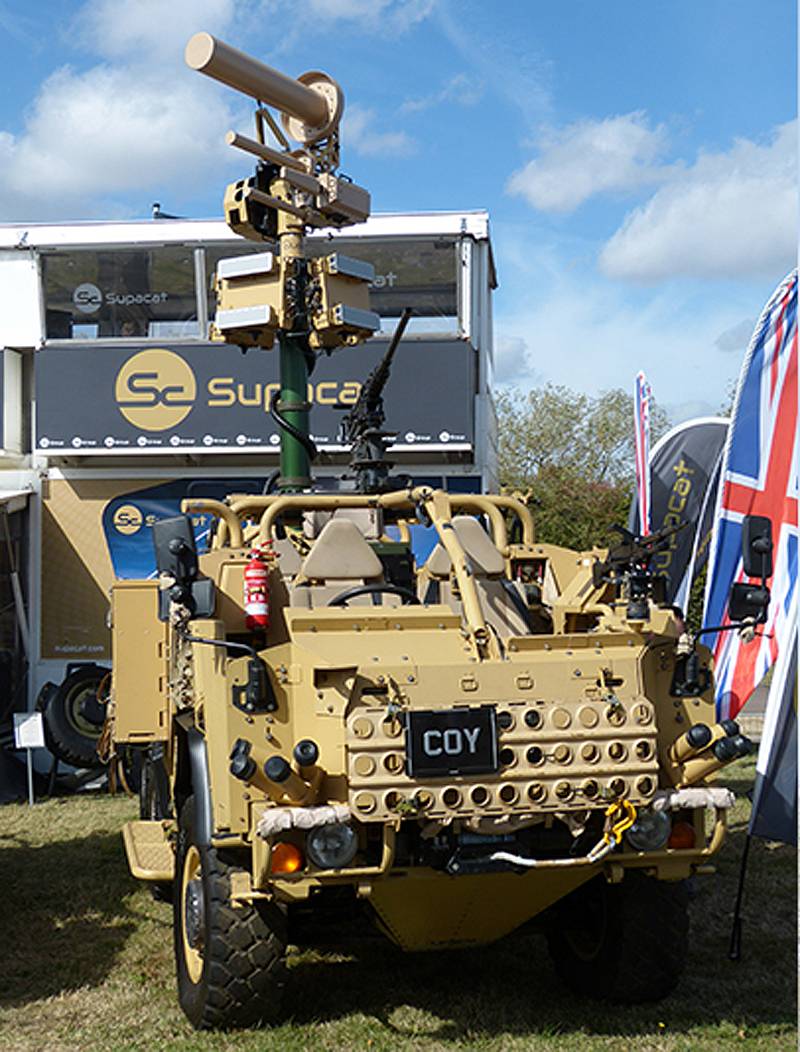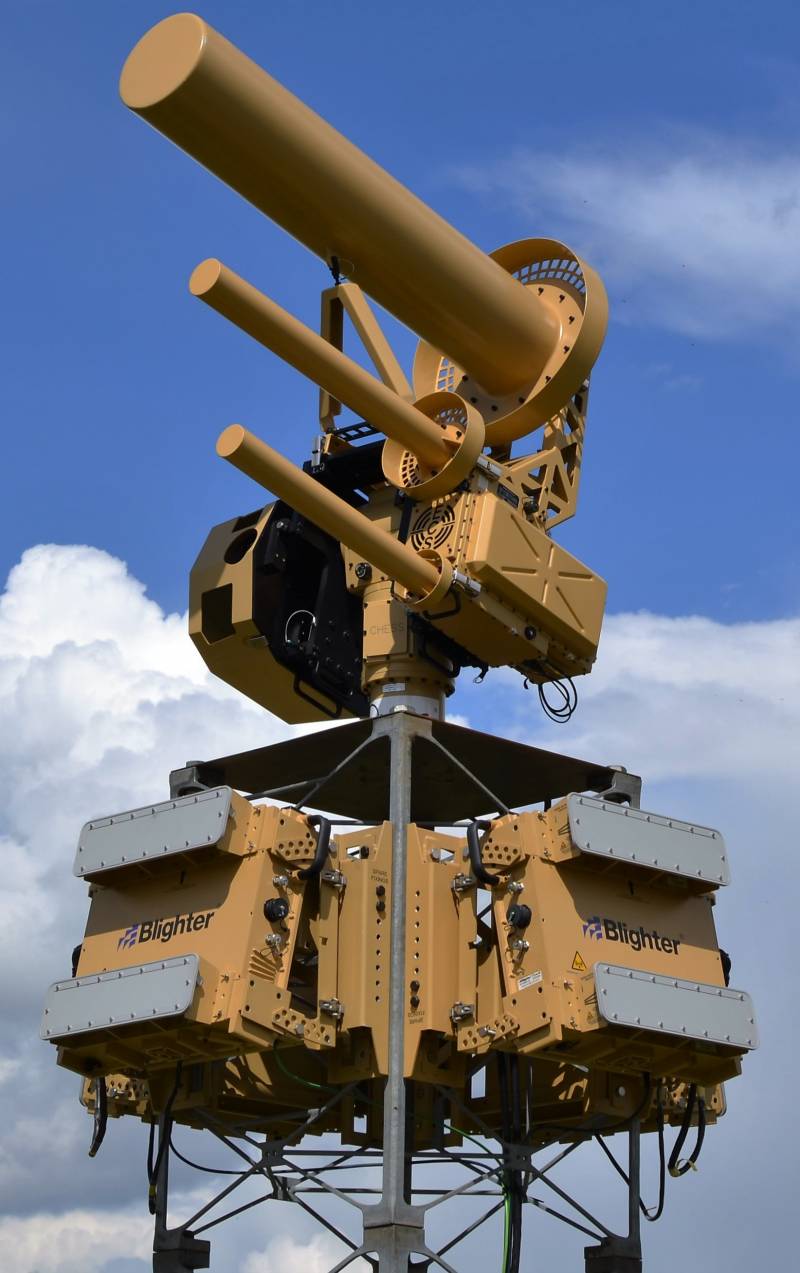 The anti-UAV Defense Systems (AUDS) anti-aircraft system (installed on the Supacat Coyote in the top photo) was developed by the British defense concern
The Anti-UAV Defense Systems (AUDS) anti-drone complex was developed by the British defense consortium, which included Blighter Surveillance Systems, Chess Dynamics and Enterprise Control Systems (ECS). The AUDS system operates in three stages: detection, tracking and localization. Blighter's A400 Series Air Security Radar is used to detect UAVs, Chess Dynamics' Hawkeye long-range surveillance and search system for tracking, and finally, the directional RF jammer from ECS works as a neutralizing component.
According to manufacturers, the AUDS system has now reached technological readiness level 9 and is undergoing extensive evaluation in the military and government structures, taking part in 12 tests abroad. During testing, the system has demonstrated the ability to detect, track and neutralize targets in just 8-15 seconds. The neutralization range is up to 10 km with almost instant impact on the target.
A key feature of the system is the ability of the RF muffler to tune to specific communication channels with the exact level of exposure required. For example, a jammer can be used to jam the GPS signal received by the UAV, or a radio control and monitoring channel. There is also the potential to integrate interception capabilities into the system, which will allow the AUDS operator to practically take over control of the UAV. The work of the silencer is not only to "knock down" the device, it can be used simply to disrupt the functionality of the UAV in order to force its operator to withdraw his device from the restricted area.
Several configurations of the AUDS complex have been developed, allowing it to be deployed as a stationary, semi-permanent and temporary tool or mobile system on a machine.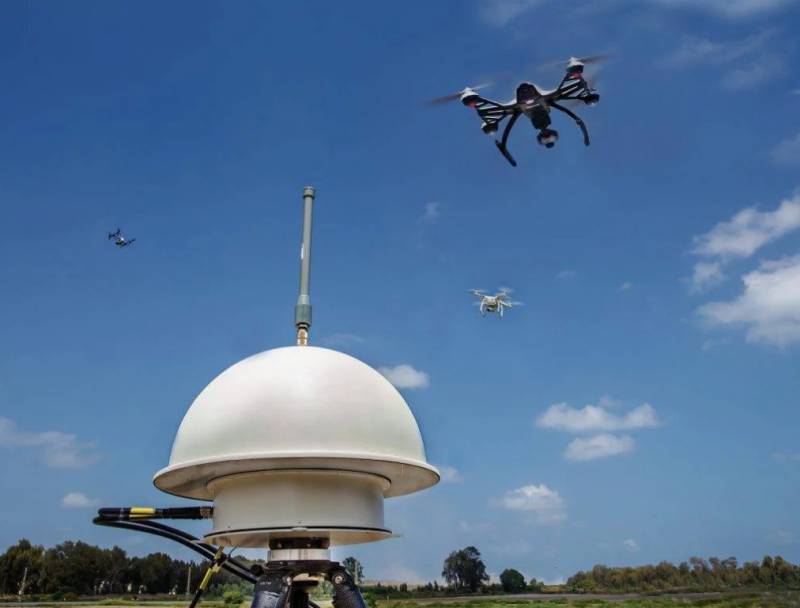 Anti-drone system ReDrone of the Israeli company Elbit System is able to detect and neutralize several drones at the same time
Israel, being at the forefront of military UAV development, is now offering defense systems as well. Rafael's proven anti-drone solution Drone Dome, designed to protect airspace from hostile UAVs, is fully operational and deployed in many countries. The Drone Dome system includes electronic mufflers and sensors that effectively detect, identify and neutralize a wide variety of micro and mini UAVs through the use of their unique algorithms. One of the unique features of this system is the incorporation of a laser to directly engage targets. After positive identification, the system transmits data to the laser system, which locks and tracks the target and then physically destroys it. During a recent demonstration in Israel, the Drone Dome system intercepted several UAVs, using a laser cannon to disable them. In all test scenarios, the system showed one hundred percent result - it destroyed all the drones.
Elbit System's ReDrone anti-drone defense system is designed to detect, identify, track and neutralize different types of UAVs in protected airspace. The system is capable of accurately locating the aircraft and its operator, while its advanced detection system provides all-round perimeter protection with a high level of situational awareness. It can also work simultaneously on several drones. After detecting a target, the ReDrone system disrupts the communication of the UAV with the operator, blocks its radio and video signals and GPS positioning data, after which it is no longer able to perform its task.
As drones become more sophisticated and are purchased and deployed in increasing numbers, anti-drone manufacturers are trying to stay one step ahead in detecting and neutralizing threats posed by unmanned aerial vehicles.