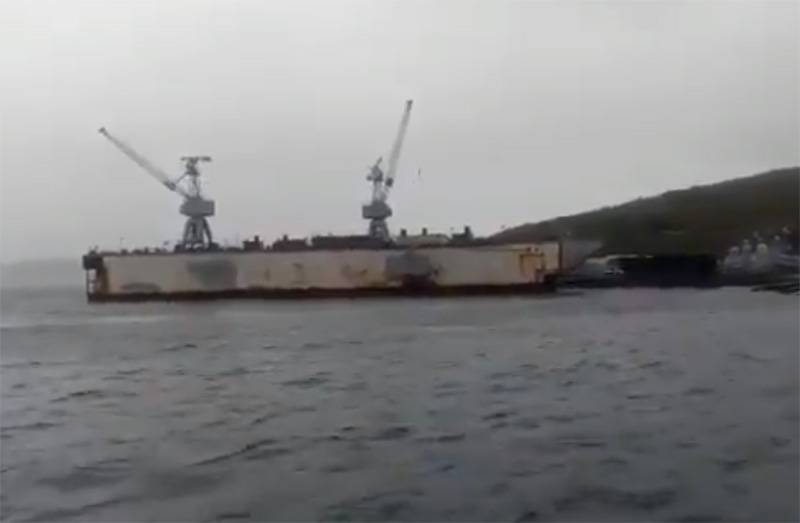 Typhoon Maysak, which roamed the Far East, caused considerable damage. The most powerful blow of the elements fell on Primorye and specifically on Vladivostok, where more than five hundred trees were felled, over 330 houses were left without power supply, a third of which are multi-apartment. Utilities in Primorye are actively working to eliminate the consequences of the disaster. In this case, not only civilian infrastructure was damaged, but also, allegedly, the base of warships.
A video appeared on the network showing a floating dock (floating crane), which the elements tore from the fastenings in the area of ​​the Vostochnaya Verf shipyard. Waves and wind directed the object towards the coastline, which at that time had the warships of the Pacific
fleet
.
It is still a serious threat and has reportedly already crashed into various ships and submarines.
- notes The War Zone, which posted the relevant video materials.
The images posted on social media show the dock's contact with Project 1241.1 Molniya-class missile boats moored. Each of them has a total displacement of about 500 tons and can carry up to 16 Uranus anti-ship cruise missiles as the main armament.
At the moment, there is no official data on whether any serious damage has been caused to surface ships and submarines by the uncontrolled dock.
Another day, another calamity in the Russian military industrial complex ...

Floating dock broken free in high winds at the Vostochnaya Verf shipyard in Vladivostok - collided with nearby submarines and warships. Extent of damage uncertain.

The town of @kompolk pic.twitter.com/bbisgqUr03

- NavyLookout (@NavyLookout) September 3, 2020