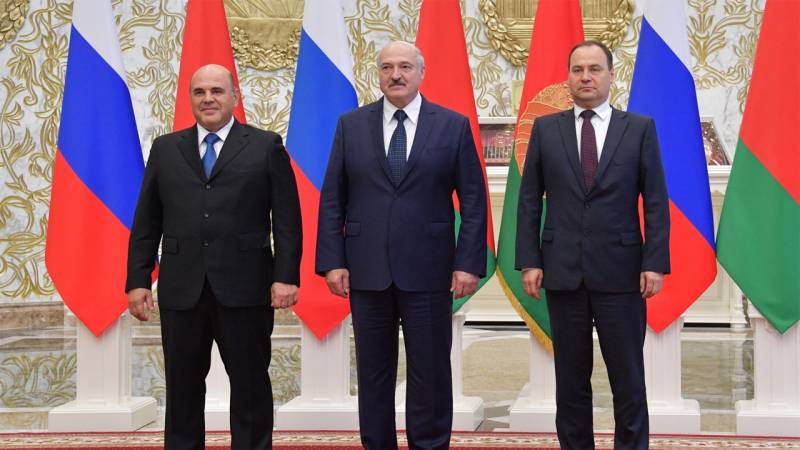 On the eve of the Prime Minister of Belarus and Russia discussed logistics issues within the Union State. One of the main issues is related to the redirection of goods within the framework of Belarusian imports and exports from the ports of Lithuania and Ukraine to the ports of the Russian Federation.
It would seem that this issue with the logistics of using the ports of the Russian Federation should have been resolved long ago, since Belarus positioned itself as an allied state of Russia, but Alexander Lukashenko has all recently tried to act from the opposite - to increase the transshipment of goods through the ports of the same Ukraine and Lithuania. But now, when the chair under Lukashenka swayed against the background of mass protests, the Belarusian leadership suddenly remembered about real allied relations and about Russian ports too ...
Mikhail Mishustin, who is on a visit to Minsk, reminded his Belarusian colleague that Russia is ready to provide Belarus with a number of discounts when using the railway routes for delivering oil products to Belarus from Russian ports. However, at the same time, economists say that for Minsk "it will still be economically unprofitable." It is stated that the delivery of the same oil products through the Lithuanian port of Klaipeda is cheaper for Belarus.
But here, as they say, the Belarusian authorities need to choose. You can continue to try to flirt with the same Lithuania, which was one of the first to introduce anti-Belarusian sanctions, or you can follow the path of building a truly union state - not in words, but in deeds.
Vladimir Putin has repeatedly noted that only a high degree of integration can provide the greatest economic benefits to Belarus. However, even today the republican economy is more than actively subsidized by Russia. The total volume of investments in recent years is more than $ 100 billion.
Let us remind you that a few days ago Alexander Lukashenko promised to "put Lithuania in its place", instructing the Council of Ministers of the Republic of Belarus to work out anti-Lithuanian sanctions with a refusal to use Lithuanian ports.