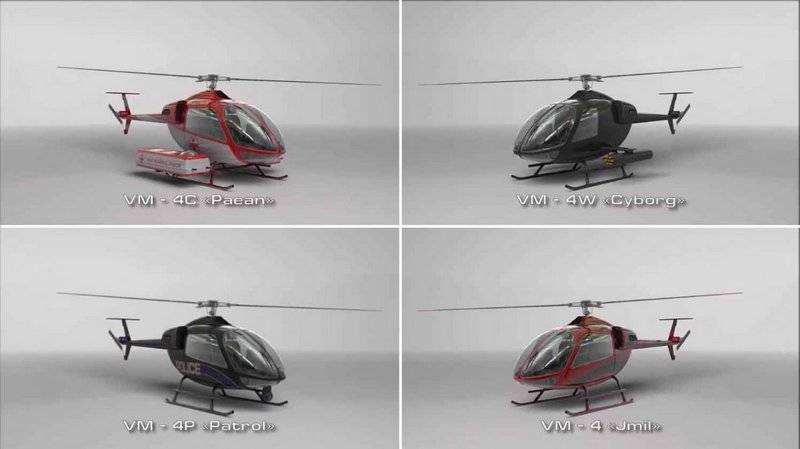 Ukraine intends to launch mass production of domestic light multipurpose helicopters. The creation of the Ukrainian helicopter will be carried out by a private company LLC
Aviation
company "Vector". Reported by Defense Express.
It is reported that the program for the production of helicopters is given four years. During the first three years, design documentation will be developed in three stages, prototypes of the helicopter will be built, tested and certified, and in the fourth year serial production will already start and the company will release the first batch of helicopters. Antonov's facilities are being considered as the enterprise that will produce the helicopter.
As follows from the materials, the new lightweight multifunctional helicopter will be created on the basis of the four-seater VM-4 Shmel helicopter, developed by the Vector company and patented back in 2016. The company "created" a whole line of modifications of this helicopter, one of which is called "Cyborg". According to the developers, the helicopter can carry AR-8 unguided missiles, AR-8L guided missiles, the Barrier anti-tank missile system and a PKMT machine gun. Deck version of the VM-4K "Neptune" helicopter, except for the rocket
weapons
and a machine gun, will be able to carry sonar buoys and depth charges to combat submarines.
In the basic version, the VM-4 has two engines of 145 hp each, a speed of 200 km / h, and the maximum take-off weight of the helicopter is only 1 ton.
According to the general director of the "Vector" company Anatoly Kozubenko, the price of the basic version of the VM-4 helicopter is about 350 thousand dollars, and almost all parts (except for engines and some components) are Ukrainian production.