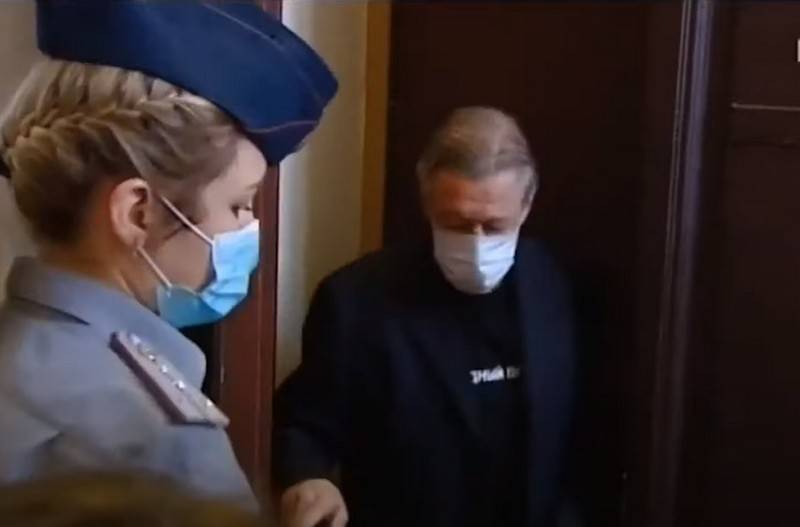 Russian actor Mikhail Efremov, accused of a fatal accident, pleaded guilty. This is reported by the Russian media following the process.
In the Presnensky court, where the hearing on this case is taking place, Efremov, before the debate of the parties, made a statement in which he admitted his guilt. However, he did not go into details.
I want to make a statement, Your Honor. I haven't slept for several nights, I decided that I admit my guilt
- said the actor.
In turn, the prosecutor said that Efremov's guilt was fully proven by video materials, expert examinations, testimony of witnesses and other evidence in the case. At the same time, the state prosecutor requested a real term for Efremov in the form of 11 years with serving in a colony, adding that the actor "did not sincerely repent." Moreover, the admission of guilt took place too late.
I ask that Efremov be sentenced to 11 years of imprisonment in a general regime colony. I believe that its correction is possible only in conditions of isolation from society
- she said at the trial.
In addition, the state prosecutor asked the judge to partially satisfy the claim of the eldest son of the deceased courier Sergei Zakharov for 500 thousand rubles.
Earlier, Efremov had already admitted guilt during the preliminary investigation, but then withdrew his testimony, stating that he was very drunk and did not remember anything, but he did not drive in this state.
For our part, we note that the state prosecutor requested for Efremov almost the maximum period provided for in Part 4 of Article 264 "Violation of traffic rules and the operation of vehicles." According to the Criminal Code, the maximum punishment for a drunken traffic accident with a fatal outcome is 12 years.
This case attracts special attention due to the fact that it can allow assessing the entire modern system of justice - whether everyone is equal before this system, or are there those who are "more equal" because of the presence of connections and the amount of money that " figuratively "described Efremov on footage immediately after the accident.