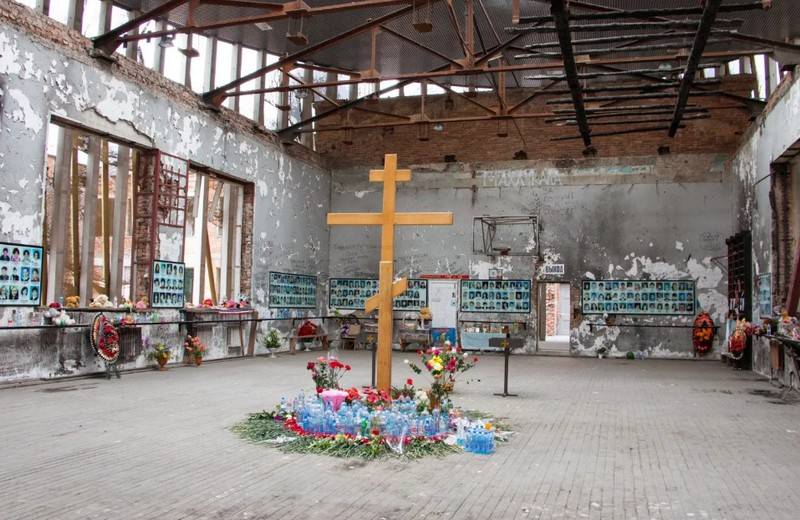 Today Russia celebrates the Day of Solidarity in the Fight against Terrorism. And in Beslan, they remember the victims of the terrorist attack at school # 1, the city is on the final day of a three-day watch in memory of the victims who did not return from the school line.
16 years ago, on September 1, terrorists burst into the school where the solemn assembly was taking place, taking 1128 people hostage - schoolchildren, their parents and relatives with young brothers and sisters. For two days, September 1 and 2, they were held in a mined gymnasium of the school without water, food or medicine. All these days there were fruitless negotiations with the terrorists. On the third of September, unexpectedly, two powerful explosions thundered at the school, leading to numerous victims. After the explosions, special forces entered the school.
The result of the terrorist attack in Beslan school No. 1 was the death of 334 people, of which 186 were children. More than 780 were injured of varying severity. 10 employees of Alpha and Vympel gave their lives to rescue the hostages.
Now, 16 years after the tragedy, some representatives of the liberal domestic community are trying to shift the blame for what happened to the state and special forces. The inability to negotiate with the terrorists is blamed. Supposedly, if the terrorists had come to an agreement and fulfilled their demands, then everyone would have survived. Some even put forward the version that the explosions at the school were not staged by the terrorists who mined the gym, but by the commandos themselves, who fired at the gym with grenade launchers.
Today, on September 1, the channel "Russia XNUMX" will show the documentary investigation film "Beslan" directed by Alexander Rogatkin, in which the author will try to answer all the questions.
Commemorative events are held in all regions of Russia.