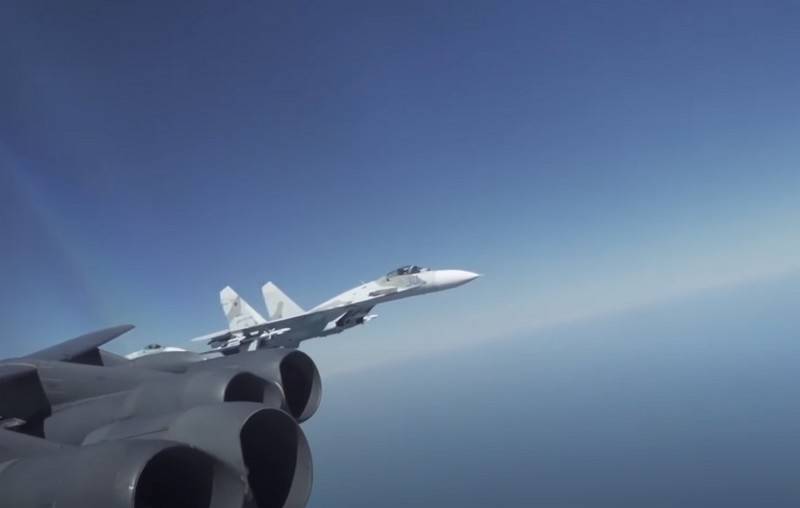 Russian fighters easily "intercept" NATO aircraft from their borders and invade the alliance's airspace, exposing the "unthinkable mistakes" of the Joint Air Force command. This is the opinion of the publicist Tom Rogan in an article for the Washington Examiner.
The author in his article examines two cases: the interception of a B-27N bomber by a Russian Su-52 over the Baltic and a similar case with a B-52N over the Black Sea. According to the journalist, the command of the Allied Air Forces in Europe commits "unthinkable mistakes" and "tactical miscalculation" by sending their bombers to the Russian borders without being accompanied by the alliance fighters. Rogan asks why the command of the Allied Air Forces, knowing about Russia's dislike of NATO flights near its borders, does not take any measures to protect their aircraft, allowing the Russians not only to intercept them, but at the same time to invade the airspace of NATO countries (Su-27 allegedly violated the Danish border).
According to the journalist, the aggressive interceptions of Russian fighters have been causing increasing concern for several months. However, the command of the OVVS does not want to react to this. According to Rogan, if European countries are not able to provide escort of American bombers and reconnaissance aircraft near Russian borders, then the United States itself should do this with the help of its F-16 fighters deployed in Germany.
Russia has been escalating tensions over the past few months. In any case, NATO fighter squadrons had to be on high alert for immediate departure for counter-interception.
- the publicist asserts.
Rogan urges US Secretary of State Mark Esper to investigate the situation with Russian fighters intercepting NATO planes. And the command of the united air force of Europe, if it does not cope with its duties, should be replaced.