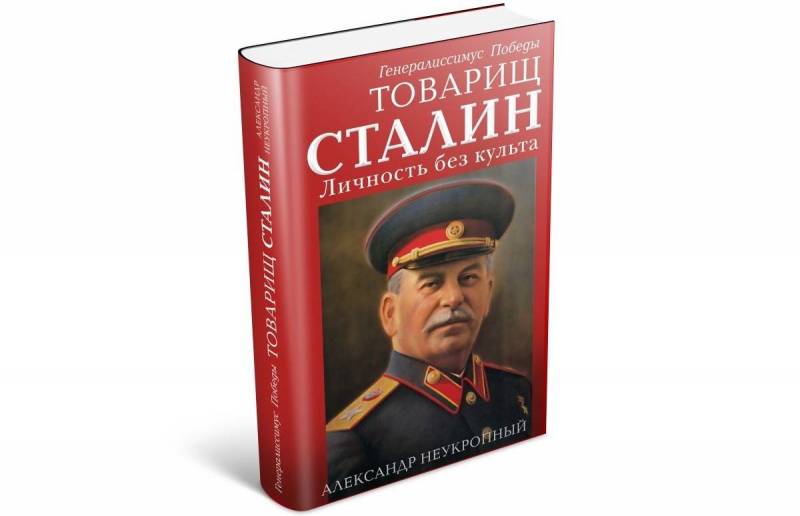 Hardly among
historical
personalities who have left a significant mark on the fate of our Fatherland, there is a figure about whom as much has been written as about Joseph Vissarionovich Stalin. A whole library - from more or less serious scientific research to a heap of fiction. With all this, it is he who is a statesman and leader, regarding whom to this day there is, perhaps, the greatest number of questions, riddles and secrets.
Most likely, the roots of this paradox lie in the fact that in our country (and in the world as a whole) there are several not just different, but, rather, mutually exclusive views on Stalin, his life and work. Alas, within the framework of each of them, his actions, decisions, words and even thoughts are given a completely unambiguous interpretation, under which its adherents manage to "fit" everything and everyone. Here is one of them: "Stalin is a bloody tyrant, paranoidly obsessed with power!" Consequently, everything that he undertook both while occupying the highest posts in the Soviet Union and on his way to them was dictated only by the desire to exercise his will over millions of people and the desire to stay "at the top". The point of view is not just simplistic, but squalid - but how many people hold it!
However, for someone, Joseph Vissarionovich is a great Leader, a kind of embodiment of omniscience and omnipotence, an infallible and inaccessible to human understanding giant. The trouble with this view of Stalin (as well as the previous one) is that, at the same time, he is perceived not as a living person with his own beliefs and delusions, virtues and weaknesses, sympathies and antipathies, but as a kind of abstract superhuman Power. It's just that some consider this power black and evil, while others - good and radiant.
I am convinced that it is precisely such extremely primitized approaches that have generated a situation as a result of which much more lies and frank inventions are said and written about Stalin than truth. It would seem that his life passed surrounded by many associates, subordinates, members of the "inner circle". Many of them were very intelligent people who left behind memoirs and other literary works. And what? All the same thick fog in which only the general outlines of the titanic figure are dimly seen.
As soon as you start to peer more closely, everything becomes unsteady and deceiving, details are lost and, more often than not, turn out to be not at all what they originally saw. I remember very well how my path to the book "Comrade Stalin is a Person without a Cult" began. From the desire to see a person in this person, to try to comprehend and comprehend his true motives, motives, aspirations. And, first of all, to figure out what is the share of truth in the "well-known" and "absolutely reliable" statements about him.
Well, and, of course, try to get closer to solving at least the main mysteries associated with Stalin and his time. Why did the catastrophe happen on June 22, 1941, is there a personal fault of the Supreme Commander, and what could it be? In the pre-war "purges" of the Red Army, or in the fact that they were not brought to an end? What was behind the "struggle against the enemies of the people" that unfolded in the USSR - "Stalin's desire to destroy political opponents", as some are trying to assert, or a sober, pragmatic calculation aimed at the benefit of a huge country and, moreover, justified by very specific reasons?
Why did Stalin trust the allies so much in World War II, and what did he feel when his trust was betrayed by them in the most insidious way? What did he intend to do in the mid to late 50s of the last century? To deliver a crushing military blow to the West, or simply to force it to reckon with the Soviet Union as an equal, forever abandoning the plans to conquer our country? What could our world have become if the Stalinist plans of that period had been fully realized?
Generally speaking, the last years of Iosif Vissarionovich's life are one continuous mystery, an equation with many unknowns, delving deeper into which, you come across more and more Xs. How could he have missed a conspiracy being prepared against him? Why was his murder possible - and was it a murder? What happened in these years, months and days between Stalin, his closest associates, his own son Vasily? What were they preparing the country and the whole world for? But this is far from a complete list of mysteries that have remained unsolved to this day.
I will not even try to assert that the book, which has developed as a result of reflections on these topics, the search for answers to the above and many other questions, contains some kind of absolute truth, some discoveries that "finally shed light" on something. Like any author who respects my readers and their right to personal opinion, I simply shared with them my own conclusions and conclusions, leaving the right for anyone who picks up another book about Stalin to think, doubt and independently continue to further search for answers. I just tried to substantiate each of my own assumptions with arguments, facts, figures, quotes and excerpts from real documents.
"Comrade Stalin is a person without a cult"
in no way is it the key to unraveling the secrets of the person about whom it was written and his time. This is just an attempt to take one more step towards their comprehension.