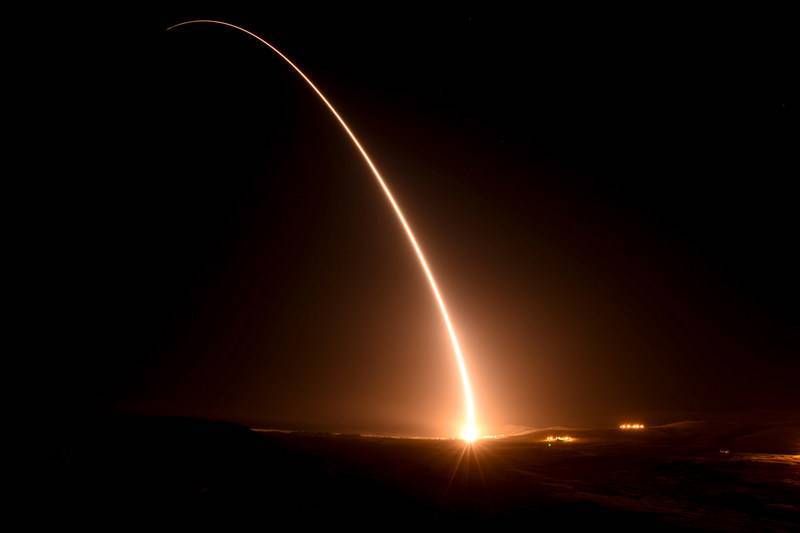 The United States conducted the third test launch of the Minuteman III intercontinental ballistic missile (ICBM) this year. This was reported by the US Air Force Global Strike Command.
According to the report, the missile, equipped with training warheads, was launched at 00.03 US West Coast time (10.03 Moscow time). The launch traditionally took place from a silo at Vandenberg Air Force Base, 130 miles northwest of Los Angeles. The missile warheads, having flown 6,76 thousand km, hit the assigned targets at the test range in the area of ​​the Kwajalein Atoll (Marshall Islands) in the central part of the Pacific Ocean.
This test launch is yet another successful demonstration of our country's capabilities and highlights the fact that our nuclear forces are reliable, effective, and ready to protect the United States and our allies.
- said the head of the test, US Air Force Colonel Chris Barcombe.
The Minuteman III is the only land-based intercontinental ballistic missile in service with the United States since 1970. Three-stage missiles of this family were originally created for a nuclear confrontation with the Soviet Union. According to the latest data from open sources, the United States has 450 Minuteman 3 missiles capable of hitting a target with three warheads at a range of 12 kilometers.
In the summer of 2019, the US Air Force announced a tender for the development of a new ICBM. The US plans to put the new strategic ballistic missile into service in the mid-2020s, since the Minuteman-III missiles currently in service can only be maintained in combat readiness until 2030.