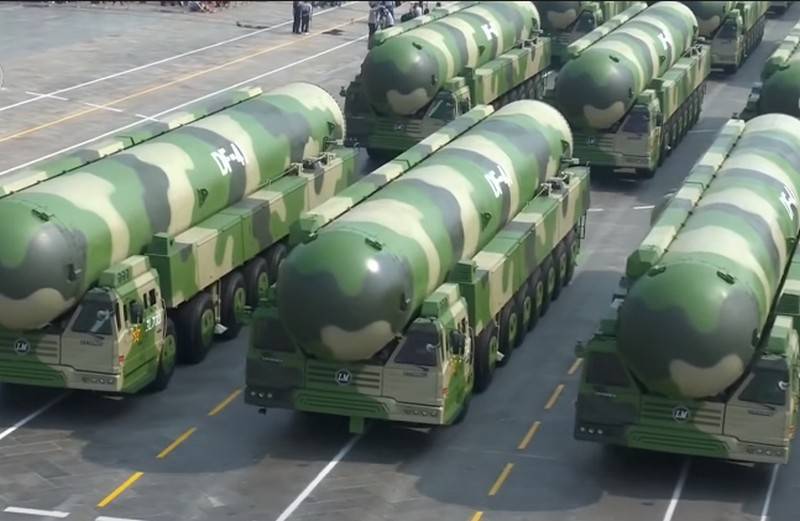 China intends to double the number of nuclear warheads while planning to establish overseas military bases. This statement is made by The Washington Times with reference to the annual report of the Pentagon.
The publication, referring to the report of the US Department of Defense, writes that China is striving for the status of a global superpower. To this end, he is increasing the number of nuclear warheads and intends to deploy a network of foreign military bases "to attack the territory of the United States."
The report itself, prepared for the US Congress, is the first to provide US intelligence data on the number of nuclear warheads China has. Despite the fact that the PRC has far fewer deployed warheads than the United States, Washington fears that in the near future it will be doubled and brought to 400 warheads.
In the next decade, China will expand and diversify its nuclear forces, and is likely to at least double its nuclear warheads.
- the document says.
In addition, according to the report, China is changing its nuclear strategy: from the principle of not being the first to use nuclear
weapon
in an armed conflict, it switches to a "launch on warning" strategy, that is, nuclear missiles are launched when there are signs of an impending nuclear strike.
The document also states that China is expanding its only overseas base in Djibouti (Somalia), and also intends to establish military bases in Myanmar, Thailand, Singapore, Indonesia, Pakistan, Sri Lanka, UAE, Kenya, Seychelles, Tanzania, Angola and Tajikistan.
It is noted that this report is the first, which talks about China's offensive strategy, all previous Pentagon reports argued that the build-up of China's military power was purely defensive in nature, and territorial claims extended only to Taiwan.