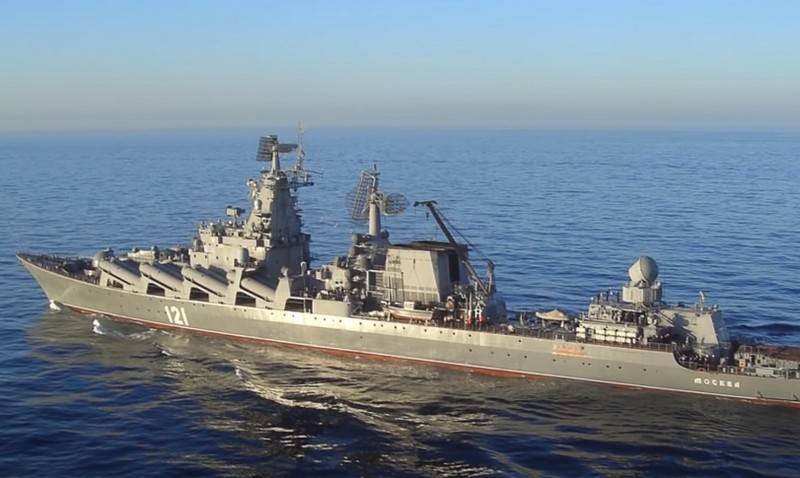 ФлР° РіРјР ° РЅ Черноморского
fleet
the guards order of Nakhimov missile cruiser "Moskva" for the first time after repairs went to sea for exercises. The information support department of the Black Sea Fleet reports.
As explained in the press service, the cruiser began to perform a special course task at the Black Sea sea ranges. As part of the exercise, the ship's crew will conduct anti-aircraft artillery fire, handle the use of electronic warfare equipment, defense and defense of the ship during the transition and unprotected roadstead.
One of the stages of the exercise will be to work out the algorithm of the crew's actions with the conditional use of the ship's main missile system.
- reported in the press service of the Black Sea Fleet.
According to available information, the Moskva cruiser will take part in the Kavkaz-2020 strategic command and staff exercise. Earlier it was reported that the cruiser should go to the shores of Syria and become part of the permanent grouping of the Russian Navy.
Recall that during the repair of the cruiser, the ship's marching readiness was restored. During the repair, the main attention was paid to the repair of gas turbine generators, gearboxes, fuel equipment, gas ducts of main gas turbine engines and other elements of the power plant. The service life of the ship has been extended until 2030. The modernization of the cruiser was not carried out due to the lack of funds. At the same time, it is noted that in the future, the modernization and extension of the service life of the "Moscow" may be impractical, since by 2030 the cruiser will already be 47 years old.
"Moscow" has not gone to sea since 2016 in connection with the repair, the first voyage after the completion of the first stage of the repair took place on June 5, 2019.
The cruiser "Moscow" was laid on the stocks of the Nikolaev shipbuilding plant named after the 61 communard in the 1976 year as the Slava missile cruiser, is the leading missile in the series of missile cruisers. Launched 27 July 1979 g., Was put into operation in 1983 year. Displacement - 11380 tons. It is equipped with 16 launchers of Vulkan missiles, artillery, air defense systems, torpedo tubes and depth-fire bombs.