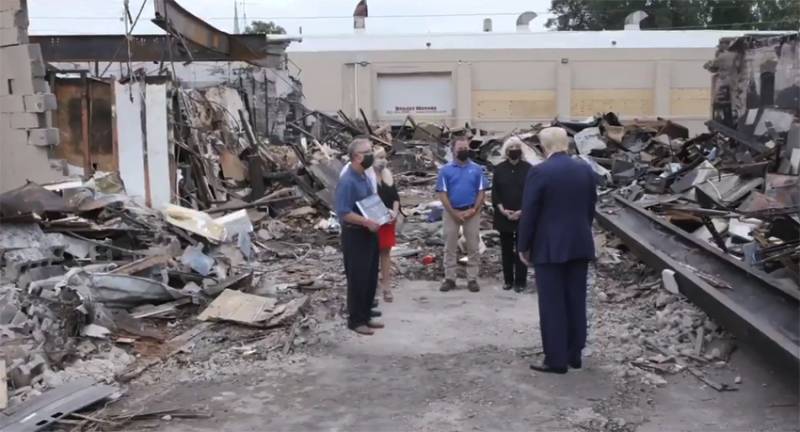 The US President spoke about the riots that these days manifest themselves in the state of Wisconsin. Trump arrived in the state to try to calm the situation in the city of Kenosha and at the same time enlist the support of the local population ahead of the elections. Before arriving in Wisconsin, Trump said that only voting for him would help correct the situation. According to the US President, voting for Joe Biden "will only make matters worse."
Commenting on the riots in Kenosha, where police killed a black local resident with numerous shots, Trump said that the situation was fueled by "violent gangs".
Trump called the state of affairs in Wisconsin "domestic terrorism."
President of the U.S.A:
The (president's) administration fully supports the introduction of national guards in Kenosha and other cities where unrest is taking place. We have coordinated such actions with the local authorities.
We will remind that earlier the Kenoshi City Hall and the leadership of Wisconsin stated that they "will manage on their own." But, as events showed, this did not succeed, and therefore the initiative was intercepted by Trump, who in 2016 for the first time in several decades as a Republican candidate was able to win elections in a state that traditionally supported the Democratic Party.
Trump strolled through the ruins left by protesters in Kenosha and tweeted:
Kenosha, Wisconsin, we are always with you!
Kenosha, Wisconsin, we're with you all the way! pic.twitter.com/Xs49PEu4AP

- Donald J. Trump (@ realDonaldTrump) September 1, 2020