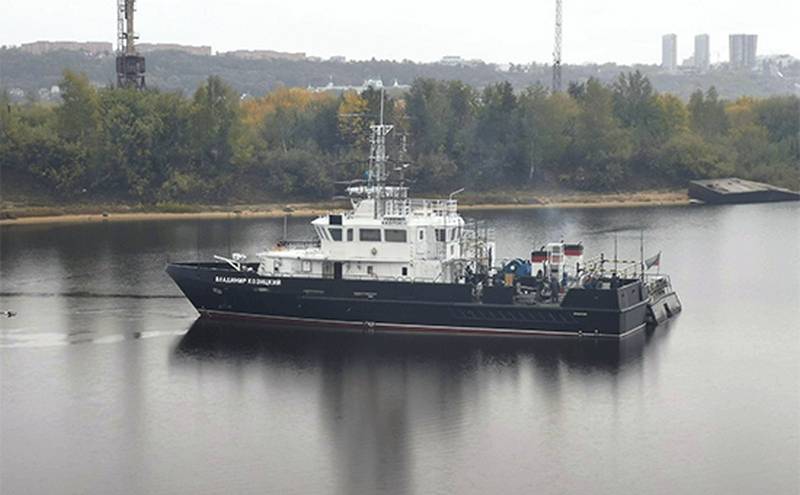 In the coming days, the Black Sea Fleet will be replenished with two newest large hydrographic boats of project 23040G. According to the press service of the Ministry of Defense, BGK Vladimir Kozitsky and Boris Slobodnik have successfully completed state tests.
According to the report, the crews of the boats, together with representatives of the plant, carried out a full check of the functioning of the life support systems and onboard equipment of the ships. During the tests, maneuver and speed tests were carried out, the operation of all units, systems, assemblies, navigation and radio equipment was checked.
The Ministry of Defense stressed that in the near future, acts on the acceptance of boats will be signed, after which an order will be issued by the Commander-in-Chief of the Russian Navy on enrolling the BGK in the Black Sea
fleet
. The first two boats built under this project serve in the Baltic Fleet. Two more boats are under construction, the timing of their transfer and the place of service are not reported.
Built at the Nizhegorodsky Teplokhod shipyard in the town of Bor, the Vladimir Kozitsky and Boris Slobodnik BGK arrived in Novorossiysk for testing at the end of December last year.
The boats are the third and fourth BGK of project 23040G, they were laid down in May 2018. The displacement of the boat is 153,7 t, (full - 192,7 t), length - 33,04 m, width - 6,8 m, average draft - 1,6 m.Equipped with two diesel engines with a power of 248 kW, full speed 12,7 knots.
Project 23040G boats are a further development of the integrated emergency rescue boats of the 23040 project and are designed in accordance with the technical requirements of the High Command of the Russian Navy. Designed for surveying the bottom topography and surveying navigational hazards at depths of up to 400 meters, as well as surveying the terrain with a single-beam echo sounder at depths of up to 2 thousand meters. In addition, the boat will be able to service floating signs, deliver personnel and repair teams, conduct rescue and search operations, pilotage of submarines and large-tonnage ships. BGKs have a high power-to-weight ratio and ice class, which allows them to work on external roads, as well as with a distance of up to 50 miles from basing places.