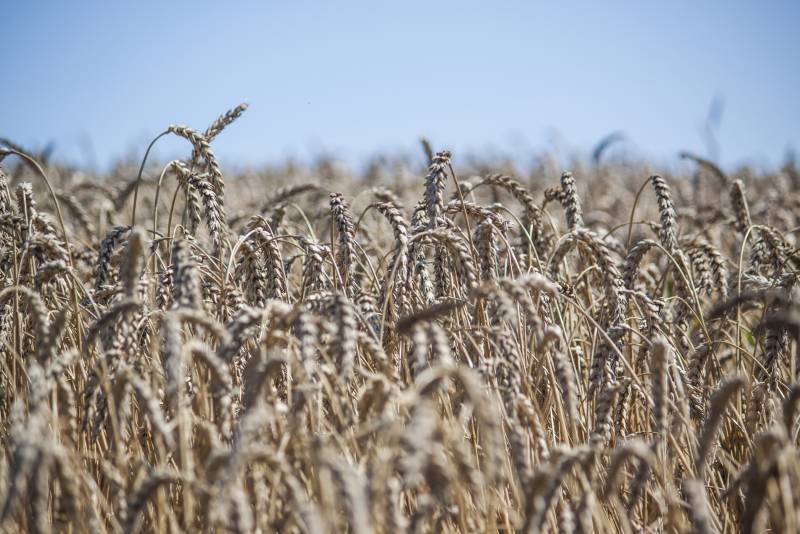 Hello dear, adored, respected and not very, but reading and writing! Yes, having written more than 200 articles, I understand that reading and writing are two completely different aggregate states of a being. Or an organism.
Here is why.
To write, in theory, you have to read. And understand what you read. But in our case, this is completely optional. In our case, you just need to take and express everything that is. The best example is, of course, our "Censor". This is a very funny moronic concentrator, and even on European-made steroids. You, unfortunately, are inferior to the censors, although attempts to catch up and overtake are sometimes present. It is what it is.
But is it necessary? My dear blackice, Kart, 30 vis, vitvit123 and everyone else like them. You have no idea how glad we are to have you. I hope you don't need to say that the Review is read where it is necessary, that is, in the corresponding organs and organelles? They read it, as they read it. And thanks to you from the SBU, your work is simply invaluable. As well as your contribution to the struggle for Ukraine.
But I'll leave it for a snack, with your permission.
Here one such Vadim called me "puppet" ... And that's fair. Or have I missed something in my wilderness? Dead? Has it died? Probably not. Moreover, even somehow your articles and other materials about the fact that we are eating up the last gophers have stopped.
Yes, that's about gophers. More precisely, about food. I promised a proof-of-concept reportage, so now we will arrange for dispersal.
Bad for a start
news
for everyone from Channel One. We have a harvest - you can go crazy. Grain, beans, soybeans, corn ... Although it is not very good with popcorn corn, but we ate it, admiring Lukashenka. Now there are still beets on the way, it is generally not clear what to do with them. It looks like the pigs will go, and we will eat red bacon in winter. Thoughtfully, of course, but what to do?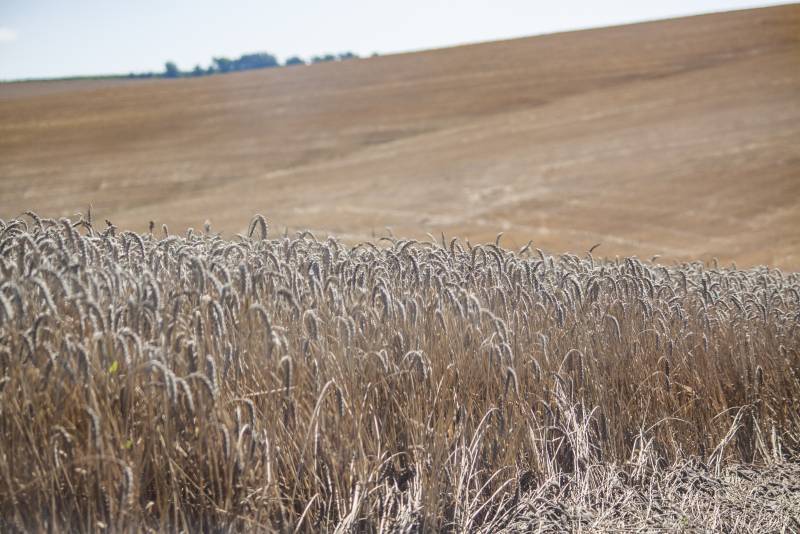 Well, I understand that yours is no worse, especially in the Black Earth Region, but that's ... nice!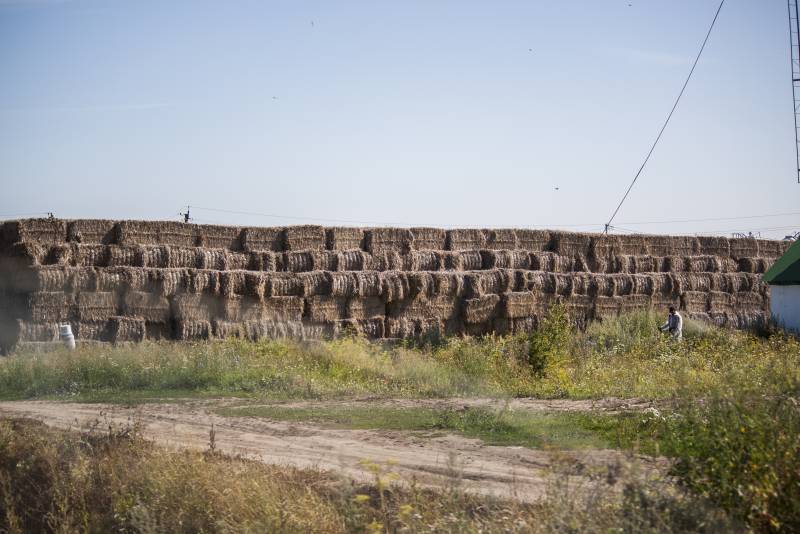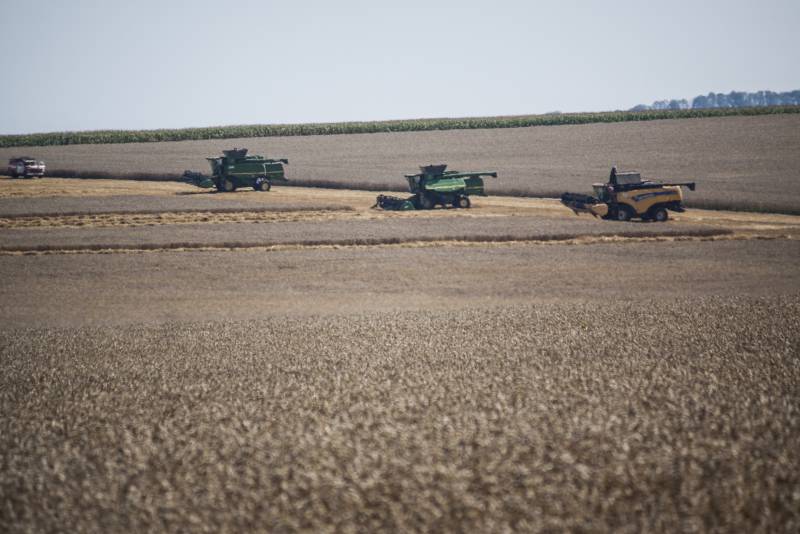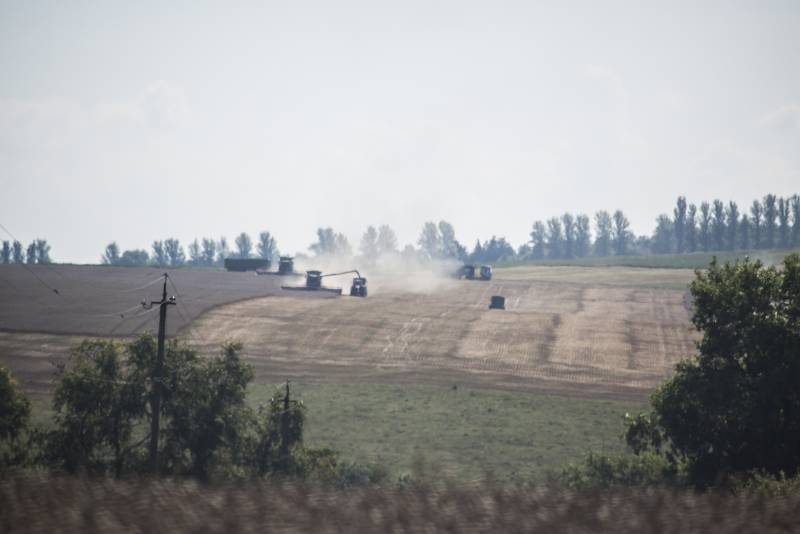 The battle is like the old days. In the Soviet. Only the technique is smaller, because it is a little bit cooler.
Yes, under every bush you can find something that was not made here. Not those times, of course, not those. But the technique is good.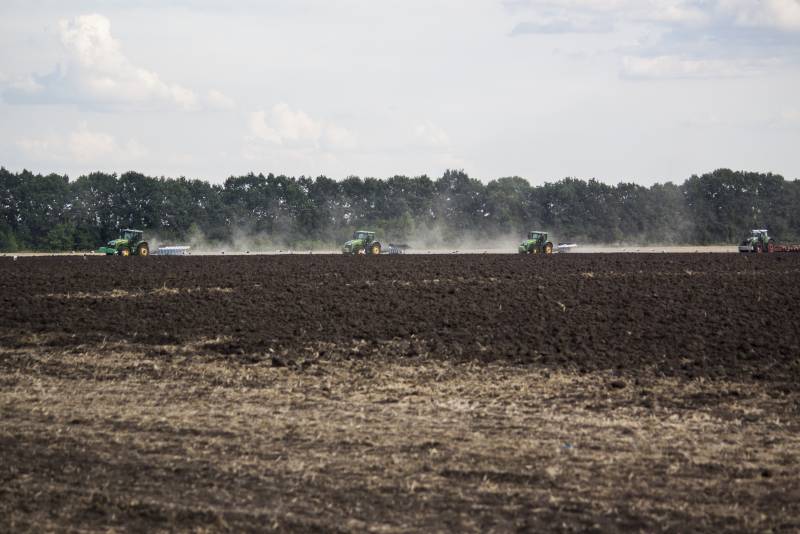 Taking pictures, of course, is not very convenient. You can, sorry, and get in the face for excessive curiosity. Just in case, what if there really is a spy?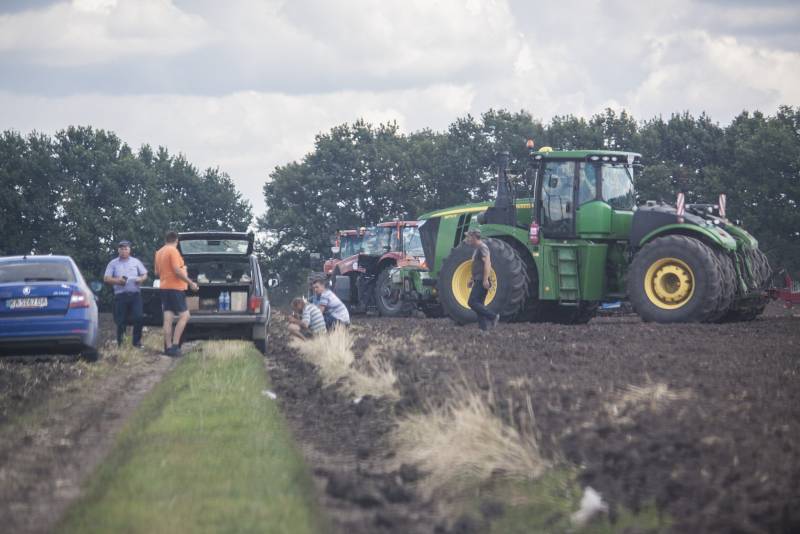 Holy of Holies - lunch. We were repairing something here, and as we finished it before lunchtime, we deserved dinner. And I must say that he was no different from the "good old days". Borscht with meat, and real, not conventional. Onions and garlic as a seasoning. Cutlets with buckwheat. Compote. Warm, true, but nonetheless. Well, instead of salad, just cucumbers and tomatoes. To be honest, I don't really want to work further.
I confess I sinned after dinner. Participated in the race to the end of the field. Exactly in one of the tractors from the first picture. And you know what? I was surprised myself, but "Hyundai" made our "Caterpillar" as standing! It became a shame for the firm!
Of course this is bad. We need to have hunger, so that the people go mad, and then people like the ones named above, quite reasonably from the couch would say: "But we spoke!" No, you talk, talk, write. Our harvest will not decrease from this.
In general, of course, I will agree with many that we then clearly lost the battle for independence. And as I spoke on this topic, the fact remains. But the battle for statehood and power is one thing, and the battle for the harvest is another.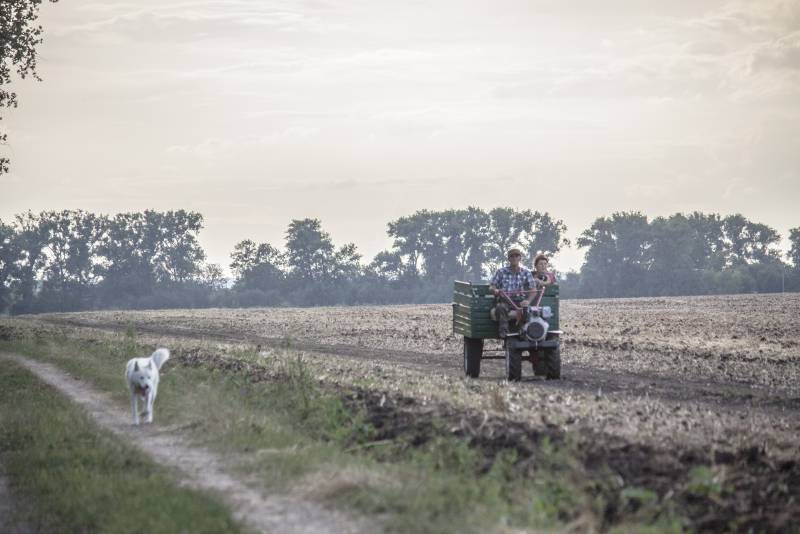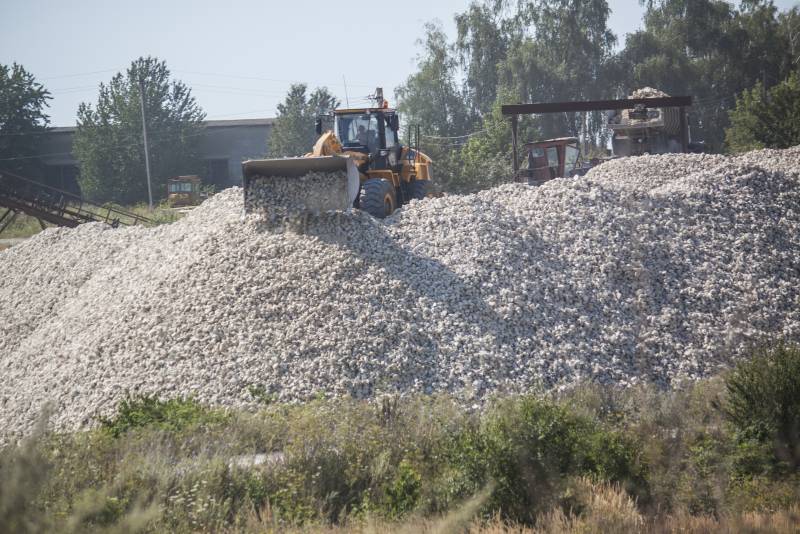 Believe it or not, they are still trying to repair our roads. And crushed stone is produced for this. I was sure that you wouldn't take my word for sure, here ... Extraction of large rubble.
It turns out generally an interesting number: where our government is not able to stretch its grab, there we have complete order. That is, in the battle for the harvest, for example. Or in pig farming. Or vegetable marrow. And in moonshine making, we and in general will make the whole of Europe, without straining.
Yes, and where ours were able to climb, space, shipbuilding, mechanical engineering - there, of course, complete horror is going on. But an agrarian country without missiles can easily survive. They live in Vietnam, for example. Or in Finland. And nothing, live normally.
So we are no worse. You cannot live in space, it's straight to the witch grandma, don't go. No, you can do it for a while. How did you do it. They did it cool, you can't say anything. And then? And then it turned out that the world does not stand still. And he can easily do without your rockets, as you did without our engines for ships.
The world does not tolerate emptiness, speaking in the language of physics.
He said a clever phrase and sat down himself. This is how it goes. It usually sounds like something, yes. But every rule has an exception. Today this exception is us, that is, Ukraine. Our world easily tolerates emptiness, both in heads and in public affairs. This is where there is almost a cosmic vacuum, that is, that is.
We recently celebrated the year of Ze's reign here. I've made my own rating. From one point. Exchange of prisoners. Nothing else happened in politics. Although this, one might say, is a good thing, but one thing a year is definitely not enough.
In general, we were promised landing. No, not those that are winter or spring crops, but criminal ones. There have been attempts. Gladkovsky, Pashinsky, Alperin ... Such good attempts. True, not everyone likes the result. Including Zelensky himself. But if it continues at such a Baltic pace, we would vote for Hitler in the next elections. Or Stalin. It makes no difference, by and large, if only things move.
Strange, isn't it? We want, you know, quick results, naive? Well, that's what it is, that is. We want. Change.
A good song turned out, right? It's a pity, the neighbors were banned. They do not want changes there, and they are not ready for them. In general, by the way, it doesn't look like Belarusians were being prepared for changes there.
And don't try to argue. I recently read one creation here on "VO", about how the Poles planned a special operation to wring out Grodno ...
Interestingly, they came to their senses after reading? Probably they came. But the idea was not bad, very good. Now the lords from the Intelligence Agency were running in, gloating. But you should not throw such ideas to the Poles, they will become. They are harmful. Who will remind you of Lemberg like this - and what will start?
But that's okay. We started talking about what was going on with our neighbors. You know, we also want to sit with popcorn and argue that way: everything was not so with us, not at all ...
But it really was not so with us. And the truth is, you can think about the fact that the Belarusians have someone who is incomprehensible.
We demolished the entire center in protest, so then we had to overhaul it, but for some reason the Belarusians didn't even break the windows.
How much did our fighters for the truth plunder and destroy? And dirtied? And here is a national idea for you, here are cookies for you, here are hryvnias for fighters with ...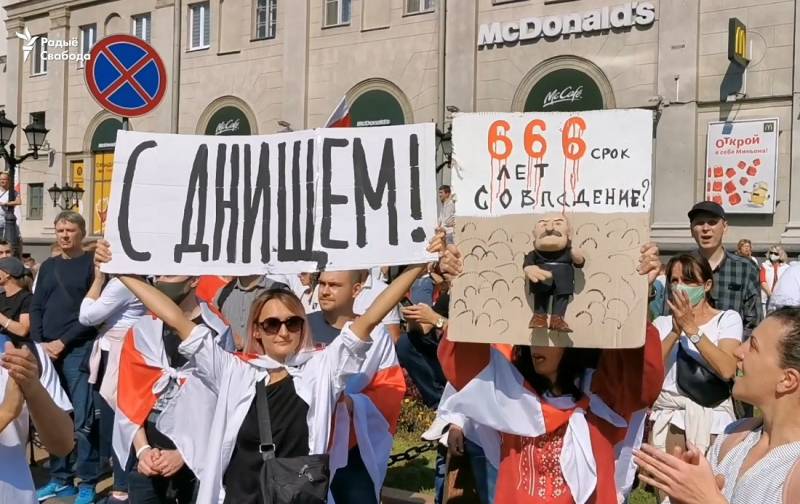 Who was to blame for everything? Well, it is clear that you and your protege Yanyk. And what about the Belarusians? Strange, but they also have Yanyk (in the sense - Luke), and you? Where are you?
No, we are not talking about what kind of thoughts the Belarusian Nazis are rich in. We hear here. You know, like in a public toilet, the booths are different, but the smell ... But the smell is still the same. In one booth ours sits, in another - the neighbor. And then I'll say - yes, from one ... field? Well, you understand, they are not berries, of course.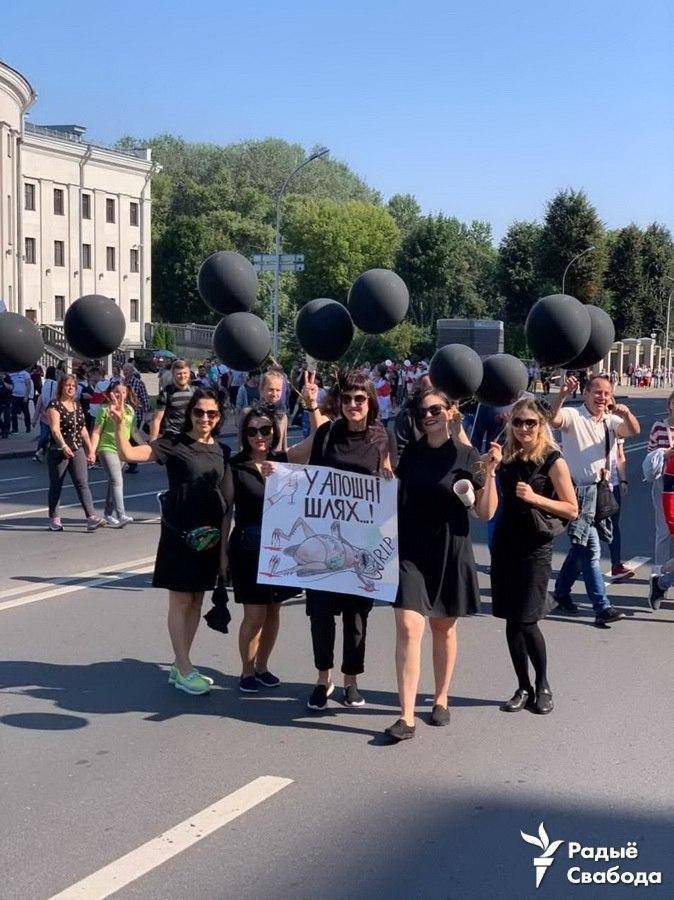 We also had those. I remember
And where are the "Muscovites"? Where, I ask you? And I ask, because we ourselves cannot understand who is playing with the neighbors. If the Poles - so you have with them "pshelyubof" for a long time, but silence. Czechs (I didn't come up with this, as the Belarusians themselves say) - they are not that you either ...
But why, even after Putin promised to settle everything by force of the CSTO, no one said a word, did not shout a cry? Well, really, it somehow turns out strange ...
It is strange that the people come out, not in a revolutionary way. They demand strangely. Everything is strange. But the main strangeness is that the right of the people to express their opinion is the right of the people to express their opinion, and "get the gang!" - this is a "gang get!" And there must be a hand. Even two.
One hand is the hand of Moscow. Which twists everyone. And the second is a hand that should hit the first hand heartily. And then there will be a revolution, and perspective, and so on.
Where are the hands, no one sees at close range. and therefore the situation is annoying.
The Belarusians have left us in one. We never congratulated our Hydrants like that.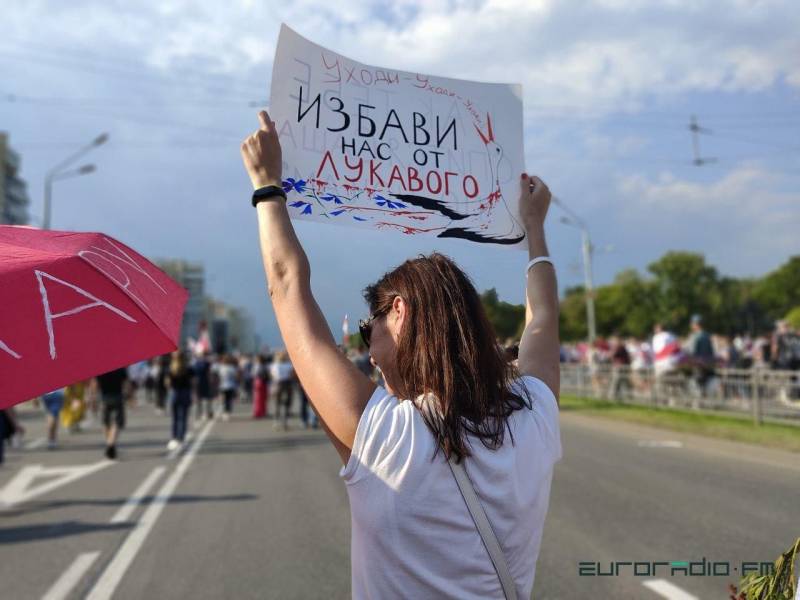 I was just a little hooked on chitin by the fact that they began to push us into politics. I saw myself at the march. Well, you get the idea.
In fact, the Belarusians have sorted it out here. Calling President Lukashenko a Cockroach is like an insult of the oldest and smartest kind. Insects. This is such a compliment, which even Putin did not give Luka when he awarded the Order of Merit to the Fatherland, second degree. So it is also strange, to which of the two Fatherlands is the merit? Before yours? Well then, the favorite toy of your officials, the Order of Alexander Nevsky, is understandable.
Such antipathy immediately arose ... Well, what kind of cockroach is he? A bug masquerading as a normal cockroach. On the other hand, vitality, of course, yes, seriously pumped. Like we have. Okay, I'll figure it out later.
Let's talk about pleasant things? I have already said about the harvest, but this is only half the battle. You yourself raised the topic of bacon. And here I officially intend to declare the following: you, dear ones, are being misled.
This weekend I will tear myself away from the harvest and devote time to lard. That is, I will show you the presence of non-Russian pork in Ukraine. And in a live form. Moreover, we (with representatives of the Russian side) will show you how much and what it costs. And let's compare this case. Who has what for how much, so to speak. It will be a good hunt.
As for the alleged pork that Russia supplied to Ukraine, you are not looking for it there, dear ones. This pork was eaten in Donetsk and Lugansk. I hope you are perfectly aware that you are sending products there? You know it, we know it, everyone knows it.
And you are doing the right thing that you send. Everywhere there are people who want to eat normally. Regardless of the color of the flag or the number of stripes on it.
So, that pork that you sent, say, to Lugansk, she came there. And it was sold there. But who sold it? Correct, for example, IP Tikhomirov from Lugansk. On the market. For your rubles.
IP Tikhomirov is registered in Lugansk. What's this? It's Russia? No, not Russia. You haven't occupied yet or whatever. And they didn't. So this is for now - ORDLO. For us and for you.
So there is an import deal with VAT and other customs wisdom returned to suppliers.
And it turns out, as Crystal rightly remarked, that you kind of supplied us with something that we didn't buy - WOW !!! - and did not pay a penny for it !!! So that it was possible to turn it over with gas ... There is gas, but you don't have to pay ... They would have ordered the whole country!
For the whole world, alas, But ORDLO or LDNR is Ukraine. Well, do not get boiled, it is. Even according to the documents, what went to the LPNR went to Ukraine. Everything, yes, lard, meat, sausage, fish, beer, vodka - everything. When ours flies there, it's an internal deal. When yours is foreign trade. Although outwardly the opposite is true.
But, dear, that's what, and we have enough fat. So I'll show you everything, I'll tell you everything. We will have such a gluttonous reportage. And if yours are also connected and it will be possible to compare at least by a photo ... Eh ...
By the way, I will also answer the question of why I had someone else's fat in that material in the photo. I'll tell you this: I just adore you. But to blame the pig for the sake of a photo shoot, sorry, I will not. When his mournful hour comes, I will not only take a photo, a video. How delicious to use all this.
Do not be very angry, yes, I take overclocking slowly, but nothing. Now I'll get on track, we'll look at everything and discuss everything. Naturally, with those who are interested. Who is not interested or who considers me a "puppet" ... And why should I talk to them ... Woodlice, one word. Although the essence in their words is. Indeed, Ukraine has not died out and has not disappeared yet. Although, yes, work is underway.
So we will also live. As is now accepted in our countries - in spite of everything, including common sense.