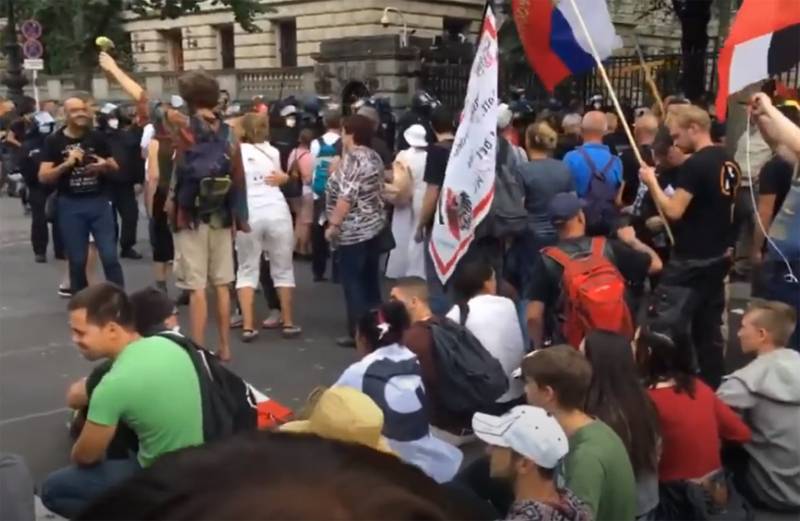 The protests that swept across Germany were quite massive.
Protesters against coronavirus restrictions in Germany and Berlin's policy in general came close to the building of the Bundestag (German federal parliament). At the same time, all major German publications did not ignore the topic of chanting the name of the President of Russia: "Putin!"
Major German publications called the rally participants "ultra-right radicals." And this is another manifestation of double standards. After all, the protesters on the streets of Belarusian cities in the German media are called "fighters for democracy, opposing the regime." There - "fighters for democracy", here - "radicals."
An article by political commentator Christian Bangel in Die Zeit says that "tattooed right-wing extremists" have come to the Bundestag.
From the article:
They moved along with other protesters - like fish in water.
Bangel writes that in Germany, the threat of rising extreme right-wing sentiments cannot be ignored.
Noteworthy is the fact that the President of Germany F.-W. Steinmeier condemned the actions of the demonstrators. Against this background, accusations against Russia were heard in the German blogosphere. Their general message is this: if in the center of Berlin they chanted the name of the Russian president and one could see Russian tricolors, then "the protest is supported from the Kremlin."
Discussing the protests and chanting "Putin!" In Germany, they say that the protesters thus hope for the possibility of the Russian president "to put pressure on Trump." The protesters themselves said they were calling on Vladimir Putin to "save them from NATO and the EU."
The liberal media in Germany called the speeches in Berlin "an attack on democracy." In the comments, users added that "law enforcement agencies should not allow this kind of anti-democratic attacks." But about the protests in Minsk, the same German media have a completely different opinion ...