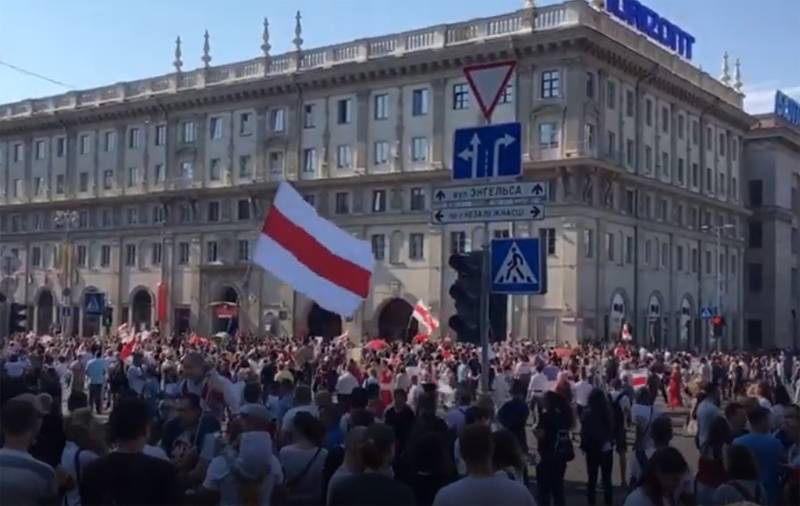 The Belarusian opposition kept its word and again brought tens of thousands of protesters to the streets of Minsk. The slogans remain the same - the resignation of President Alexander Lukashenko and the implementation of reforms.
Telegram-channel Nexta, controlled from Poland, writes that the column of protesters is moving "towards the dictator's palace." This is how the channel, which was actually created precisely as a mouthpiece for the protests and their coordination platform, calls Alexander Lukashenko.
Opposition mass media of Belarus claim that about 100 thousand people have gathered in the center of the capital of the Republic of Belarus. At the same time, many of them chant "We are for a birthday!" Alexander Lukashenko is celebrating his 66th birthday, and the opposition decided to "play up" this fact.
The very same action of the opposition is called "March of Peace and Independence." The term "independence" in this case raises questions, since the protest is actively supported by the EU countries, especially Poland and Lithuania.
Meanwhile, armored vehicles were seen on the streets of Minsk. According to the latest information, it is directed to the Palace of Independence. The entrances to the square are blocked by the Belarusian security forces.
It is worth recalling that earlier Vladimir Putin announced a reserve of security officials formed in the Russian Federation, which could be involved in ensuring constitutional order in Belarus in the event of a deterioration in the security situation and external threats.