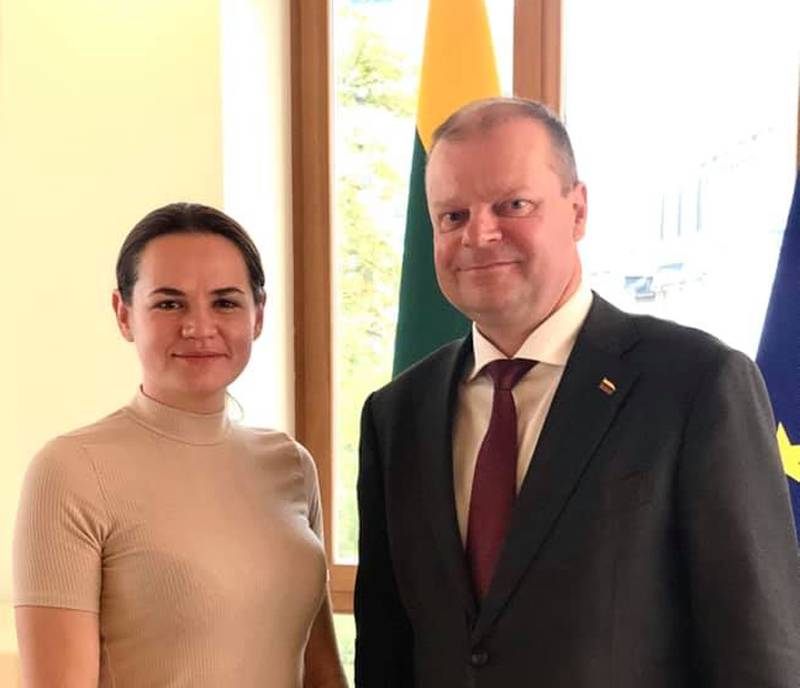 Lithuanian Prime Minister Skvernelis and ex-presidential candidate Tikhanovskaya
Lithuania is reacting to the statement of Alexander Lukashenko that "it's time to put (Vilnius) in its place". Recall that a few hours ago, the President of Belarus imposed sanctions on the Republic of Lithuania for interfering in the internal affairs of the Republic of Belarus. Lukashenka ordered to reformat the transit of goods with the refusal of the services of Lithuanian ports (including the port of Klaipeda).
The Lithuanian newspaper "15 min", describing the measures taken against Lithuania by Alexander Lukashenko, calls him "the unrecognized president." The very emphasis in the Lithuanian media is mainly on the fact that official Vilnius did not recognize Lukashenko as the elected president, and therefore does not intend to take the sanctions imposed by Lukashenko seriously. Apparently, such rhetoric in Vilnius can afford exactly as long as the country's ports do not actually start to lose the Belarusian transshipment of goods.
Interestingly, in connection with the introduction of sanctions against Lithuania by Lukashenka, the situation is developing with the future supplies of the contracted consignment of American oil. It should be recalled that quite recently Lukashenka himself announced the diversification of hydrocarbon supplies. But if the ports of Lithuania for Belarus are now out of the trade scheme, does this mean that tankers from the USA with oil for Belarus will go through Russia? For Belarus, this will be strange, because in the end the oil will still have to be delivered from Russia, but de jure it is American, which means it is much more expensive. There is a variant of delivery through Poland, but Lukashenka's relations with Poland are also extremely difficult today.
Meanwhile, the Lithuanian media are still trying to rationally approach the threat of loss of Belarusian import and export cargo by the country's ports. The above-mentioned Lithuanian portal writes that in the port of Klaipeda about one third of all bulk cargo is Belarusian fertilizers.
The BNS portal quotes the statement of the head of the Lithuanian Foreign Ministry, Linas Linkevičius:
Threats to impose sanctions on Lithuania are a natural behavior of Lukashenka. He goes all-in, trying to maintain his position by all available means.
And this is the post on the social network of the Prime Minister of Lithuania Saulius Skvernelis:
It is difficult to understand how much you need to desire to remain in power and hate your nation. If the decisions that Lukashenka is talking about today are made, they will hit Belarus first.
Against this background, it became known about the imposition by Lithuania (together with a number of other EU countries) of sanctions against Belarusian officials "responsible for violence against civilians and for electoral fraud."