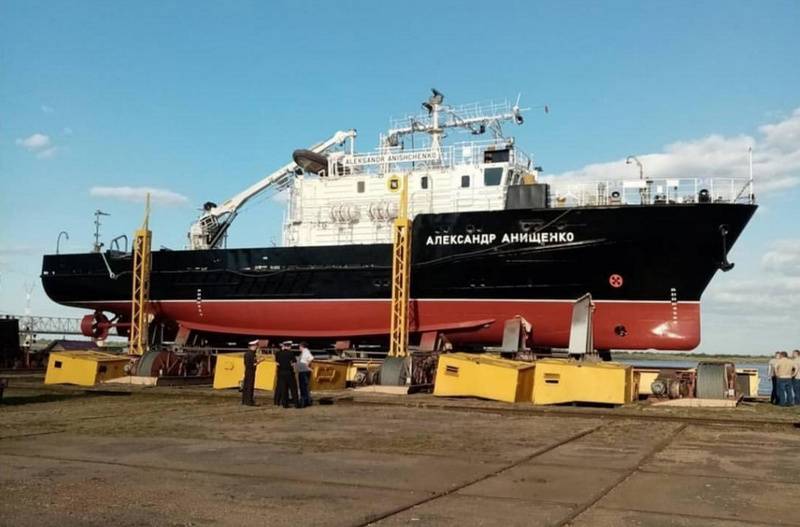 The Pacific Fleet will soon receive the fifth large hydrographic boat of Project 19920, cipher "Baklan". The launching ceremony of the Alexander Anishchenko BGC took place at the October Revolution shipyard in Blagoveshchensk (Amur Region).
The boat was laid down at the Blagoveshchensk Shipyard on March 1, 2019. This is the fifth boat of this project built by the enterprise in the interests of the Pacific Fleet. Unlike the previously built BGK, this boat is distinguished by more modern electronic equipment. The vessel will be equipped with a three-beam echo sounder, thanks to which it is possible to study the bottom topography, as well as a navigation system capable of automatically plotting a course for the vessel according to the specified parameters. The transfer of the boat to the customer is planned in 2021.
The boat is designed to perform hydrographic and pilot works in coastal areas. The vessel will be able to deal with the delivery of scientific groups and special equipment up to 15 tons to the unequipped coast.
The boat is named in honor of Alexander Anishchenko, a famous hydrographer, who devoted his whole life to serving the motherland. During the Great Patriotic War, he fought in the Baltic
navy
.
TTKh BGK: displacement - 320 tons, longest - 36,4 m, overall width - 7,6 m, bead height - 3,6 m, draft with full reserves - 2,1 m, cruising speed - 11 knots, cruising range - 1 thousand miles, autonomy - 10 days., Crew - 11 people.