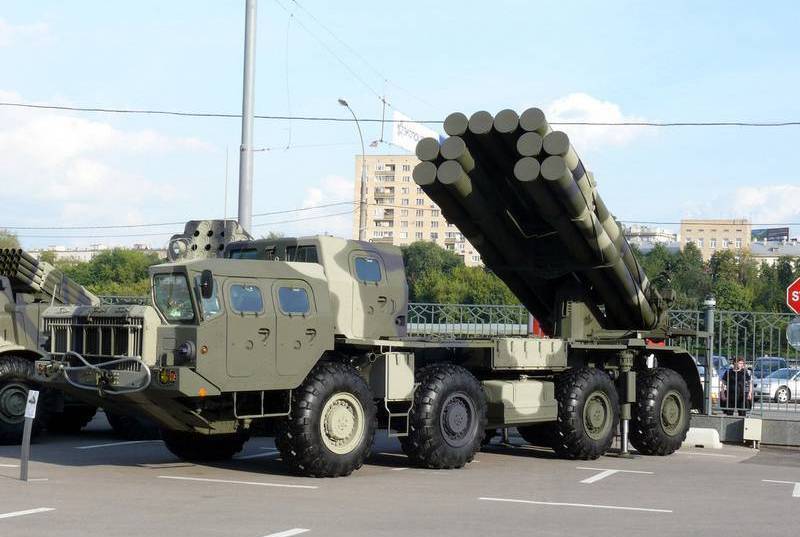 The Russian Tornado-S multiple launch rocket system (MLRS) has received a new missile of increased range and special accuracy. How do they transmit
"News"
with reference to the Ministry of Defense, the new ammunition has already been tested.
The Ministry of Defense explained that one salvo of the MLRS "Tornado-S" is capable of hitting several targets at once. Before the launch, the necessary data for each ammunition is entered into the system separately (if necessary) and after the launch, the missiles hit each of their targets, having the ability to turn around after the launch. The MLRS is equipped with GLONASS signal reception equipment and an automated guidance and fire control system. In addition, the system itself can receive and process information from reconnaissance vehicles and drones.
New ammunition has already been tested. At the recent exercises at the Kapustin Yar training ground, a new automated control system was tested, combining the Tornado-S MLRS and the Iskander-M OTRK, at which the missile division of the Eastern Military District and the rocket division of the Southern Military District interacted. During the practice, combat firing of MLRS and OTRK took place.
Before the appearance of new missiles, the declared range of fire of the Tornado-S MLRS was 120 km. The flight range of the new ammunition was not reported, but earlier the developers promised to "hold out up to 200 km."
The Tornado-S was developed as a replacement for the Smerch MLRS. The MLRS has 12 guides for 300 mm missiles. The installation allows you to hit targets to the entire tactical depth of the enemy's battle formations. At the same time, these systems can be quickly transferred from one section to another. Columns of wheeled vehicles are capable of throwing up to 300-500 km per day. MLRS tests took place in 2015.