The head of the Chancellery of the Prime Minister of Poland, Michal Dvorczyk, was outraged by the fact that the Belarusian border guards did not allow the transport that "delivers humanitarian aid" into the republic. At the checkpoint in Belarus, they explained to the Polish representatives that Belarus did not ask Poland or anyone else for humanitarian aid.
In turn, Mr. Dvorczyk states that this is an initiative of the Polish Solidarity movement. Representatives of "Solidarity" sent humanitarian aid to the protesters of the citizens of Belarus.
Michal Dvorczyk:
For more than 12 hours, a transport with humanitarian aid from Solidarity stopped by the Belarusian services for the striking workers is forced to stand idle at the Polish-Belarusian border.
In the photo you can see the trucks, the inscriptions on which are made in several languages: Polish, Belarusian and Russian.
You can also see the logo for the 40th anniversary of the Polish movement "Solidarity".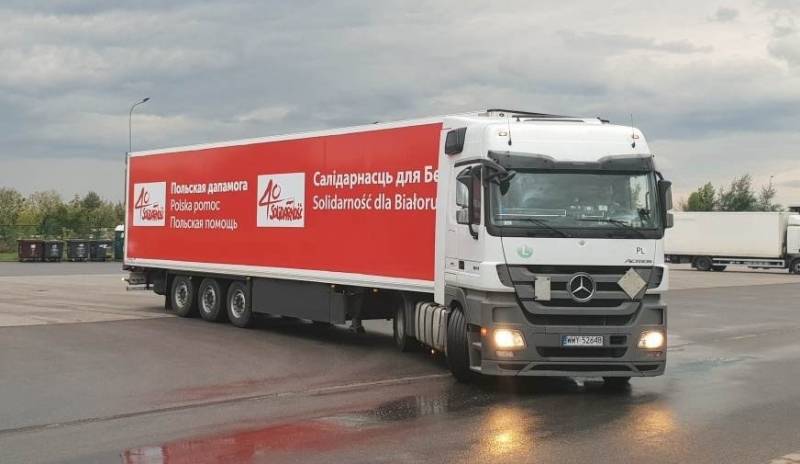 The statement of the chairman of "Solidarity" Piotr Duda is cited that allegedly the trade union of Polish workers launched an action to collect humanitarian aid for the Belarusian workers. In particular, several additional funds have been created, which have already received more than 1 million zlotys (about 20,5 million Russian rubles)
Peter Duda:
We were going to deliver food. It seems to us that they can be useful to workers in the field of strike. We have completed all the formalities, but the Belarusian side has not yet accepted the cargo.
A surprisingly arrogant statement: Warsaw expects that the Belarusian authorities will let in a cargo that is actually intended to support those who are ready to oppose the Belarusian authorities ... I wonder how Warsaw would react if Belarus or Russia sent a cargo of aid to Poland Polish workers, urging those to create strike committees and boycott the work of enterprises?