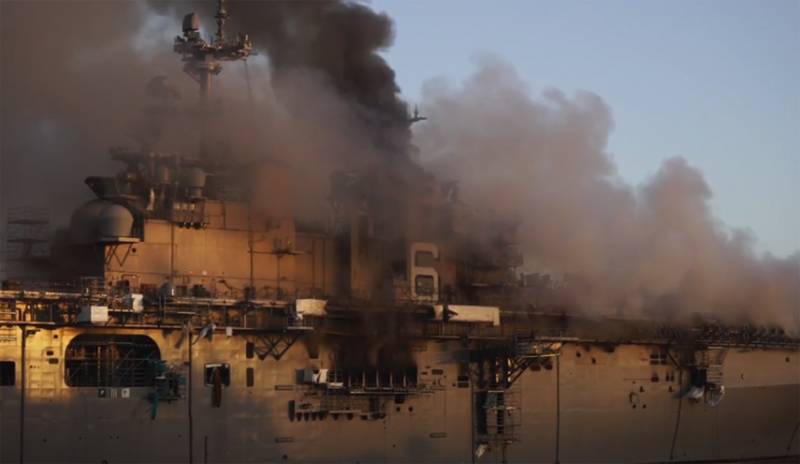 On American television, a report was released on the fire on the US Navy's Bonhomme Richard universal amphibious assault ship. The ship caught fire a few weeks ago while at the San Diego naval base. As a result of the fire, the UDC burned out almost completely. Initially, it was reported that the cause of the fire could be a violation of safety rules during repair (welding) work.
Now on the 10th channel of American television, which is an integral part of ABC, material has been released, which says that the investigators consider arson to be the main reason for the fire. A released interim report says one US Navy soldier is under investigation. It is he who is suspected of setting fire to the UDC, which led to multimillion-dollar damage.
From the report:
The fire that took place on July 12 may have been deliberate. Investigators identified the sailor as a suspected arsonist. Several search warrants were obtained for the seaman's home and service area.
At the moment, neither the name nor the specific rank of the suspect has been reported.
In the United States, they say that if this is really an arson carried out by one soldier, then it will be necessary to state the maximum damage ever inflicted by one sailor to the US naval forces. Now in the United States, the question is raised about the lack of control over the implementation of repair and modernization work and about the vulnerability of American ships during repair operations.
A video reminder of how the fire was extinguished at the Bonhomme Richard UDC: