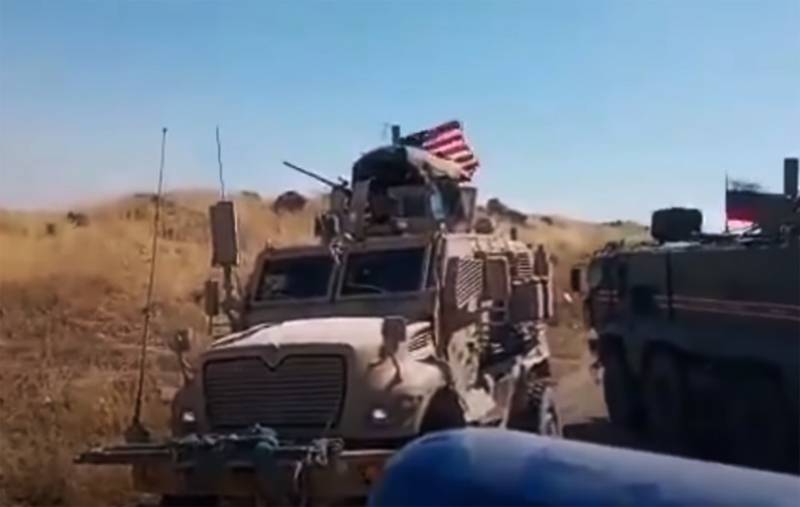 The American administration reacted to the situation with the next "meeting" of Russian and American military patrols in northern Syria. We are talking about a situation in which Russian military personnel blocked the advancement of American armored vehicles. The blocking was attended by BTR-82A, as well as armored vehicles "Typhoon" and "Tiger". International MaxxPro was blocked.
During the blockage over the American armored vehicles, the Russian Mi-8AMTSh helicopter hovered for a while, which, as Voennoye Obozreniye reported earlier, made the American military pretty nervous.
In addition, it is reported that the Russian BTR-82A decided to ram an American armored vehicle. Russian armored vehicles turned on special sirens, forcing them to stop.
New video:
The US presidential administration accused the Russian military of carrying out a provocation "leading to an accident in which American servicemen were injured." In addition, it is stated that the Russian military "disregards the conditions prescribed in special deconflicting protocols." We are talking about the protocols, which spelled out the actions of the military personnel of Russia and the United States to prevent conflict situations in Syria.
Several user comments on the web:
This is the shooting of the movie "Fast and the Furious 10".
Trump will try to hide this incident from the people in order to shield his dad Vlad (Vladimir Putin) again
American soldiers were injured inside an armored vehicle at a speed of 40 km / h? ..
Russians provoke Americans to a serious response
This is a real fiasco for the US Marines.