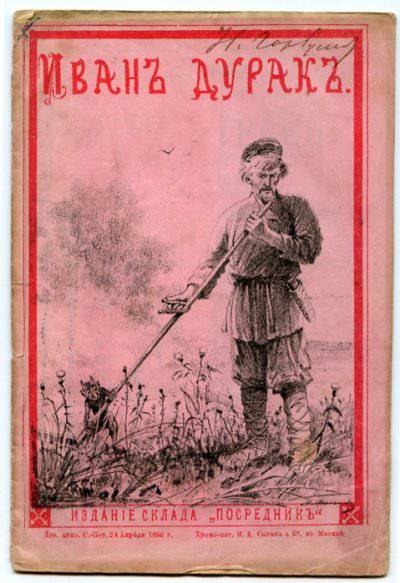 RUSSOPHOBE
- There are no Russians ... There is no such nation.
Я
- We do not have? Why?
RUSSOPHOBE
- Seven hundred years ago, there seemed to be some Russians. Although unlikely. But all the Russian women were raped by the Tatar-Mongols and now there are no pure-blood Russians left.
Я
- Do Georgians exist? Indeed, until the time when the Georgian principalities, fleeing from genocide and total annihilation, voluntarily joined Russia, for centuries the highlanders widely exported neutered Georgian boys to Muslim countries. This was the main article of the Caucasian export. And their women have been raped by anyone ... Do Georgians exist?
RUSSOPHOBE
(with pathos) - What an abomination! How dare you slander the ancient Georgian people and the peace-loving noble Highlanders !! .. Stop Great Russian nationalist propaganda or I will call the police.
Я
- Sorry, I said it without thinking.
RUSSOPHOBE
- That's the same thing. It is necessary to spare the national feelings of proud peoples. Here you can talk about the Russian bitter truth. Anyway, they do not exist.
Я
- So maybe the Russians are Slavic Tatars-Mongols?
RUSSOPHOBE
- No, of course not. Half of marriages in the USSR are mixed, so no Russians actually exist.
Я
- And we feel that we exist. And in the Russian Federation at the last census, 80% called themselves Russians. 120 million Russian, is it enough?
RUSSOPHOBE
- Understand the elementary logic, ethnic Russians are destroying Russia. Every person who simply understands Russian is already Russian. We must be able to see others in others. That is, in your mind to make others your own. Understands?
Я
- Not quite.
RUSSOPHOBE
- Well, look: the camp of the Tajiks arrived in Moscow.
Я
(grimly) - I see.
RUSSOPHOBE
- But in reality these are new Russians! Know how to overcome xenophobia, it is necessary in Tajiks, Uzbeks, Azeris, Georgians and all-all to see all Russians. Russia is an empire, Moscow is its hometown for all nations. Besides the Russians, of course, because there are no Russians.

Я
"And these ..., are they really Russians, or should we feed them as best as we possibly have?" Do they consider us their own or just use us? Do they really consider themselves what they are looking for here? ..
RUSSOPHOBE
(excited) - Chauvinistic nonsense and nonsense !!! Zoological racism !!! .. (calming down) These malicious nationalistic arguments will destroy Russia. Such thoughts should be banned by the criminal code.
Я
- And what to do?
RUSSOPHOBE
- You are obliged to consider these beautiful non-Russian people as if Russians. And then in the 2-3 generation they will become Russian. That is, the Russians, of course. Since there is no Russian and can not be!
Я
"Can't they become Jews?" Could these wonderful people be considered Jews and repatriated to Israel?
RUSSOPHOBE
- I find you funny. What kind of nonsense?
Я
- Azerbaijanis, too, can not be considered?
RUSSOPHOBE
- NOT !
Я
- Почему?
RUSSOPHOBE
(patiently) - 100 has already been explained to you once. There are no Russians, and therefore anyone can be considered Russian. It strengthens Russia. That is, the multinational Russian Federation.
Я
- Do the Jews exist? They are all their
history
wandered ... lived anywhere and with just anyone ...
RUSSOPHOBE
- Of course there are ...
Я
- And Estonians? They never had statehood ...
RUSSOPHOBE
(annoyed) - Of course there are! And Georgians exist, and Tatars, and Chukchi, and Ukrainians, and Moldovans, there is not only Russian ....
Я
- Now I understand. Last question. Who is in the corner spat.
RUSSOPHOBE
(joyfully) - Russians, who else! And in the stairwell they also spoiled, and in the elevator ... And they killed the Tajik girl. All of them are disgusting Russian pigs! Such is their vile national custom - a thousand-year-old Byzantine slavery. All of us, decent people, have been tormented with this beast for more than one millennium;
Я
- So there are Russians?
RUSSOPHOBE
(with a snout distorted from bestial anger and hatred) - a little remains ...
http://radosvet.net/11714-logika-rusofoba.html
About Russophobia and its main sources
We have already heard many loud speeches about xenophobia, hatred of Jews, Azerbaijanis, Chechens, etc. However, rarely hear from the ardent liberastov, anti-fascists, anarchists and other evil spirits, about Russophobia.
In short, Russophobia is hostility or hatred for the Russian people and Russian culture.
Initially, the people were determined by the common culture - faith, language, everyday culture, and most importantly - a common identity.
Self-consciousness is the most enduring and defining feature of a nation. A people exists as long as there are people who identify themselves with it. In fact, a Russian (like any other) people is a community of people who recognize themselves as Russians.
It is clear that any "anti-fascist" must oppose this form of discrimination based on ethnicity. What we certainly do not see in practice.
In what forms does Russophobia exist in our country?
Its source is often some nationalist representatives of the North Caucasian peoples. Often we hear about stories when freaks, with slogans like "Caucasus - power! Who is not with us is the one below us! Russian pigs attack Russians, or in every way they are discriminated and humiliated. Such aggressive and united crowds are not uncommon for Moscow suburbs.
The main source of Russophobia is the Liberals. Here is the most striking example - Valeria Novodvorskaya. However, in addition to this comical animal, you can often see people who literally idolize European and American capitalism and Western political systems, and the word Russian, whatever it may be, causes them to have rage attacks. And if a person openly declares: "I am Russian!", They will accurately assign him to fascists, criminals, etc.
There is Russophobia, and in the anarchist environment. The fact is that some modern anarchists are inclined to believe that the existence of various peoples, as cultural communities, in itself limits human freedom and breeds nationalism. Such people declare themselves cosmopolitan (not belonging to any people). But those who do not consider themselves cosmopolitan, they are called fascists, which is clearly unfair.
Russophobia manifests itself in aggressive "anti-ethnists" in that they, like liberals, can argue long and hard about infringing upon the rights of immigrants, but when it comes to discrimination against Russians in Russia, they immediately raise a scandal. They do not want to see really important problems associated with the indigenous peoples of Russia.
The phenomenon of Russophobia is really quite widespread. So, we need to comprehend it as soon as possible and find ways to combat it. In addition, this phenomenon sets before the Russian people the task of deeper understanding of ethnic and national issues, in order to avoid misunderstandings such as the statements: "if you consider yourself Russian, you are a fascist" ... No! I am Russian, and proud of it!
On the website "All Russian" there is a special section "Russophobia, no!". In it you can see the so-called "rating of Russophobes." Now lead: Novodvorskaya Valeria, Fahrion Irina and Marina Solodkina.
http://vse-russkie.livejournal.com/10846.html