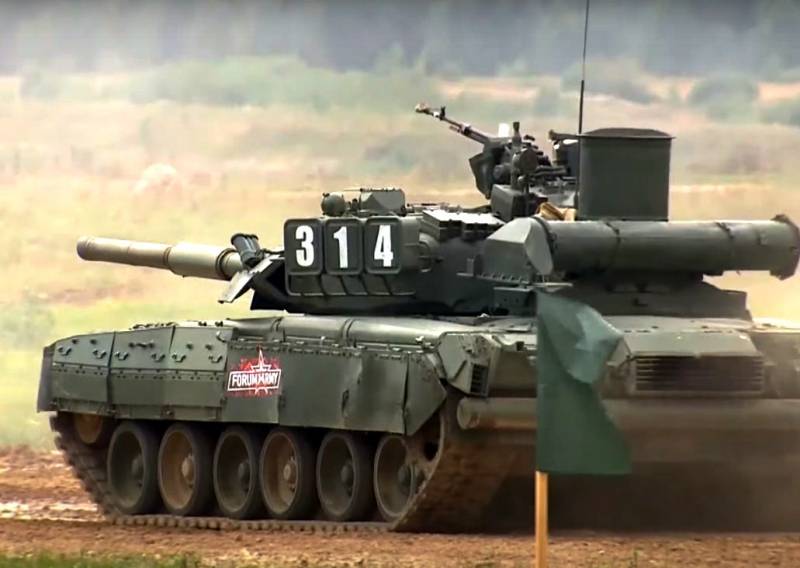 At the Army-2020 forum, several Russian
tanks
demonstrated the firing of tank guided missiles at stationary targets in range conditions. There were both offensive misses and accurate hits.
In the video that appeared on the Web, we see (presented below) how the T-90A tank occupies a position. The first launch of a tank guided missile ends with an undershoot, the second missile also misses the target, but the third launch turns out to be more successful - the missile hits a stationary target. In total, we get 2 misses and 1 hit.
Then we see a T-80U tank in position. For some reason, the barrel of the gun is shaking violently at the tank, after the launch of the 9M119M TUR, you can see how the rocket goes up. The second launch is the same situation, but the third launch, like that of the T-90A, turns out to be successful. That is, the results are similar - 2 misses and 1 hit out of 3 starts.
In position - the T-80UE-1 tank. The first missile goes up, and the second and third hit the targets. A total of 3 starts with 1 miss and 2 hits.
The T-80BVM tank moves into position. All three launches end in misses, although the target, we note, is motionless.
In an amicable way, only the T-72B3 crew showed the real class. All four launches of a tank guided missile ended with hits on the target.
Naturally, such results cannot be impressive. Of the 16 starts, 8 misses are exactly half. And this, we note, in polygon conditions and for stationary targets! What to expect in a much more complex combat situation, where targets will constantly move and the tanks themselves will be under enemy fire?
It is understood that the results of the shooting caused a mixed reaction on the Internet. Disappointment is one of the reactions. Many commentators believe that such shooting results are primarily due to the low level of crew training and expect that everything will be better in the future.
I hope the military will draw conclusions. In general, such events and muddying on disastrous results are useful - they indicate pain points that need to be worked on,
- writes, for example, the user Pro Osipoff.
It is difficult to disagree with him: if the tank crews selected for participation in the demonstration firing were not up to par, then what is the average level of training in the tank units of the Russian army - we can only guess.
And this is already the fifth race of the Tank Biathlon at "ARMI-2020":