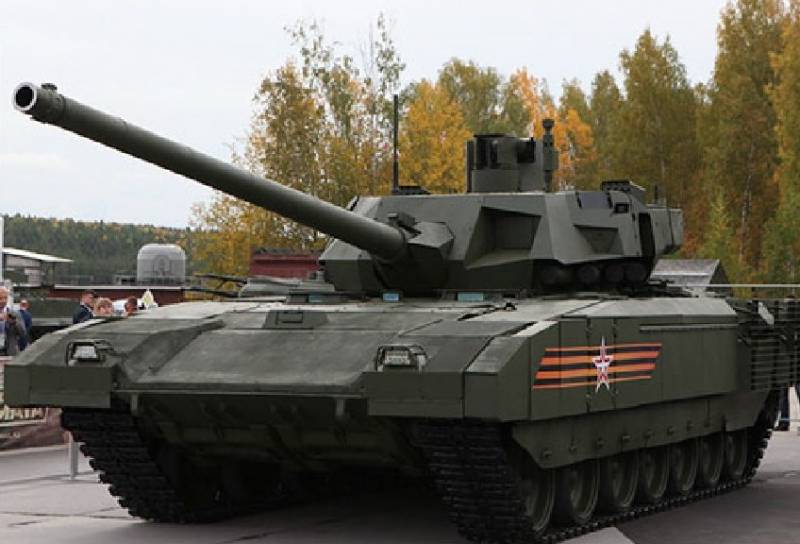 Experts suggest installing a new uninhabited turret and an increased caliber cannon on the T-14 Armata tank. In their opinion, it should be 152 mm. At the moment, the gun has a caliber of 125 mm.
This was reported by the news agency
TASS
with reference to the data of the 38th Research and Testing Institute of Armored Weapons and Military Equipment (BTVT).
In addition, the "Armata" will need new types of ammunition. In particular, the tank should be armed with hypersonic armor-piercing projectiles and volumetric blast ammunition, and guided missiles should be added to its arsenal, operating on the principle of "fire, forget and fire again."
It is also proposed to equip the T-14 with airborne drones, which would conduct reconnaissance and relay signals.
For better protection, they want to install a complex for remote neutralization of homing anti-tank weapons and a system for detecting and hitting targets in tank-hazardous areas in automatic mode located at a distance of 1 km from
tank
... In addition, the T-14 will be protected by a laser anti-guided anti-tank guided missile system and a complex for the remote neutralization of anti-tank mines.
The need for such modernization is due to the fact that a potential enemy by the 2030s is able to create a new generation of armored vehicles.
It should be noted that talks about the possibility of equipping the T-14 "Armata" tank with a 152 mm cannon have been going on for a long time - in fact, from the moment when the first news about the creation of a new generation tank in our country appeared. However, until now, the concept with a 152-mm cannon for the T-14 has not been implemented.