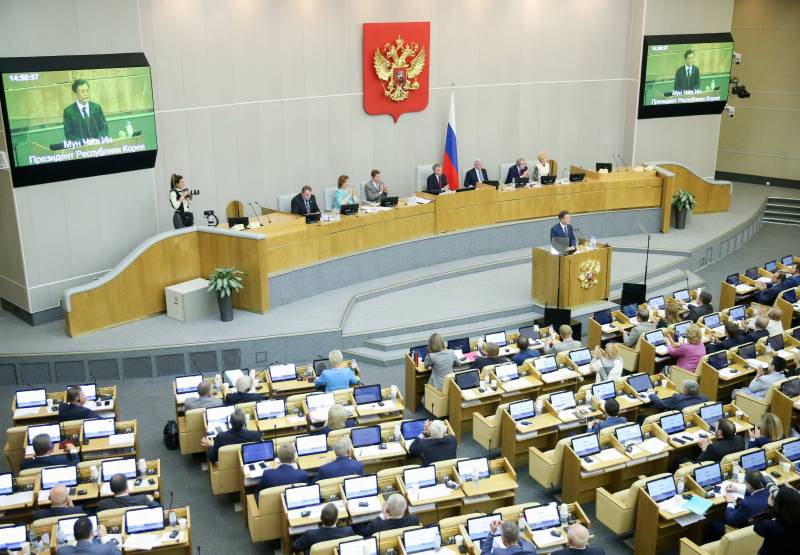 The people's choice in Russia is a profession. If someone doubts, he can turn to Article 97 of the Constitution, where it is written in black and white that State Duma deputies are working on a permanent and professional basis. Nevertheless, before making the administration of legislative power in the country a matter of their lives, all these people were doing something. It's very interesting what exactly.
Naturally, I will not keep track of the entire work biographies of all 450 deputies of the State Duma of Russia of the VII convocation without exception. There will not be enough space, and you never know how many professions a person managed to change in his life. It is important, as a representative of which of them, he was elected to the highest authority in the country. I will try to paint a more or less objective picture, using some generalizations to save space.
For example, everyone who has held certain positions in government structures for most of their lives, I think, can be safely characterized by the well-known definition of "official". There are 69 of them in the current Duma. It is clear that by the time of the election, almost all of them were leaders of various levels. There will be fewer executives in our parliament who have worked not in the state but in the private sector (directors of various enterprises, managers of concerns and corporations, heads of other commercial structures) - 57 people. Businessmen in their pure form, that is, people who have created and developed their own businesses in various industries, can be considered 60 Duma members.
There are 24 people who consider themselves professional politicians. Not so much for parliament, is it? Well, you can add to them three more trade unionists. There are even more teachers of various levels, from school teachers to university teachers, there are even more in the Duma - 34 deputies. There are also three dozen engineers and technicians. 23 doctors - from humble doctors to the former chief sanitary doctor of Russia Gennady Onishchenko. By the way, there is even one veterinarian - Valentine Saturday.
Alas, even fewer than professional politicians, we see professional economists in the State Duma. At the same time, mind you, 41 deputies have a scientific degree of candidate of economic sciences, and 15 are even doctors in the same field! How is this possible? Riddle ... With those whose occupation is jurisprudence in the domestic parliament, it is also sparse. The list of 13 lawyers-deputies, of course, is headed by the charming Natalya Poklonskaya, whose irrepressible energy is enough for ten. Several more representatives of agriculture, or, as they say now, the agricultural sector: 18 people.
But the situation is not bad with those who for most of their lives ensured the security of Russia and its defense. In the State Duma of the 18th convocation, we see XNUMX regular military personnel (one ex-commander of the Russian Airborne Forces, Vladimir Shamanov, is worth something!) And two dozen representatives of other law enforcement agencies. You can't take our parliament for fear! There is also a full-fledged detachment of cosmonauts - as many as five people, and most of them are representatives of the fair sex: Valentina Tereshkova, Svetlana Savitskaya, Elena Serova.
Finally, let us consider the presence in parliament of representatives of those professions that are traditionally called public. These are five public relations specialists and 19 journalists representing various media. There are, of course, enough people known throughout the country: TV presenters Oksana Pushkina, Pyotr Tolstoy, Evgeny Revenko, editor of the Kultura newspaper Elena Yampolskaya, journalist and writer Sergei Shargunov.
Their fellow athletes are slightly outnumbered by journalists-deputies. There are 18 of them in the Duma. Here, the composition, of course, is "star". Heavyweight boxer Nikolai Valuev, wrestler Alexander Karelin, hockey players Vyacheslav Fetisov and Vladislav Tretyak, gymnast Svetlana Khorkina. I will not list all of them, I will only note that, of course, there will not be enough people for the Olympic team, but on the whole the team is quite decent and versatile. There is also a coach - the most famous mentor of football players Valery Gazzaev.
Only one person from the deputies, Elena Drapeko, considers himself to be an acting class. But next to her sits Sergei, the son of the star of Russian cinema and stage Mikhail Boyarsky. Here, however, the point is not in the famous father, but in the fact that Sergei Boyarsky, prior to his election, was the general director of the St. Petersburg TV channel and adviser to the governor of the northern capital. There are two filmmakers in the State Duma: Yuri Kara and Nikolai Bortko. Also two professional musicians.
Somewhat depressing is the fact that, despite dozens of deputies with various scientific degrees in various fields (from medicine and technical sciences to sociology and psychology), there is only one professional scientist in the State Duma of Russia of the VII convocation. True, this is a world-famous luminary, Artur Chilingarov. But ... Somehow not enough, don't you think? However, they themselves chose!