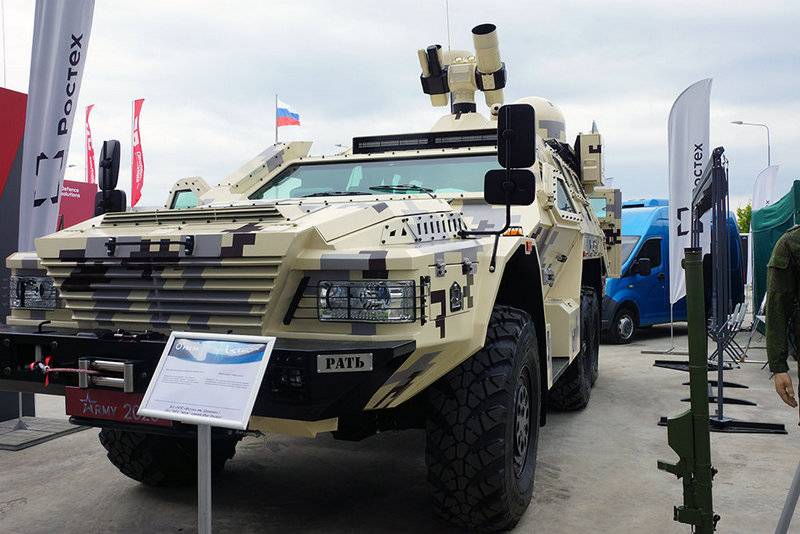 The newest mobile laser system for countering drones, called Rat, was presented at the Army-2020 military-technical forum.
The "Rat" complex displayed at the forum is designed to detect, suppress and destroy various drones. The complex is capable of detecting a drone with an effective reflection surface of 0,01 square meters and a speed of up to 200 km / h at a distance of 3,5 km. To suppress the electronic equipment of the UAV, microwave radiation is used, which is effective within a radius of up to 2,5 km from the complex. For the physical destruction of drones, laser equipment is used, starting to operate at a distance of up to 1 km.
The complex includes: an armored car SBA-70K2, created on the basis of "KamAZ", a detection radar, a system of directional electronic suppression, a complex of automatic recognition and suppression of telecommunication control channels of drones, a system of directed laser destruction, an optical-electronic surveillance and search system, a single intelligent onboard combat control system that provides integration, processing and display of information
- says the description of the "Rat" complex.
The SBA-70K armored vehicle protects the crew from small arms bullets
weapons
caliber 7,62 mm, mine protection is installed, withstand the detonation of an explosive device up to 4 kg in TNT equivalent under the wheel. Wheel formula 6X6, full drive, speed - 90 km / h, power reserve - 1000 km.