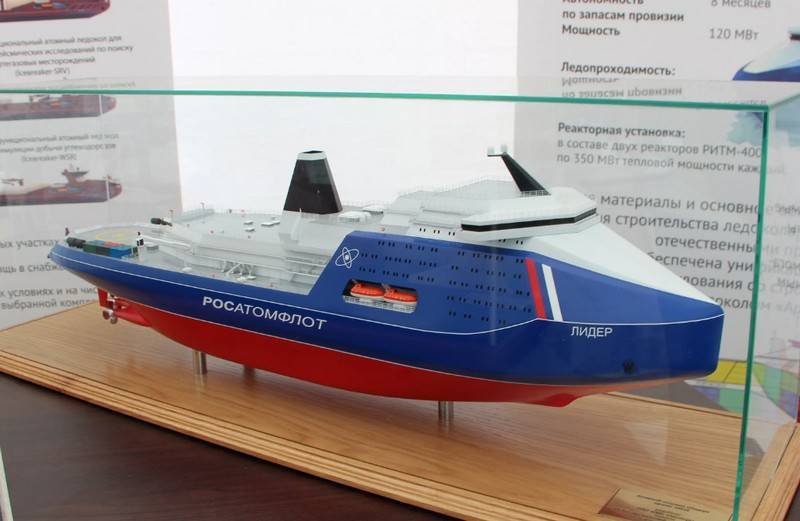 The official laying of the head nuclear icebreaker "Russia" of project 10510 "Leader" will take place on September 28, the Day of the worker of the nuclear industry of Russia. This is stated in the official publication of the Russian nuclear industry "Strana Rosatom".
The laying of the nuclear-powered icebreaker Rossiya will take place at the Zvezda shipbuilding complex in Bolshoy Kamen, Primorsky Krai. The event will be timed to coincide with the 75th anniversary of the national nuclear industry.
The nuclear-powered icebreaker Rossiya will be laid down on XNUMX September. It will become the first-born of a new generation of nuclear powered ships of the Leader project
- leads RIA
News
message.
Note that the ceremony of cutting steel for the icebreaker took place on July 6 this year in the Zvezda hull production unit.
The contract for the construction of the lead nuclear icebreaker, named "Russia", was signed between the shipbuilding complex "Zvezda" and FSUE "Atomflot" on April 23, 2020. The state customer of the icebreaker is the State Atomic Energy Corporation Rosatom. The first icebreaker of Project 10510 will enter service in 2027. In total, it is planned to build three icebreakers of the new project.
Icebreakers "Leader" will be designed for year-round pilotage of large-tonnage cargo ships along the Northern Sea Route.
According to the project, the total displacement of the new icebreakers will be 71,4 thousand tons with a length of 209 meters, a width of 47,7 meters and a height of 20,3 meters. The ship will receive two RITM-400 nuclear reactors with a capacity of 120 megawatts on propellers and a thermal capacity of 315 megawatts each.
As the developers of the project from the St. Petersburg Iceberg Central Design Bureau stated, the Leader icebreaker will be able to reach speeds of up to 24 knots in clean water and up to 12 knots on ice up to 2 meters thick. The maximum overcome ice thickness is 4 meters. The service life of such an icebreaker is designed for 40 years. The crew is 127 people. The autonomy of the icebreaker in terms of provisions will be 8 months.