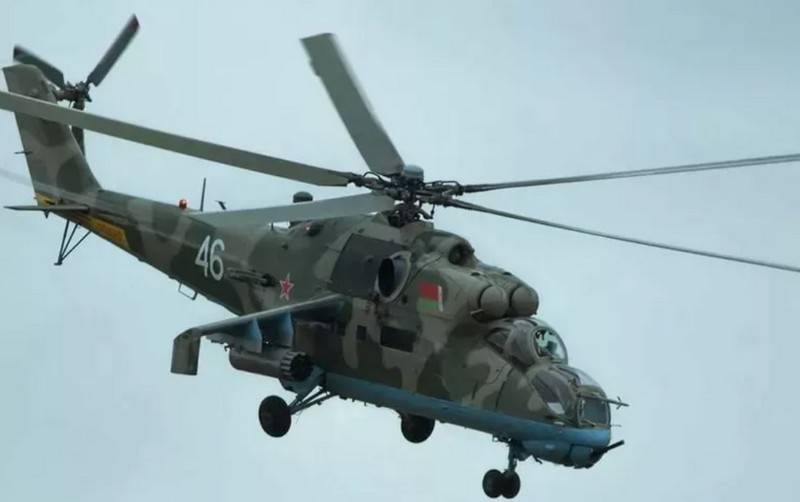 The Belarusian Defense Ministry accused Lithuania of a provocation by violating the air border of the republic with the help of balloons with anti-state symbols. This was reported by the press service of the country's military department.
According to the report, balloons with anti-state symbols (opposition flag) were launched from the adjacent Lithuanian territory in the area of ​​the Volkovshchina settlement of the Oshmyany region of Belarus. Mi-24 helicopters of the air defense forces on duty were raised into the air, which, without the use of weapons, stopped the violation of the border.
On August 23, at about 19:30, the air force and air defense forces on duty stopped a provocation from the Republic of Lithuania in the area of ​​the Volkovschina settlement of the Oshmyany region. A probe of eight balloons with anti-state symbols was launched from the adjacent territory. Thanks to the actions of the crews of Mi-24 helicopters from the air defense duty forces, the flight of balloons was suppressed without using
weapons
- said in a statement.
In turn, Lithuania accused Belarus of violating its airspace and handed a note of protest. Vilnius claims that the Belarusian Mi-24 helicopter crossed the Lithuanian border on Sunday. The Lithuanian Foreign Ministry demands from Minsk to provide explanations on this fact and not to do so in the future.
The note was presented in connection with the crossing of the Lithuanian border by the Mi-24 helicopter in the area of ​​the Medininkai settlement that took place on Sunday
- stated in the Lithuanian Foreign Ministry.
Meanwhile, a living 35-kilometer chain from Vilnius to the border with Belarus was created in Lithuania yesterday as a sign of solidarity with the protesters. According to various sources, from 48 to 50 thousand people took part in the action. Earlier it was reported about the desire of the Belarusian opposition to create its own human chain, uniting it with the Lithuanian.
Against this background, Lithuanian Foreign Minister Linas Linkevicius said that the republic is not going to interfere in the internal affairs of Belarus, but will "only observe."
We cannot impose something, we have neither such a goal nor a task, we just observe with tension, really with excitement
- he added.