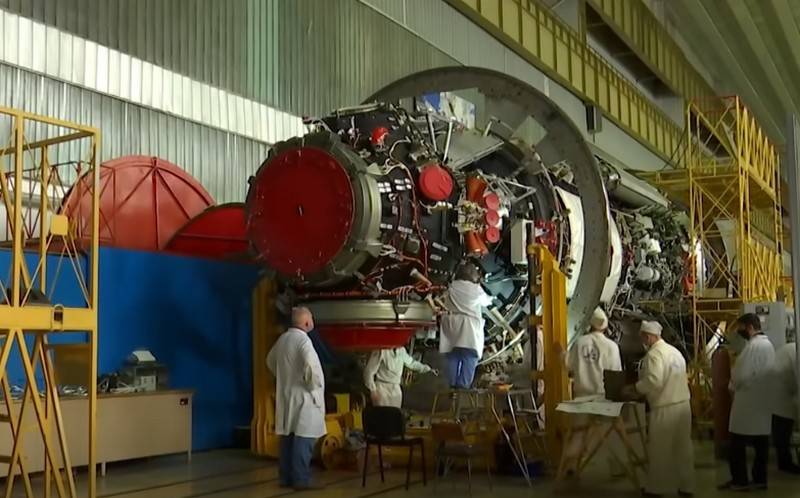 At Baikonur, electrical tests of the multifunctional laboratory module Nauka have begun, which will be sent to the ISS in 2021. This was reported by the press service of Roscosmos.
Specialists of the branch of the Rocket and Space Corporation "Energia" at Baikonur have begun the final electrical tests of the equipment of the Multifunctional laboratory module "Nauka", which arrived the other day at this cosmodrome
- said in a statement.
As previously reported, the launch of the new Russian module to the ISS is planned to be carried out in April next year with the help of the heavy Proton-M launch vehicle. Before launching, it must go through a test cycle that will take nine months. In particular, the electrical test cycle will take six months, another three months will be allocated for direct preparation for launch, including ensuring microbiological protection, refueling and other operations. The module passed the pneumatic test cycle at the Khrunichev Center.
The Russian module "Science" is capable of producing oxygen for six people and regenerating water. It also houses a second toilet and a cabin for the third crew member. In addition, the module is equipped with the European manipulator ERA for performing a number of works without going into outer space.
Recall that the ISS's service life will expire in 2024, but Russia intends to agree on its extension until 2030. According to Roscosmos plans, in addition to the Nauka module, the nodal and scientific energy modules should also go to the ISS. Retrofitting the ISS Russian segment with these modules within three years will make it completely independent. The option of creating a Russian space station after the end of the ISS operation is also not excluded.