When the force majeure happened
As soon as the Belarusian force majeure happened, colleagues from a number of media outlets turned to Vitaly Korotich, the famous chief editor of the perestroika "Ogonyok". He is one of those few who can be considered the son of three Slavic peoples at once.
Vitaly Korotich himself cannot and does not want to separate himself either from Russia, or from Belarus, and even more so from people. And his assessments of what is happening now in Belarus are not only interesting to anyone, one can rely on them, making not only conclusions, but also forecasts.
The most complete answers of the recognized master to countless questions have already been published in Komsomolskaya Pravda, but the introduction to the long interview stands out among them. Vitaly Alekseevich, either with sadness, or with some kind of fatalism, decided to declare that in his "opinion, the final collapse of the Soviet Union begins right now."
It is not easy to know if he is depressed or inspired by the fact that
"People who have never lived in the Soviet Union are brought to power, they have not even studied in schools there. Everyone who remembered something at least a little and had some kind of threads that connected them with the Soviet past, with their peers are leaving. "
Korotich continued even more abruptly, noting that
"Belarus is now being told from the West that it needs to run to Europe at a run, to break free from this so-so-overflowing Russia. And there (among the protesters) there are many young people who have never seen anything other than a Coca-Cola advertisement, and who succumb to this suggestion. They really want to be in Europe for a while. They do not understand what roles await them there. Belarus needs not a revolution, but evolution ... Nothing good comes of hysteria. "
I would like to hope that the editor-in-chief, under whose leadership, alas, I was not able to work, thinks this way today. Although quite recently his keynote speech on the program "Cult of Personality" almost made the author strongly doubt this.
What is there in the old files
Nobody, believe me, is going to take away from Vitaly Korotich the glory of the father of the truly legendary "Ogonyok". In the era of perestroika and glasnost, the magazine turned out to be not only the best, but also the most circulated. Let's be honest with ourselves: "Ogonyok" played the role of a kind of tribune for that revolution, on the contrary, which ultimately led to the collapse of the USSR and dubious market reforms.
And today, many country attics keep the files of the old "Ogonyok", most often just Perestroika. In the late 80s, self-published forbidden texts and forgotten poetry, including those from the Silver Age, which Evgeny Yevtushenko was in a hurry to return to us, appeared on its pages.
It was in Ogonyok, and already after it in lengthy articles in thick magazines, that the electorate, which at that time was preferred to be called the people, campaigned for the invisible hand of the market and "shock therapy". And along with the refusal of the Communist Party in the right to be leading, directing and the only one, they were convinced that not only the CPSU, but also the state could not be an effective master.
From the pages of Ogonyok, most of us first got acquainted with the new liberal ideas of universal tolerance. The author of these lines was fortunate enough to work at Ogonyok in the early 2000s, when Vitaly Alekseevich was no longer in the post of editor-in-chief.
By that time, Vladimir Chernov had settled in an office on the fifth floor of the Pravdin building made of glass and concrete. By that time, after seven years in Boston, Korotich managed to return, but not to Moscow, but to Kiev. He visited his native editorial office only occasionally, once he even attended an editorial meeting and received applause from the staff of technical services. The journalists also patted the former chief, but, to my surprise, somehow sluggishly.
Only one of Chernov's deputies was able to obtain the right to an interview with the master, who was apparently very busy with the reorganization of the Ukrainian press, even then painfully "orange". Either Sergey Kozitsky, who has long gone to steer glossy magazines, or Boris Minaev, now better known as the author of the biography of his namesake, Boris Yeltsin.
I did not manage to find this interview with Korotich in the files of Ogonyok. But in general, Korotich must be given his due: he did not strive (and now even more does not strive) to get on the front pages of the media. The conversation with Leonid Volokhov in the "Cult of Personality" program became rather an exception that confirmed the rule, it was no coincidence that few people began to replicate it.
What multiplies sorrow
However, reading a very lengthy and in some sense even intimate conversation for some reason immediately reminded me of the well-known maxim said to the Bourbons, more precisely, to the royalists: "They have not learned anything and have not forgotten anything." These brilliant lines of Admiral de Pan are stubbornly attributed to both Talleyrand and Napoleon, but it would be a stretch, even a mistake, to address them to Korotich.
It was just from the perestroika times that he learned a lot and managed to forget a lot. Or rather, make yourself forget. As a journalist who came from the ranks of nuclear engineers, I am not going to cling to a journalist, who was first a cardiologist by profession, for writing ideological articles and even poems like "Lenin, Volume 54" in his youth.
He himself is sinful, although he got his top three in scientific communism at the state examination for criticizing Engels, who really did not like the Russian army. And also for arguing with Professor Veshchikov about party literature and party organization. However, as you know, much knowledge only multiplies sorrow.
And Vitaly Korotich didn't just say to his interlocutor:
"I have understood many times that I am changing, like any person. I wrote a lot of different things ... And I was not ashamed - it is very relative. Because many people are not ashamed, but they do such things that God forbid! "
Indeed, it is not in vain that we said: "Let him be the first to throw a stone at me…" Vitaly Alekseevich skillfully distanced himself from his contemporary, and by and large, an ideological ally and even, one might say, the main customer. I mean Mikhail Gorbachev.
That one, for sure, and in his most advanced years, "learned nothing and forgot nothing." Even the notorious "drunken reform" with the cutting down of vineyards and the suicides of order-bearers - heads of state and collective wine-making farms. Korotich, long before his meeting with the author of "The Cult of Personality", had the sense to repeatedly make very critical remarks not only about the anti-alcohol campaign, but also many other acts of those times.
Who will take us through the Maidan
By the way, on the sensitive Ukrainian topic, the famous Oglikovsky chief began to speak out long before the "Crimean spring" and Donbass. And, apparently, not only due to the fact that the position, not only geographical, was obligatory. Today his assessments, for example, from 2006, generally sound like a prophecy:
"Ukraine has been accreted to Russia completely inseparably ... But the search for some kind of dominant of its own, nationalism in its Western Ukrainian version, of course, compromised itself".
Now many have already forgotten that together with Yunna Moritz, Vitaly Alekseevich wrote the legendary "Take me across the Maidan." But almost immediately after this prediction, Korotich, who now specifically stipulates that he is "Ukrainian, but the books were written by me in Ukrainian, Russian, and one is even in English", as if warning:
"But you don't need to provoke hostility, you don't need to come to Crimea to say when we will take it from you."
Well, they almost forced us to take Crimea, although it is worth reminding here that "the Russians do not abandon their own people," and who, if not Korotich, would not know this. He, who grew up and was promoted in the USSR, it seems, simply could not but admit that "the greatest role (for him - AP) was played by Russian literature and Russian culture." But even the reservation that the first book he read was "Mowgli" in Ukrainian does not eliminate the feeling that the veteran of the press has serious problems with the national issue.
And isn't that why Vitaly Alekseevich, with such even sympathetic irony, told Leonid Velekhov an old border story: "When I came back for the last time, a customs officer suddenly said to me at Sheremetyevo:" Are you for a long time? " I say: "This time forever, I have already decided everything." And this gatekeeper of the state suddenly says: "Oh, if I had your opportunities, I would never come back here."
Korotich did not hesitate to admit that after five years of work overseas, he could well have received American citizenship. But he did not dare to renounce "all the obligations that I had in the country of my previous citizenship." Perhaps he should be thanked for this, but for some reason this bargaining with himself is very embarrassing.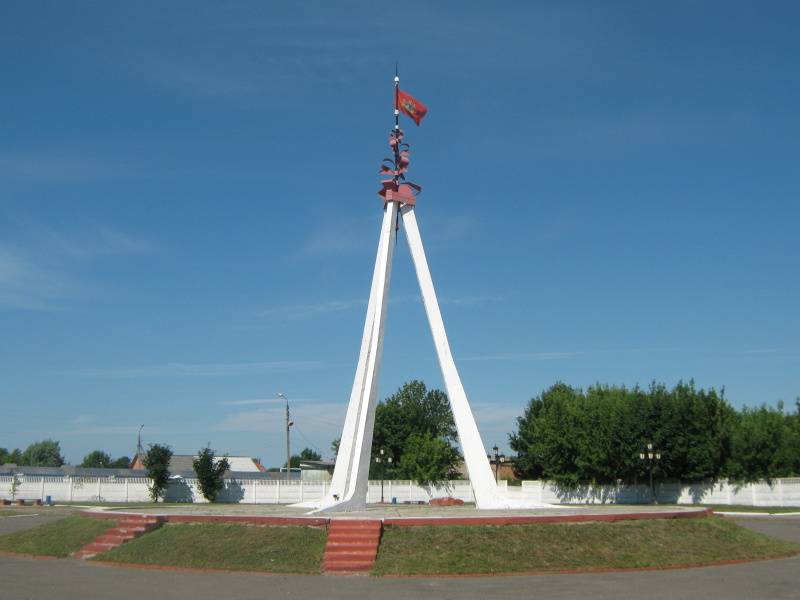 Vitaly Korotich was once seen in Novozybkov - at the monument to the Unity of Slavic peoples. Photo: IA "BryanskNovosti"
Russian mother from Kuban, Ukrainian father, and son - a man of the world. He seems to be bargaining with himself because of his American citizenship. And in parallel with this, he calls the very talk of "ukrah" and "dill" monstrous. So I would like to ask Vitaly Korotich: such conversations - are they monstrous in whose mouth? But that would be if the answer had not already been prepared.
After all, Velekhov, his interlocutor, immediately pretends to be indignant: "This is a real shame !!" And in response, the former chief of the former mouthpiece of perestroika for some reason clarifies with explanations: "But this is being said on the air on the most widespread program. This is monstrous! In civilized countries, in England or in the United States, a person who uses a word like "Negro" or something else, falls out of the game and can shlopotat. "
After that, I think hardly anyone will be surprised by the refusal of the serious press to replicate what was said at the "Cult of personality". And it will not be surprising that Korotich, a contemporary and ideological ally of the last president of the USSR, even renouncing US citizenship, so admires various American laws.
He especially likes this - don't ask, don't tell, first introduced in the army. In a conversation with Velekhov, Vitaly Korotich even explained that for a start, the law "was introduced about sexual orientation. If you are a homosexual, this is your own business, but don't you dare tell anyone about it. And nobody dares to ask you. Later it spread to religious affiliation: don't ask, don't tell. "
Korotich just now considered it necessary to recall the almost legendary
history
with Leonard Bernstein, more like a classic Jewish anecdote. Bernstein came to the USSR "with the Philadelphia Orchestra. Wanting to remind us of our internationalism, Furtseva (the unforgettable Minister of Culture under both Khrushchev and Brezhnev - A.P.) told him: "They say anything about us, and in our symphony orchestra 60% of Jews play." Bernstein thought for a moment and said: "I don't know how many Jews we have in the orchestra."
After such tales and explanations, how much more transparent is everything that is happening now in the United States, and after them, throughout the overly "civilized" world. With all their ideological and political confusion and with "black redistribution." Korotich immediately reproaches us:
"We focus on those things that are considered humiliating throughout the world. Albert Schweitzer once said that nationalism is patriotism in a state of hysteria. "
Well, Samuel Johnson also did not speak very flatteringly about patriotism, considering it the last refuge of villains ... Anyway, internationalism, even in its Soviet edition, cannot be accused of anything like that even today.
Having had a good time about the "rotten Soviet system", Vitaly Alekssevich confessed to Leonid Velekhov that he himself "was, let's say, probably a Soviet man ... who doesn't get dirty." And in that he tried to "be a decent person, he did not sign a single collective letter either against nationalists, although I am not a nationalist, or against Zionists, although I am not a Zionist."
Korotich never called himself an anti-Soviet, and did not admit to his innate desire to destroy communism, as Gorbachev did. Well, given the very inspiring sequel to Komsomolskaya Pravda, thanks for that. His right, but we still have the right to re-read the old "Lights" not only with nostalgia, but sometimes very critically.