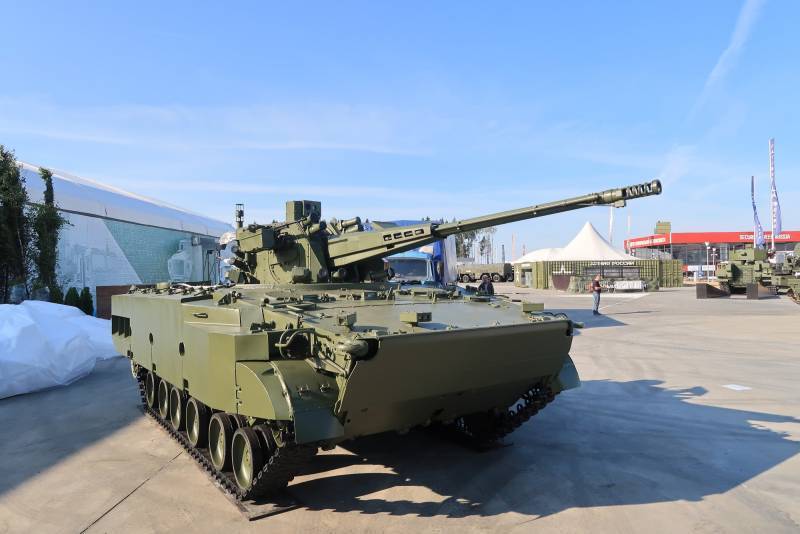 Concern "Uralvagonzavod" plans to complete state tests of the newest anti-aircraft self-propelled artillery complex "Derivation-Air Defense" in 2022. This was reported by the press service of "UVZ".
As part of the Army-2020 military-technical forum in the Moscow region, the UVZ press service reported that the planned completion of state tests of the Derivation-Air Defense complex is scheduled for the first quarter of 2022. At the same time, it is emphasized that the enterprises of the concern are ready to start mass production of the anti-aircraft gun.
The tests are scheduled to be completed in Q1 2022. And serial deliveries will begin after the appropriate conclusion of the State Commission. But we are ready to immediately start serial production
- TASS leads the text of the message.
The Derivation-Air Defense complex was first presented at the Army-2018 forum. The self-propelled anti-aircraft gun was created on the BMP-3 chassis, equipped with a module with a 57-mm automatic cannon. The new ZAK is to replace the Shilka and Tunguska artillery anti-aircraft systems developed during the Soviet era.
The complex is designed to combat
aviation
and cruise missiles, aircraft, helicopters, unmanned aerial vehicles, as well as with single MLRS shells, it is also possible to use it against ground and surface lightly armored targets. The complex includes a combat vehicle with a high ballistic cannon, a maintenance vehicle and a 9T260 transport and loading vehicle, which can quickly reload a combat vehicle right on the battlefield.