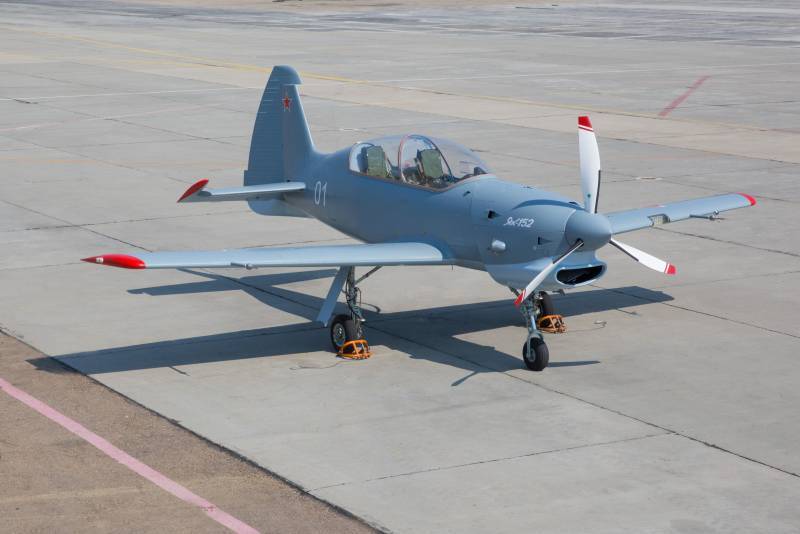 The new Yak-152 trainer aircraft will begin arriving at the Ministry of Defense in 2021. This was announced by the General Director of the United Aircraft Corporation Yuri Slyusar in an interview with the Russia-24 TV channel.
According to the head of the UAC, the aircraft is currently at the testing stage, which should be completed next year. The corporation expects that in 2021 it will be able to deliver the first serial training Yak-152 to the Ministry of Defense.
In addition to fighting
aviation
we also present here the Yak-130 combat trainer, the new Yak-152 trainer, which is paired with the Yak-130. We look forward to completing tests next year, starting deliveries to the Department of Defense from next year. The need for this plane is in the hundreds
- he said.
Slyusar stressed that the training Yak-152 allows for the initial training of pilots.
The development of the Yak-152 trainer began in 2014 as part of the ROC with the code "Ptichka-VVS". The first prototype of the aircraft appeared already in 2016.
Machine length - 7,8 m, wingspan - 8,8 m, area - 12,9 sq. M. Maximum takeoff weight - 1700 kg. The maximum speed is set at 500 km / h, the range at full refueling (245 kg) is 1500 km. The avionics is unified with the Yak-130 and ensures the creation of a single training complex.